More and more kitchens are making their counters higher and these 34″ bar stools accompany countertops that are 44-46″ high. Stools at this height are also designed to give you a good view out of a window, over a swimming pool, or across your home's game room.
These 34 inch bar stools are also known as spectator height bar stools. These stools were originally designed for billiard halls to give "spectators" a better view of the game. Their height provided an unobstructed view of the pool table and the angles of the shots.
Where do 34-inch bar stools fit best?
These 34 inch bar stools are ideal for homes with counters or bars that are higher than the standard 42 inch. If you have counters that are 44-46 inches high, they'll pair perfectly with a 34 inch spectator stool. This height will give you 10-12 inches between the seat of the stool and your countertop.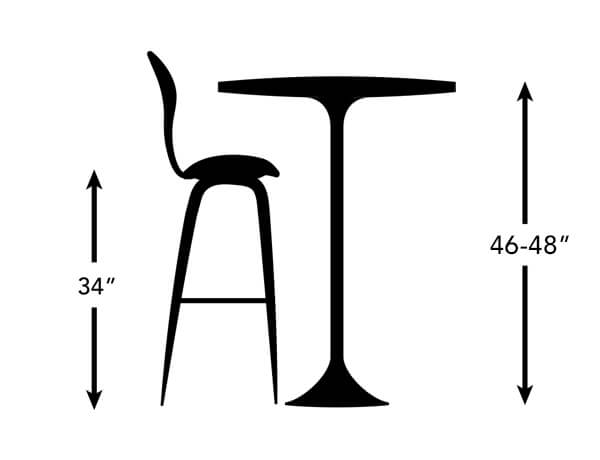 Larger people may require more distance, and shorter people, less. Depending on your comfort level, a 34-inch stool can be used at a 48 inch high bar.
Please be sure to measure the height of your counter before choosing the seat height of your bar stool. You can even visit your favorite local bar or restaurant to test the seating height. For more tips on how to choose the right seat height, click here for our guide.
Many 34 inch are built for use indoors or outdoors. They go great with a tall pub table on the deck, balcony, or pool deck. They're also a natural fit for outdoor bars, which tend to have high counters. As with all of the outdoor stools we offer, many of our 34-inch bar stools are treated to withstand the elements such as rain, snow, and sun.
Spectator Height Features
For shorter individuals, this height makes it easy to sit in the stool even though the 34 inch seat is higher than usual.
Strong footrest — Our metal footrests are strong enough to support your weight while you get in and out of these stools.
Arms provide support — You can add armrests for even more support when getting in and out of the stool. These give you something to grasp onto. Shorter people find arms on spectator bar stools to be especially helpful.
Easy to move — You might be concerned about the weight of the stools. Are they too heavy to easily move around? Not at all – you actually never have to lift the stools when you clean. Simply glue on stick-em felts so the stool will slide easily on any floor.
Most Popular Spectator Height Stools
Our most popular spectator height bar stools include the Ronny stool and the Catalina stool.
Types of Spectator Height Stools
Backless
Backless stools are great for kitchens where space is limited or if you want to keep the kitchen looking minimal.
If you're not planning on sitting on a backless stool for a long time, these will work for you.
If you are, however, looking to sit in a stool for a long period of time, we recommend a stool with a back.
A few of our most popular stools are the Bryce and Button.
With Arms
Arms are a great way to add comfort when sitting on a stool for a long period of time. They allow you to sit back and relax. If you have room for them, arms will be a great additional to your kitchen or other space.
A few of our most popular stools are the Charles 2 and 610.
Styles of Spectator Height Stools
Country
These stools are designed for the modern farmhouse, cozy cabin, or weathered barn. They allow you to bring in stools that convey a warm and inviting space.
A few of our most popular country stools are the Kyle, Round Cushion, and Annabelle.
French Country
Bring a sense of old world style into your home with these French Country stools. Their soft and welcome appeal will add charm and elegance into your traditional kitchen.
One of our most popular french country stools is the Brittany.
Industrial
Need a tall industrial stool? No problem! Bring that modern and old factory look into your kitchen with these stools, featuring a metal frame and wood or back seating.
A few of our most popular industrial stools are the Lauren, Carson, and Woodland.
Modern
Complete your modern kitchen or home bar with any of these spectator height stools, perfect for counters of 44 inches up to 46 inches. With simple lines and striking profiles, these stools add an on-trend look.
A few of our most popular modern stools are the Nicholas, Biscaro, and Henry.
Traditional
These extra tall traditional styled bar stools are great for homes with crown moldings, raised-panel cabinet doors and polished stone countertops. These stools are going to not only add a warm and inviting feeling, but they'll create a timeless look.
A few of our most popular traditional stools are the Voltaire and Marcus.
From traditional to modern, there's something for every interior, and with dozens of ways to customize each stool, you can find your perfect spectator stool.
Our Spectator Height Bar Stools
We carry the top brands in the country for spectator height stools: Amisco, Trica, and Wesley Allen.
Looking for extra tall stools? Visit our extra tall 36 inch bar stools category.
As always, if you have any questions about which stool is best for your room, please send us a note, call us at 855-828-5661, or visit our Facebook page.
We'll answer your questions as fast as we can. You can even send us a picture of your space and we'll suggest free design ideas.