Connor Backless Swivel Stool with Wood Seat
Connor Backless Swivel Stool with Wood Seat
See More by Amisco
$350.00
Tax Free
Free Shipping / Ships in 3-5 weeks – Learn More

As of November 8 2023, these take 3-5 weeks to be made and are shipped out of Québec, Canada via UPS directly to you. Transit time is typically a week or less.

Free shipping in the Continental U.S. Signature is not required at delivery.
In Stock
SKU:

AmiscoConnor42493WS
Categories: 26 inch or 30 inch Counter and Bar Height Stools, 34 inch Bar Stools – Spectator Height Stools That Fit Any Style, All About Farmhouse Kitchen Design Concepts, Backless Bar Stools, Custom Bar Stools, Industrial Bar Stools, Metal and Wood Bar Stools, Metal Bar Stools, Modern Bar Stools, Swivel Bar Stools, Traditional Bar Stools
Tags: 42493, Coner, Conner, Conor, Konner, Warner
Brand: Amisco Bar Stools - North America's Best Made Bar Stools
Features
Be it a modern loft, an industrial-inspired space, or a charming rustic retreat, the Connor backless swivel stool by Amisco effortlessly adapts to your surroundings, transcending boundaries and redefining sophistication.
The Allure of Natural Wood
Crafted with meticulous attention to detail, the Connor boasts a wood seat that exudes a distinct charm, showcasing the beauty of natural materials.
Whether you choose the weathered allure of distressed wood or the sleek allure of non-distressed wood, each seat is designed to withstand the test of time, granting you decades of unrivaled comfort and style.
Built to Last
In its construction, no compromise is made on durability.
Expertly Welded Joints: Surpassing inferior screw fastenings for top-tier strength and stability.
Thoughtfully Considered Design: The metal base boasts a flawless powder coating, preserving the vibrant color against daily wear and tear.
Available in 3 Counter Heights
We offer three seating heights tailored to your needs:
Counter Height: Ideal for 36-37″ counters
Bar Height: Suited for 41-42″ counters
Spectator Height: Designed for 46-48″ counters
Unleash Tranquility
With the Connor counter stool gracing your home, tranquility prevails. Relax and relish the knowledge that you have acquired a lasting piece of furniture that seamlessly combines sophistication and practicality.
At a Glance
10-year limited residential warranty on metal frame
It's built to last you decades
Lead-free paint
Heavy-duty North American steel
Powder-coated metal finish for heavy-duty use
Available in a distressed and non-distressed solid wood birch seat
Swivel 360 degrees with ease
Narrow, but doesn't give up comfort
Additional Details
Item #42493
Great in modern or traditional kitchens
Includes nylon glides on the bottom of the feet to protect your linoleum floors — add felts for wood or linoleum floors for extra protection
Wood Characteristics
Celebrating character marks, knots and contrasting wood grain, distressed solid birch blends incredibly well with steel, providing an authentic and unique look to every product.
Manual Wood Characteristics that will appear on Distressed solid wood components:
Nail holes
Simulated worm holes
Tool mark
Screw mark
Chain impact

Natural Wood Characteristics that may appear on Distressed and Non-Distressed solid wood components:
Deep mark
Repaired knot
Deep knot
Multiples cracks
Long crack

Eco-Friendly
When you acquire an Amisco piece, you are demonstrating your commitment to helping protect the environment. Our furniture is guaranteed to last, with durability and beauty that span generations.
Amisco uses environmentally friendly processes, from the first phase of the manufacturing process until the last. They recycle all production rejects. They avoid over packaging and use packaging made from recycled and recyclable materials.
Always concerned about limiting its environmental footprint, Amisco has completed and continues numerous initiatives to reduce its energy consumption.
Easily Customizable
Love this? Customize it to make it your own.
Available in a variety of powder-coated metal finishes including 24 Magnetite, slightly darker than stainless steel • 25 Black Coral • 27 Sun Gold • 53 Dayglam, a light nickel • 57 Metallo, a dark gray • 52 Oxidado, medium brown goes great with oil rubbed bronze fixtures • 61 Pure, white • 67 Champagne, champagne gold • 74 Falcon, medium brown with heavy texturing • and more.
Available in a variety of non-distressed wood stains including 39 Verdastro • 41 Rumcherry • 42 Beachwood • 43 Cafe • 44 Porter • 46 Cashew • 47 Tiramisu • 48 Earl Grey • 49 Mouse • 85 Unfinished • and 96 Pinecone.
Available in a variety of distressed wood stains including 45 Unfinished • 78 Ironstone • 79 Verdos • 80 Milk • 81 Cayenne • 82 Maroon • 84 Shady Birch • 86 Sand Dust • 87 Toasty Birch • 89 Stone Dust • and 93 Pretzel.
Build your design here
Measurements
All measurements are approximate.
Overall Width

16½"

Overall Depth

16½"

Top of Seat for Floor

25½"

Weight

33.5 lbs
Overall Width

17¾"

Overall Depth

17¾"

Top of Seat for Floor

30¾"

Weight

34.5 lbs
Overall Width

18¾"

Overall Depth

18¾"

Top of Seat to Floor

33½"

Weight

36.5 lbs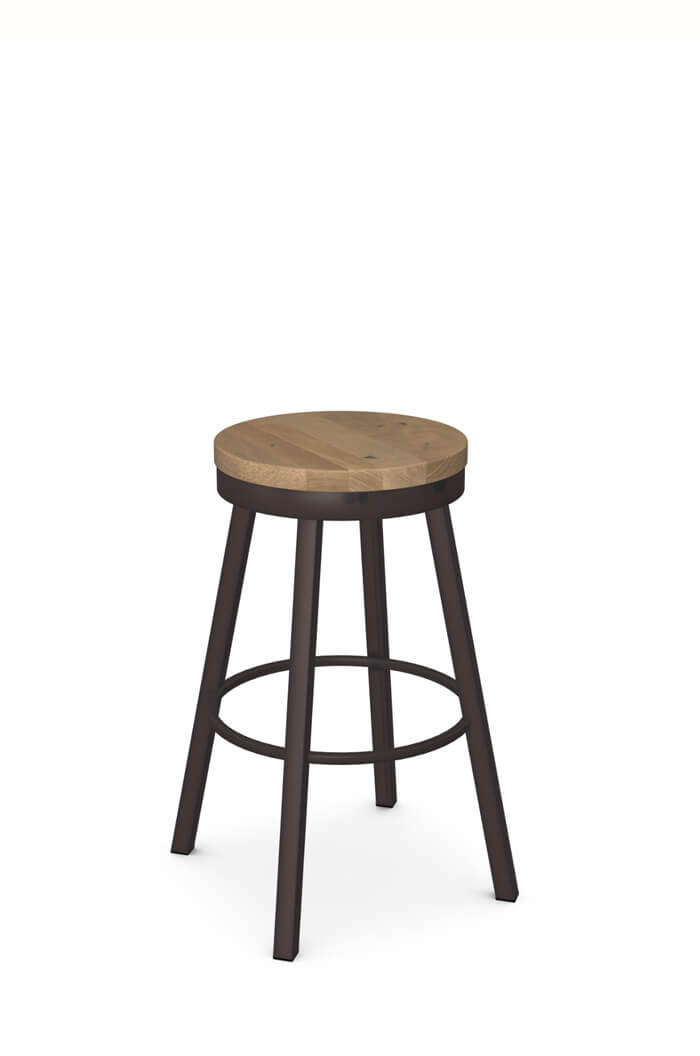 Specifications
| | |
| --- | --- |
| Item # | 42493 |
| Application | Residential |
| Arms Availability | Armless |
| Assembly | Some Assembly Required |
| Base Style | 4-Legs |
| Seat Style | Round Seat |
| Special Features | Available in Distressed Wood Finish, Eco-Friendly |
| Style | Industrial, Modern, Traditional |
| Swivel Availability | 360-Degree Swivel |
| Warranty | 10-year limited residential warranty on metal frame |
| Weight | 34 lbs (approximately) |
| Weight Capacity | 300 lbs |
Reviews
Review Summary
5.0
1

review
Videos
The model seen in this video may differ from the model on this page. The assembly method remains the same.
Shipping Details
Free shipping!
As of November 8 2023, these take 3-5 weeks to be made and are shipped out of Québec, Canada via UPS directly to you. Transit time is typically a week or less.
Free shipping in the Continental U.S. Signature is not required at delivery.
About Amisco

Amisco's modern yet timeless bar stools add class to any interior. These worldly, welcoming stools are the definition of sophisticated style. Choose Amisco for a fresh, modern spin on traditional design.
Amisco's stools feature comfortable cushioned seats, perfectly placed footrests, and straight, strong legs — everything you'd expect in a high-end bar stool, plus a refined sense of style that's just so right now.
Amisco's sturdy steel-frame stools are perfect for everyday use. Every piece is designed and built in Canada and backed by worry-free after-sale support.
You can feel good about owning Amisco furniture, too. Amisco uses eco-friendly manufacturing processes like waste recycling, recycled/recyclable packaging, packing waste reduction, and reduced energy consumption.