---
If you'd rather not use our calculators above, here's some other information:
How to Choose the Right Seat Height:
Follow this simple rule:
The top of the seat of a bar stool should be 10-12 inches below the top of the counter.
Measure from the floor to the top of the counter.
Subtract 10-12 inches – this is your ideal seat height.
Order stools that are closest to this ideal seat height.
What are the most common bar stool heights?
We also offer specific heights:
Questions to Consider
What bar stool height fits best under a counter?
We have height measurements for nearly all of our stools with arms. Check these measurements, or else the stools might butt up against your countertop and you won't be able to tuck in.
Most of our stools with arms fit under standard counter overhangs, but it's important to double check!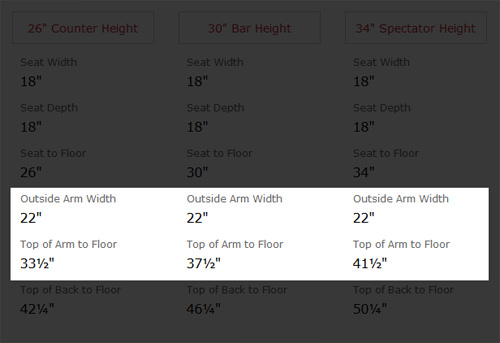 What if your counter has an underhang?
Most kitchen counters will have nothing beneath the counter, in order to give you the most space for pulling up a stool.
You should take special care with counters like the one on the right, with "underhangs" below the counter. Sometimes these counters weren't made with stools in mind.
Overhang (left), Underhang (right):

Do you have any questions for us?