Counter and bar stools stand out as the prevailing choices for kitchen seating in contemporary times. They effortlessly complement a wide range of table heights while providing seamless accessibility. Learn more
26-inch Counter Stools
The 26-inch stool, often referred to as counter height, perfectly complements a 36-inch high counter or table.
This height ensures a comfortable 10-inch space between the seat and the countertop, aligning with the recommended 10 to 12-inch gap for optimal comfort.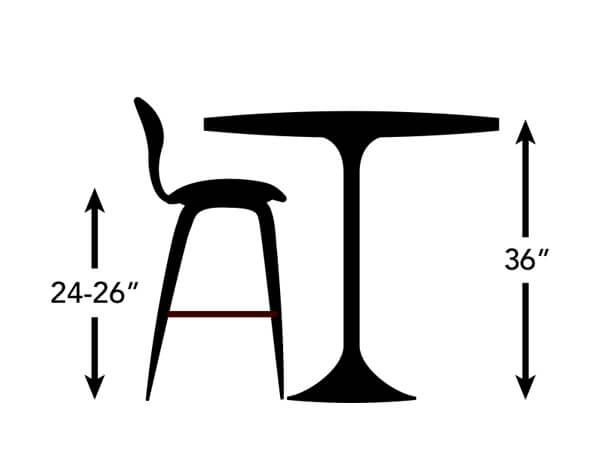 Redefining Counter Height: From 24-inch to 26-inch Stools
Historically, the belief was that a 24-inch stool was the go-to for counter heights. However, contemporary research suggests otherwise.
Even with a 10-inch clearance, a 26-inch stool height proves to be the most comfortable.
Given that modern counters stand between 36 to 37 inches tall, it's clear why the 26-inch stool is the preferred choice. Importantly, this measurement spans from the floor to the seat top.
The Versatility of the 26-inch Stool
Whether you're tall or petite, the 26-inch stool promises a comfortable seating experience.
Predominantly seen in kitchens and dining areas, this height is chosen for its universal appeal and ease of use, catering to people of all ages.
Quality Assurance at Barstool Comforts
At Barstool Comforts, we pride ourselves on curating only the highest quality and most comfortable stools.
30-inch Bar Stools
The 30-inch bar stool seamlessly matches pub tables, bars, or high counters.
Given that a standard bar measures 42 inches in height, the 30-inch stool offers an ideal 12-inch space between the seat and bar top, though it can also pair well with a 41-inch high bar.
Recommended Seat-to-Bar Clearance
The optimal space between seat and bar top ranges between 8 to 12 inches.
Bar Stool Design: Arms and Measurements
Bar stools of this height often come with arms, providing added support for easy seating.
Ensure the arm's height clears the counter's base by a minimum of 1 inch for hassle-free use (refer to product dimensions).
The distance from the footrest to the floor remains consistent, regardless of whether it's a bar or counter stool.
Leg Styles and Consistent Sizing in Bar and Counter Stools
Stool design can vary: bar height stools may have slightly flared legs for added stability, while those with straight legs maintain the same width irrespective of height. Seats and backs remain consistent in size for both counter and bar height stools.
The Best Bar Stools Online
Determine your ideal stool height and then explore our expansive collection.
Renowned for durability and comfort, our stools are among the best available online.
With over two decades in the industry and firsthand experience testing each product in our showroom, we guarantee our curated selection meets the highest standards.
Invest in our stools, and they'll be a cherished part of your home for many years to come.