Jump to questions on: About Us / Ordering & Shipping / Products / Assembly
About Us FAQs
Where are you located?
We're located in beautiful Orlando, Florida. 
How long have you been in business?
We have been in business since 1999. We started with our showroom and expanded to our online store in 2009. Learn more about us here.
Ordering & Shipping FAQs
Is shipping free?
Yes, we offer free shipping anywhere in the continental U.S.

For Canadian residents, we offer free shipping through our Trica brand.

For Alaska or Hawaii residents, we will unfortunately have to charge you for shipping. Please send us an email if you would like a ship quote.

For anyone outside of the U.S. and Canada, I'm sorry — we're unable to ship to you at this time.
I live in Canada. Can you ship to me?
Yes, our Fairfield Chair and Trica brands ship to Canada. Shipping is free with these brands.

If you're shipping to Canada, please call us at 610-737-5693 or email us to place your order.
I live in Hawaii. Can you ship to me?
We can ship to Hawaii, but we would have to charge you for shipping.

If you'd like to get a quote, please send us an email.
I live in Alaska. Can you ship to me?
We can ship to Alaska, but we would have to charge you for shipping.

If you'd like to get a quote, please send us an email.
How long does it take to ship?
Our lead times vary from brand to brand. Since we sell only custom made bar stools and chairs, it currently takes 5-8 weeks on average for them to be made, however we urge you view our shipping table here for specific ship times from our brands.
What if I don't need my order until after a certain date?
No problem! Just inform us of your preferred delivery date either in the Order Notes section of our checkout page or in a separate email. We'll coordinate with the manufacturer to ensure your shipment is held and dispatched to arrive after the date you specify.
Once my items ship, how long does it take until I receive them?
For most of our bar stools and chairs, you'll receive them in a week or less.

Some bigger items such as tables, chairs, and certain bar stools may take 1-2 weeks depending on the trucking company, however we'll let you know how soon you'll be receiving your order once it ships. If you have any questions prior to ordering, don't hesitate to reach out.
What should I do if a delivery arrives damaged? Should I refuse it?
No, refusing a damaged package might delay the replacement process. Even if the package appears damaged, please accept the delivery. Afterward, inspect the stool thoroughly once the trucking company departs. Should you find any damage, like scratches, dents, or tears, contact us immediately. We'll either send replacement parts or, if needed, a new stool. Typically, sending a replacement part is quicker than replacing the entire stool.
Do you take partial payment?
Since these are custom made, we do not accept partial payment. All orders must be paid in full in order for the manufacturer to start production. Thank you for understanding.
What payment methods do you accept?
We accept Visa, Mastercard, Discover, PayPal, and Certified Checks. For orders above $20,000, we also accept Wire Transfer. We do not accept American Express.

We prioritize your security and privacy. Our website employs SSL (Secure Sockets Layer) encryption to ensure the complete protection of your information. Rest assured, we do not store your credit card details as well as share or sell your personal information.
Which shipping companies do you use?
We typically use UPS and FedEx for most of our items.

For our Darafeev, Leathercraft, and Fairfield Chair brands, we use a LTL Freight Truck who will call you to schedule a delivery date and time. We will contact you with details once your items ship.


What is the procedure after we place an order?
1. You will immediately receive a receipt or confirmation of what you ordered. Please look it over and let us know, right away, if you'd like any changes. If you don't receive your receipt, it may have been routed to your spam or junk folder. If you still haven't received, send us an email and we'll make sure you get it.

2. If we don't hear from you in 24 hours, then we will proceed with your order, and have production get started.

3. Within a week, we will send you an email with an estimated shipping date.

4. Once your order ships, we will give you tracking information which will tell you when it's being delivered.
Product FAQs
Do you offer custom or personalized bar stools?
Yes, we proudly offer customization options. In fact, a vast majority—99%—of our bar stools can be tailored to your preferences. You have the flexibility to choose your desired wood or metal finish, upholstery type, seat height, nailhead trim, among other features.
Can I request samples of fabric for my stools before ordering?
Absolutely! We encourage you to request fabric samples before placing your order. This is because computer screens can sometimes display slight color variations. To order your samples, please click here.
I need help selecting the colors for my stools. Can you help?
Absolutely! Deborah has been a designer for over 20 years and would be glad to work with you. Being that we have all of our fabrics, metal and wood finishes in-house, she'll be able to tell you which go well together in your home.

You're welcome to email or call her at 610-737-5693.
Do you offer bulk or wholesale pricing?
We provide quantity discounts on many of our items. However, there are some exceptions. For specific details and quotes, please reach out to us directly.
Do you have bar stools made for the outdoors?
Yes, we do. Please see our outdoor bar stools category.
Should I go with arms or no arms on my bar stools?
This is a very common question and is something to consider.

Pros of Arms:
– Provides support to rest your arms.
– Easier for elderly adults and children to get into by holding on to the arms.
– Overall, gives it an extra boost of comfort.

Cons of Arms:
– Makes the bar stool narrower, allowing you to fit more stools around your counter.
– You can more easily slip into the bar stool from the left or right without the obstruction of an arm.
Do you carry bar stools where the backs will fit under my counter?
Yes, we carry plenty of low back bar stools including popular bar stools such as the Ace, Barry, Ethan, and Ronny.

Please make sure to measure the height of your counter and double check the measurements on our product pages to ensure they will slide under your counter.
What is the difference between a Standard Seat and a Comfort Seat?
This question is in regards to our Trica brand.

Standard seats are approximately 1½ inches thick with a semi-foam core.

Classic seats are approximately 2 inches thick with a softer foam core.
What is a 360-Degree Swivel?
A 360-degree swivel stool remains in the position you leave it when you get up from the stool. We recommend a 360-degree swivel stool because the stool won't be pushing against you like on a memory-swivel. A memory swivel will want to return to the center even while you're on it.

What is a Memory-Return Swivel?
A memory or a return-swivel simply returns bar stools back to the center position after someone gets up from the seat.


Do your bar stools come with protection for my floors?
All of our bar stools and chairs come with glides that are attached to the bottom of the feet.

Typically, tile or vinyl floors require the glides we provide you.

Wood floors require stick-on felts on the bottom of our glides. This can be purchased at any local hardware store.

Due to the vast types of flooring today, we suggest calling your flooring company to see what they recommend.
Do you carry 34″ bar stools?
Yes, many of our brands carry 34-inch stools in all sizes and features.
Can I get anything higher than a 34″ bar stool?
Yes, our Holland brand makes 36-inch high bar stools.

Our Darafeev brand can also make 36-inch high bar stools, but there will be an upcharge of $100 per stool.

This is the ideal height for a 48 to 50-inch high counter.
Can I order new seat cushions for my existing bar stools and chairs?
Yes, all of our manufacturers allow you to order new seat cushions, bases, and other parts and hardware. Simply, send us an email with what you need and we'll get you a price.
What is the weight capacity of your bar stools?
Each of our bar stools can support a minimum weight of 300 lbs. Most of them have a capacity ranging from 300-400 lbs. Notably, some stools from our Holland brand can accommodate up to 750 lbs.
Do your bar stools come with a warranty?
Every one of our bar stools is backed by a warranty. We believe in the quality of our products and stand by them. For detailed information on our warranty terms, please click here.
Can I request replacement parts or repairs?
Absolutely! We offer a range of replacement parts for our bar stools, including bases, seat cushions, back cushions, foot glides, swivel plates, and more. Let us know your requirements, and we'll ensure you get exactly what you need.
What is the correct method for measuring a bar stool's height from the seat surface to the floor?
To accurately measure the height of a bar stool, place one ruler flat on the top of the bar stool seat cushion. Position another ruler vertically to the left of the stool, ensuring it is straight and aligned with the base of the stool. The point where the vertical ruler intersects with the horizontal one will give you the accurate height of the bar stool from the seat surface to the floor.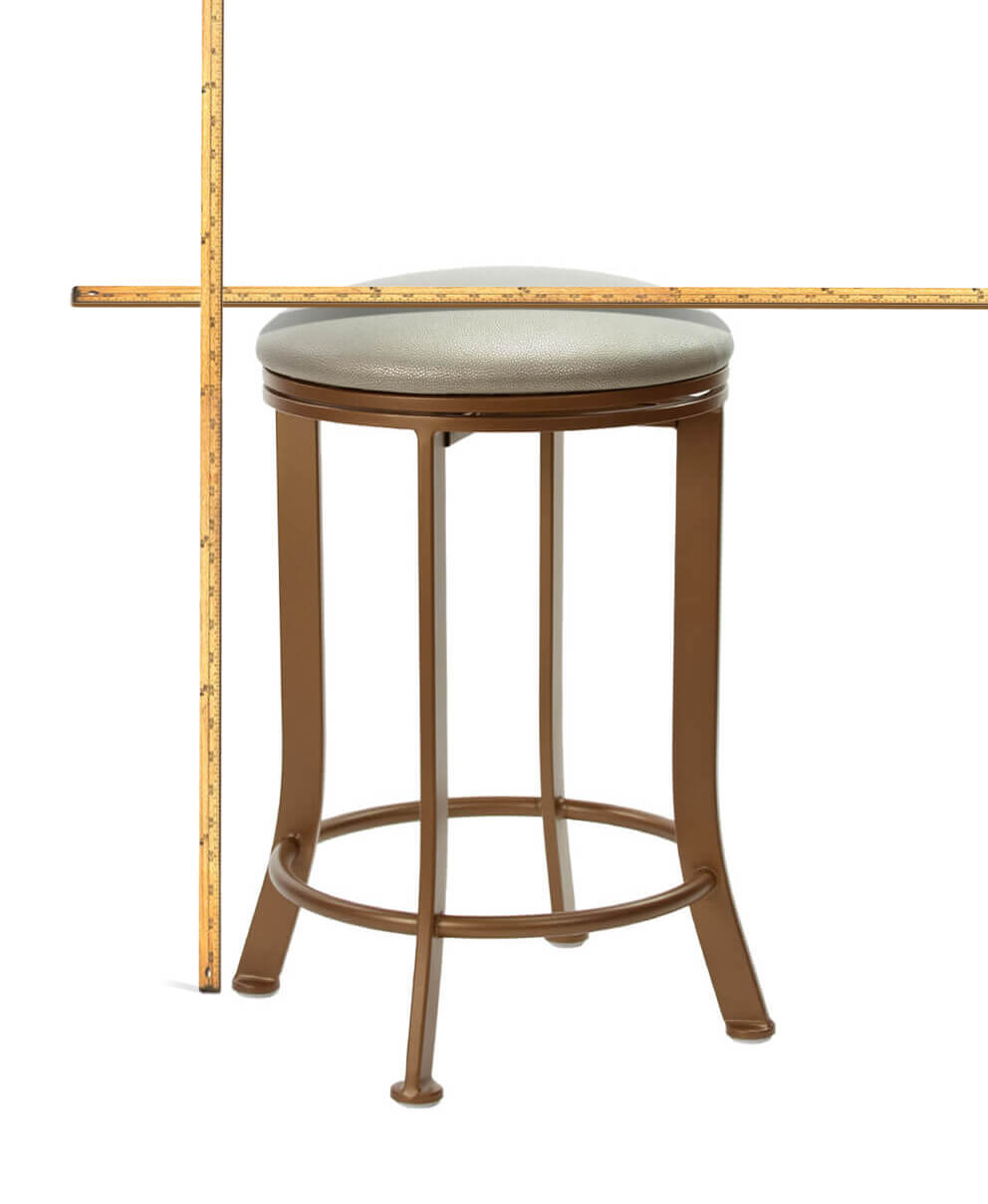 Assembly FAQs
Is it difficult to assemble the stools once they arrive?
Our bar stools are designed for easy assembly. Most have their joints welded, meaning the base and legs come as one piece, and the seat with its back as another. This design greatly simplifies the assembly process, making it quicker and more straightforward compared to many other stools in the market.

Each of our bar stools includes assembly instructions, and select models also feature instructional videos.
I'm not leaning back in my bar stool, but I'm leaning forward (or sideways). How do I fix this?
If you're getting something like this (see below) on your stool, then you may have attached the swivel plate incorrectly.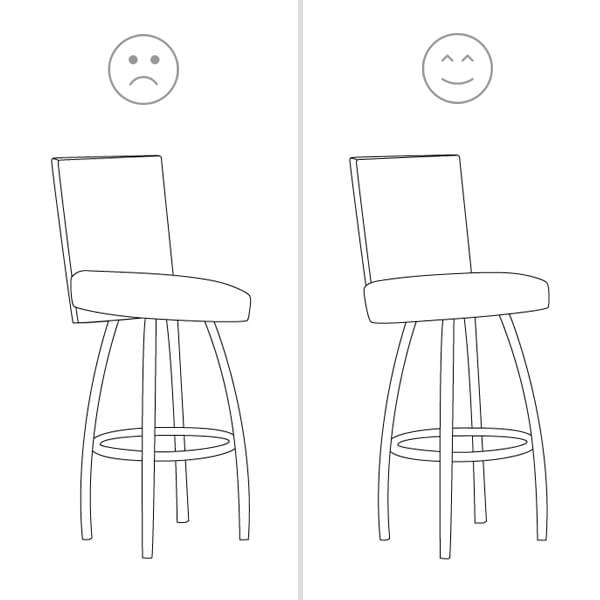 When you're attaching the swivel plate, make sure the part that says "TOP-FRONT" is facing the front of the stool like so:


That way, your stool will be aligned correctly, and you won't feel like you're going to fall forward, but you'll be sitting back a bit. 

How do I prepare the 360-degree swivel mechanism to attach it to my bar stool?
1. Push down on the swivel and turn the top piece to the left or right to form an X. 
2. Release.

Here's a video showing how:


I just received my bar stools, but they don't easily swivel. Will they loosen up?
When stools are new, the swivel mechanism is always going to be a little tight. They will definitely loosen up over time. 
How do I insert and remove the Amisco glides at the bottom of the feet?
Do you have any further questions?