In a traditional style kitchen, the ambiance is elegant and a little bit formal. There's familiarity and warmth in a traditional room, and it usually feels cozy and family-focused. It's very simple to create this look, and we'll explain how in the rest of this guide. + Learn More
The design building blocks of a traditional kitchen.
Crown moldings, raised-panel cabinet doors, and polished stone countertops are the foundation of a traditional kitchen. These three elements give any kitchen a timeless, gracious look.
Cabinets play a leading role. They're usually crafted from rich woods like cherry, mahogany, birch or maple — or finished with a stain that mimics these woods. The cabinets should have the rich look of fine furniture and offer conservative appeal.
Remember, when you create a traditional kitchen, you want to ignore design trends in order to create a room that will be in style for years to come. Choose bullnose or beveled edges for your countertops, along with a wood floor that matches the cabinets.
Bar stools that work well with traditional interiors:
There are a few styles of barstools that you can choose for traditional interiors. Parsons stools, barrel stools, and metal-wood combination stools all are great choices. Wooden stools with decorative nailheads also fit well with traditional designs.
Parsons Stools
Parsons stools have fully upholstered backs and seats, with legs made of metal or wood. The upholstery is usually a solid-color vinyl or fabric, but can also be a detailed print, floral, picture print, x-pattern, paisley, or micro-pattern. Parsons stools help create a formal, educated look.
Barrel Stools
No, these aren't barrels with cushions on top — they're actually a traditional style of stool that's very popular. Barrel stools have round seats with shorter backs that curve to match the shape of the seat. They're usually upholstered with thick plush cushions all around, with wood or metal only showing on the legs. These stools tend to be slightly wider for maximum comfort.
Metal and Wood Stools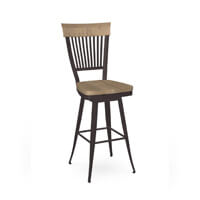 Stools that combine metal and wood are another great addition to a traditional room, either at the bar or at the counter. Many of these stools have metal frames, with horizontal wood slats on the back rest and upholstered or wood seats.
Choose stools with straight lines, simple curves and thicker legs. Avoid anything with ornate, flowery curves and thin, delicate metalwork. Add arms to your stools to make the room even more inviting and comfortable.
If your kitchen has a lot of wood, a metal and wood barstool will help you avoid the lack of color pop that sometimes happens in an all-wood kitchen. The lack of color stems from having too many of the same shades and stains of wood — the cabinets, floors, trim, and so on. The two-toned effect of metal and wood gives you more color, more depth, and depending on the metal, more light as well.
Match the wood on the stools to a favorite shade of wood from your cabinets and match the metal to your light fixtures or a color tone from your countertop.
Many beautiful metal and wood stools can be found in our Amisco and Trica brands. If you'd like help matching the colors of metal and wood to your home, just write or call and we'll help you make it perfect!
Nailhead Stools
Stools with nailheads around the seats or backs are attractive in any traditional room. In backless wood barstools, decorative nailheads or studs usually make a ring around the seat to hold down the upholstery. On stools with backs, the nailheads make a ring around the upholstery of the back and the seat.
These stools are usually upholstered in vinyl, leather, or bonded leather to create an old-world or country club style. Arms are also common on these barstools to create a more laid-back, relaxing feel.
Nailhead stools can be found in our Darafeev brand.
Colors that work well with traditional interiors:
Traditional wood stains are brown cherry, red cherry, maple, and walnut for cabinets, floors, and island bases. Off-white cabinets are another popular look, sometimes with the base of the island painted to match.
Floors can offer contrast to the cabinets, for example, pair a walnut-stained floor with off-white cabinets. Lastly, choose countertops that are in harmony with the floor – for a walnut floor, choose walnut-stained countertops or granite with neutral colors of flecks and swirls.
The colors of your counter stools should flow with the countertop and the cabinets in a two-toned color scheme. To continue with the previous example, highlight a brown fleck in the granite with a brown metal finish on the stool. If the cabinets are off-white, put some off-white in your upholstery choice.
Sample color palette for a traditional kitchen:
Element
Color
Cabinets
Off-white
Countertops
Walnut
Granite with neutral flecks and swirls
Island Base
Off-white
Floors
Walnut-stained hardwood
Barstools
Metal-and-wood two tone: Brown metal finish, wood slats on back, off-white as a secondary color in the seat upholstery. Possibly add a pop of color with the upholstery's primary color.
Questions? Let us know!
If you have any questions or would like to talk to us about how to pair barstools with your traditional kitchen, just call 855-828-5661 or write to us! You can always send us a picture of your kitchen and we'll help you decide what will look great.