A traditional style kitchen exudes an elegant and slightly formal ambiance while also offering a sense of familiarity and warmth. The cozy and family-focused atmosphere of a traditional room makes it a popular choice for many homeowners. Learn more
Essential Design Elements of a Traditional Kitchen
Traditional kitchens are characterized by timeless designs and durable materials. Central to this aesthetic are crown moldings, raised-panel cabinet doors, and lustrous stone countertops. When combined, these components radiate elegance and a lasting appeal.
Cabinetry is paramount in this style, typically crafted from esteemed woods such as cherry, mahogany, birch, or maple. If not, they might be stained to emulate these luxurious woods. Aim for cabinets that mirror the sophistication of exquisite furniture, exuding a classic allure.
In constructing a traditional kitchen, it's pivotal to transcend fleeting design fads. Instead, focus on longevity by selecting bullnose or beveled countertop edges and wood flooring that harmonizes with your cabinets.
Bar Stools Perfect for Traditional Interiors
A few barstool styles seamlessly complement traditional spaces. These include:
Parsons Stools
These feature fully upholstered backs and seats with metal or wooden legs. The upholstery can vary from solid colors to intricate designs like florals, paisleys, or micro-patterns. Parsons stools resonate a refined ambiance.
Barrel Stools
Contrary to their name, they aren't mere cushioned barrels. This traditional stool style boasts round seats with short backs that mimic the seat's contour. Their plush upholstery is usually confined to the seat, revealing wood or metal legs. Barrel stools have a more expansive seat for utmost comfort.
Metal and Wood Stools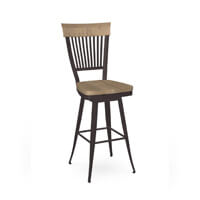 These stools blend the warmth of wood with the sleekness of metal.
They typically feature metal frames paired with wooden backrest slats and either upholstered or wooden seats.
For a traditional look, pick stools with straightforward designs, devoid of intricate metalwork.
Introducing arms can further enhance their inviting nature.
Should your kitchen predominantly feature wood, these two-toned stools prevent a monotonous appearance, adding depth and, if the metal is reflective, amplifying light.
Coordinate the stool's wood with your cabinetry and the metal with your light fixtures or countertop hues. Explore the Amisco and Trica brands for a plethora of options.
Nailhead Stools
These stools are embellished with nailheads, either around the seats or backs. They often have vinyl, leather, or bonded leather upholstery, exuding an old-world charm or even a country club vibe.
The presence of arms is common, making the setting more welcoming. For an exquisite selection, consider the Darafeev brand.
Color Palettes for Traditional Interiors
When choosing colors for traditional interiors, especially kitchens, it's crucial to maintain a cohesive and classic look. The right color combination can enhance the aesthetic appeal of your space.
Traditional Wood Stains
Wood tones like brown cherry, red cherry, maple, and walnut are staples for cabinetry, flooring, and island bases. A trend that remains timeless is off-white cabinetry, often complemented by an island base painted in a matching shade.
Flooring Tips
Floors can be a fantastic medium to introduce contrast. Consider juxtaposing an off-white cabinet set with a rich walnut-stained floor. This strategy not only enhances depth but also breaks the monotony.
Countertop Choices
Your countertop selection should resonate with your floor. For instance, if you've chosen a walnut floor, opt for walnut-stained countertops or go for granite infused with neutral-colored flecks and swirls.
Bartool Colors
Barstools can be the subtle bridge that ties together countertops and cabinetry. Embrace a two-toned color approach: if the granite countertop has brown flecks, mirror this in the metal finish of the stool. Complement off-white cabinets with similar tones in your stool upholstery.
A Glimpse at a Traditional Kitchen Color Palette
| Element | Color |
| --- | --- |
| Cabinets | Off-white |
| Countertops | Walnut or Granite with neutral flecks and swirls |
| Island Base | Off-white |
| Floors | Walnut-stained hardwood |
| Barstools | Two-toned metal and wood – featuring a brown metal finish and wooden back slats. Incorporate off-white as the secondary color in the seat upholstery, with a potential hint of a vibrant color for added interest. |
Need Guidance? We're Here to Help!
If you're unsure or need assistance in pairing barstools with your traditional kitchen aesthetic, don't hesitate to reach out! Feel free to send over images of your kitchen, and our team will gladly guide you in selecting pieces that enhance its beauty.