An Introduction to Furnishing a
Truly Chic Farmhouse Kitchen Experience
What is it?
A Farmhouse design kitchen brings a comfortable, yet rustic feel from materials which are practical and simple, such as weathered wood, peeling paint and simple, clean lines. Soft neutral colors and natural wood tones create a sense of serenity and relaxation while offering a historic, farm style setting.
Areas best suited for this style
Kitchens include checked window treatments, checked sofas, old farm style distressed wood paneling and floors. Kitchen islands are made of butcher block tops and barn door style cabinets make this room a truly, unique farmhouse look.
Challenges of this design
Distressed woods are a signature in this style. The only challenge I find is keeping things simple. Avoid bright colors as well as wall-to-wall carpeting. Area rugs are okay, but bare wood floors will give you a better, farmhouse look.
Types of Farmhouse
Rustic — made of heavily distressed woods, thick and bulky
French — Ornate curved shapes, Queen Anne legs, rustic, natural distressed finishes
Modern — Natural textures and galvanized steel with natural wood accents
Colonial — Distressed windsor and ladder back style chairs, generally dark woods
Traditional — Classic furnishings that might feel outdated, yet simple and predictable
Industrial — A mixture of distressed steel and rustic woods
Kitchen Design Examples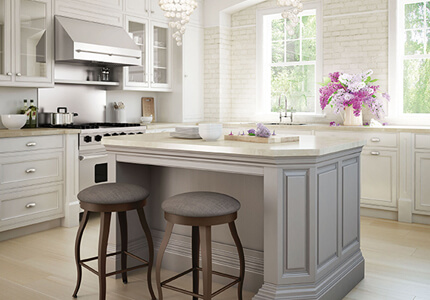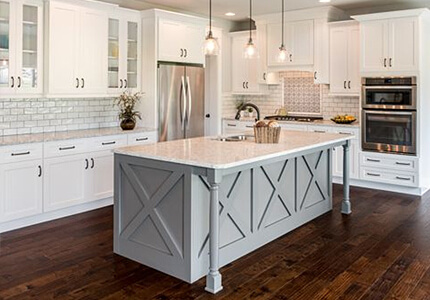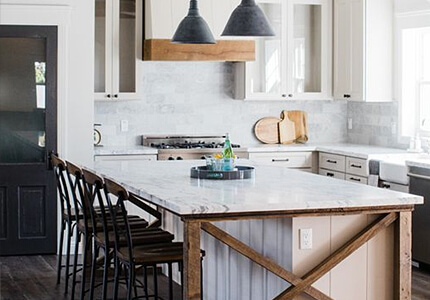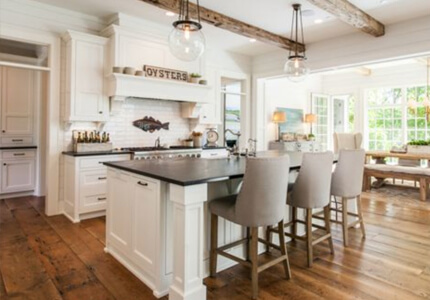 Farmhouse Style Bar Stools
Further Reading