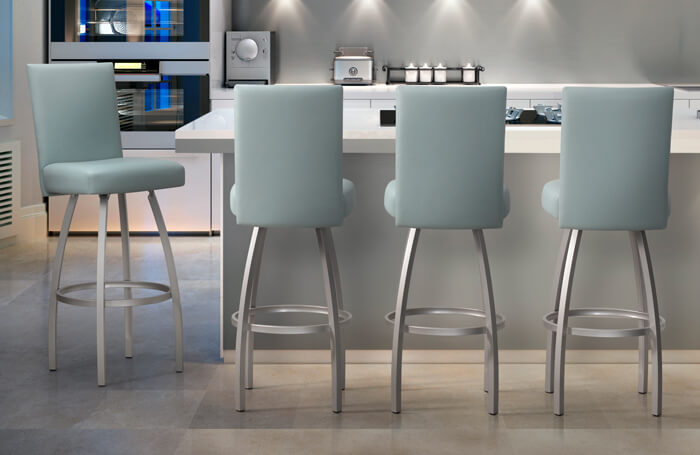 Spectator height stools measure 34 inch from floor to seat. If the counter height of your bar or kitchen island is 44 inches or more, these stools are perfect.
Here's a few of our most popular ones:
How They're Used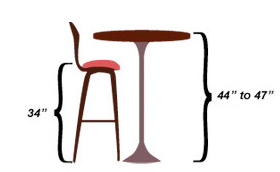 Spectator height stools are favorites for parties, because they make it easy for seated guests to mingle with people who are standing.
Great for Stadium Seating
They're great for group viewing – big sports games, movies, awards shows, you name it. You can line them up behind the couch or along the back wall of the room to create stadium seating.
Types of Spectator Height Stools
Backless
Backless stools are great for kitchens where space is limited or if you want to keep the kitchen looking minimal.
If you're not planning on sitting on a backless stool for a long time, these will work for you.
If you are, however, looking to sit in a stool for a long period of time, we recommend a stool with a back.
With Arms
Arms are a great way to add comfort when sitting on a stool for a long period of time. They allow you to sit back and relax. If you have room for them, arms will be a great additional to your kitchen or other space.
Outdoor 34″ Spectator Bar Stools
Have a tall outdoor bar? Our 34 inch spectator outdoor stools are perfect for your 44 or 46 inch high bar. They're all-weather protected which means you can leave them outside and they won't rust. They'll also quickly dry, so you can get back out there and enjoy your patio.
Styles of Spectator Height Stools
Country
These stools are designed for the modern farmhouse, cozy cabin, or weathered barn. They allow you to bring in stools that convey a warm and inviting space.
French Country
Bring a sense of old world style into your home with these French Country stools. Their soft and welcome appeal will add charm and elegance into your traditional kitchen.
Industrial
Need a tall industrial stool? No problem! Bring that modern and old factory look into your kitchen with these stools, featuring a metal frame and wood or back seating.
Modern
Complete your modern kitchen or home bar with any of these spectator height stools, perfect for counters of 44 inches up to 46 inches. With simple lines and striking profiles, these stools add an on-trend look.
Traditional
These extra tall traditional styled bar stools are great for homes with crown moldings, raised-panel cabinet doors and polished stone countertops. These stools are going to not only add a warm and inviting feeling, but they'll create a timeless look.
From traditional to modern, there's something for every interior, and with dozens of ways to customize each stool, you can find your perfect spectator stool.