Uplift Backless Adjustable Swivel Stool with Wood Seat – 24¼" up to 29¼"
by Amisco
This bar stool was discontinued on June 1 2022.
Here are similar designs available:
Features
Uplift your industrial or rustic kitchen with this backless bar stool featuring a round wood seat available in your choice of any distressed or non-distressed finish.
Under the seat is a corkscrew allowing you to adjust the seat height starting from 24.25″ up to 29.25″ — perfect for use at the kitchen island or the home bar.
The tripod-style base is made of heavy-duty metal and can hold up to 300 lbs of weight. Finish it off in white, bronze, black, gray, even gold, and more.
10-year limited residential warranty on metal frame
It's built to last you for decades
Lead-free paint
Heavy-duty North American steel
Powder-coated metal finish for heavy-duty use
Narrow, doesn't take up a lot of space
Swivel 360 degrees with ease
Stable enough to support up to 300 lbs
Available in distressed or non-distressed solid wood birch seat
Suitable for both counter and bar heights
Good to know:
Item #42614
Great in industrial or modern kitchens, dining rooms, bars or game rooms
Also available with a back
How the "Screw" mechanism works:
The Architect allows you to adjust the seat height via the Screw mechanism under the seat. To get the seat higher, you'll swivel the stool counter clockwise and to get the seat lower, you'll swivel it clockwise.
Characteristics of the distressed solid wood:
Celebrating character marks, knots and contrasting wood grain, distressed solid birch blends incredibly well with steel, providing an authentic and unique look to every product.
Manual characteristics that will appear on distressed solid wood components:
Nail holes
Simulated worm holes
Tool mark
Screw mark
Chain impact

Natural characteristics that may appear on distressed solid wood components:
Deep mark
Repaired knot
Deep knot
Multiples cracks
Long crack

Eco-Friendly
When you acquire an Amisco piece, you are demonstrating your commitment to helping protect the environment. Our furniture is guaranteed to last, with durability and beauty that span generations.
Amisco uses environmentally friendly processes, from the first phase of the manufacturing process until the last. They recycle all production rejects. They avoid over packaging and use packaging made from recycled and recyclable materials.
Always concerned about limiting its environmental footprint, Amisco has completed and continues numerous initiatives to reduce its energy consumption.
Easily Customizable
Love this? Customize it to make it your own.
Available in a variety of powder-coated metal finishes including 24 Magnetite, slightly darker than stainless steel • 25 Black Coral • 27 Sun Gold • 53 Dayglam, a light nickel • 57 Metallo, a dark gray • 52 Oxidado, medium brown goes great with oil rubbed bronze fixtures • 61 Pure, white • 74 Falcon, medium brown with heavy texturing • and more.
Available in a variety of non-distressed wood stains including 39 Verdastro • 41 Rumcherry • 42 Beachwood • 43 Cafe • 44 Porter • 46 Cashew • 47 Tiramisu • 48 Earl Grey • 49 Mouse • 85 Unfinished • and 96 Pinecone.
Available in a variety of distressed wood stains including 45 Unfinished • 78 Ironstone • 79 Verdos • 80 Milk • 81 Cayenne • 82 Maroon • 84 Shady Birch • 86 Sand Dust • 87 Toasty Birch • 89 Stone Dust • and 93 Pretzel.
Specifications
| | |
| --- | --- |
| Item # | 42614 |
| Adjustable Height | 24¼" up to 29¼" |
| Application | Residential |
| Arms Availability | Armless |
| Assembly | Some Assembly Required |
| Base Style | Tripod |
| Seat Style | Round Seat |
| Special Features | Available in Distressed Wood Finish, Eco-Friendly |
| Style | Industrial, Modern, Rustic Chic, Rustic Farmhouse |
| Swivel Availability | 360-Degree Swivel |
| Warranty | 10-year limited residential warranty on metal frame |
| Weight | 25.5 lbs |
| Weight Capacity | 300 lbs |
Measurements
All measurements are approximate.
Overall Width

16¼"

Overall Depth

16¼"

Adjustable Seat Height

From 24¼" up to 29¼"

Weight

25.5 lbs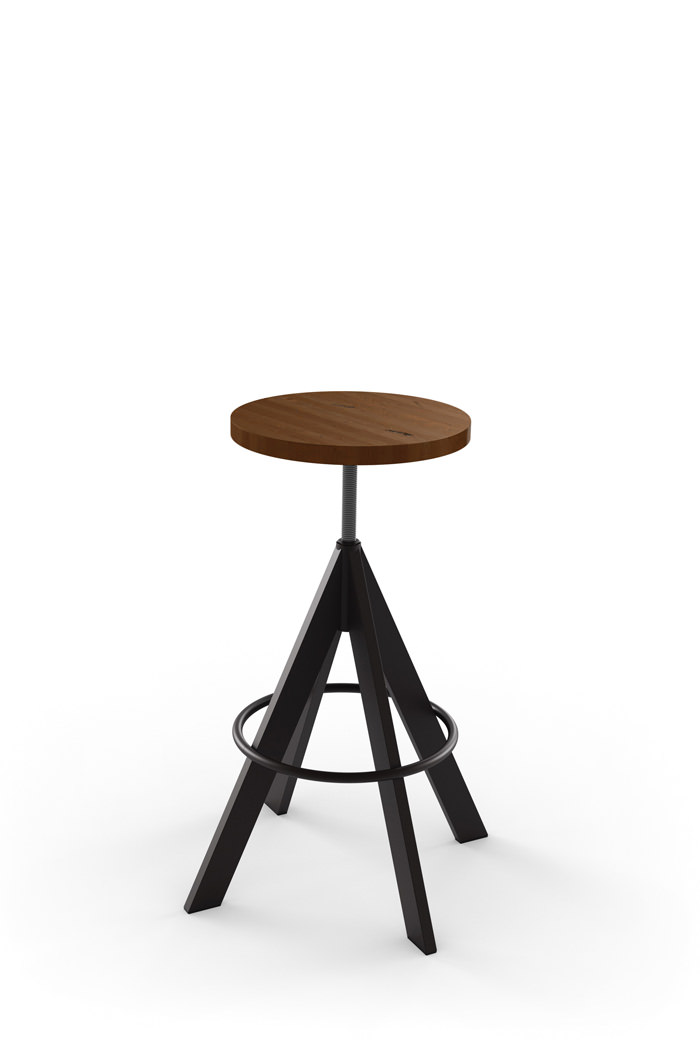 Shipping Details
Free shipping!
As of June 1 2022, these take 10-13 weeks to be made and are shipped out of Québec, Canada via UPS directly to you.
Transit time is typically a week or less.
If you have any questions, please don't hesitate to reach out.
About Amisco

Amisco's modern yet timeless bar stools add class to any interior. These worldly, welcoming stools are the definition of sophisticated style. Choose Amisco for a fresh, modern spin on traditional design.
Amisco's stools feature comfortable cushioned seats, perfectly placed footrests, and straight, strong legs — everything you'd expect in a high-end bar stool, plus a refined sense of style that's just so right now.
Amisco's sturdy steel-frame stools are perfect for everyday use. Every piece is designed and built in Canada and backed by worry-free after-sale support.
You can feel good about owning Amisco furniture, too. Amisco uses eco-friendly manufacturing processes like waste recycling, recycled/recyclable packaging, packing waste reduction, and reduced energy consumption.