Uplift Backless Screw Stool
by Amisco
$260.00
Tax Free Free Shipping
In Stock
SKU:

AmiscoUplift42614
Categories: 24 inch Bar Stools, 26 inch or 30 inch Counter and Bar Height Stools, Adjustable Backless Stools, Adjustable Bar Stools, Backless Bar Stools, Custom Bar Stools, Industrial Bar Stools, Metal Bar Stools, Metal Barstools without Backs, Metal with Wood Bar Stools, Modern Bar Stools
Brand: Amisco Bar Stools
Features
Bring industrial charm to your kitchen with the Uplift Screw Stool.
The metal frame on the base brings a cool and sophisticated edge to the stool. While the wood on the seat exudes rustic warmth with its natural tones. Both materials bridge together a style that is truly on trend.
You'll also love how versatile this is. It can be used at any counter or bar because it adjusts from 24″ up to 30″, which is perfect for even the most finicky guest.
The four-legged base provides the stability you're looking for and holds up to 300 pounds.
Why you'll love this stool:
10-year limited residential warranty on metal frame
It's built to last you for decades
Lead-free paint
Heavy-duty North American steel
Powder-coated metal finish for heavy-duty use
Narrow, doesn't take up a lot of space
Swivel 360 degrees with ease
Stable enough to hold up to 300 pounds
Distressed solid wood birch seat, optional
Suitable for both counter and bar heights
Good to know:
Item #42614
Great in industrial or modern kitchens, dining rooms, bars or game rooms
Also available with a back
How the "Screw" mechanism works:
The Architect allows you to adjust the seat height via the Screw mechanism under the seat. To get the seat higher, you'll swivel the stool counter clockwise and to get the seat lower, you'll swivel it clockwise.
Eco-Friendly
When you acquire an Amisco piece, you are demonstrating your commitment to helping protect the environment. Our furniture is guaranteed to last, with durability and beauty that span generations.
Amisco uses environmentally friendly processes, from the first phase of the manufacturing process until the last. They recycle all production rejects. They avoid over packaging and use packaging made from recycled and recyclable materials.
Always concerned about limiting its environmental footprint, Amisco has completed and continues numerous initiatives to reduce its energy consumption.
Easily Customizable
Love this? Customize it to make it your own.
Available in a variety of powder-coated metal finishes including 24 magnetite which matches stainless steel appliances • 25 black coral • 27 sun gold • 51 harley for an industrial look, 61 pure which is a white • 68 vanilla which is a cream • and more.
Available in a variety of comfortable fabric colors including BZ powder blue, GM browncow cowhide pattern • HB flame candy apple red • HF cloud medium gray • J9 coconut rustic cowhide microfiber, dark brown • and even HN blush barbie doll pink • BR azurite medium blue weave • CQ virtuoso classic music cursive lettering • plus many more.
Available in a variety of wipe-off-ready vinyl including D8 bark medium chocolate brown • DA ink matte black • DC riviera seafoam green • DH blizzard white • DN elephant marbled slate gray • DT aquamarine dark teal green • ER caramelo caramel color • and more.
Specifications
| | |
| --- | --- |
| Item # | 42614 |
| Adjustable Height | 24" up to 30" |
| Application | Residential |
| Arms Availability | Armless |
| Assembly | Some Assembly Required |
| Base Style | 4-Legs |
| Material Availability | Fabric, Vinyl |
| Seat Style | Round Seat |
| Special Features | Distressed Wood Finish, Eco-Friendly |
| Style | Industrial, Modern |
| Swivel Availability | With 360-Degree |
| Warranty | 10-year limited residential warranty on metal frame |
| Weight | 25.5 lbs |
| Weight Capacity | 300 lbs |
Dimensions
All measurements are approximate.
Overall Width

16¼"

Overall Depth

16¼"

Adjustable Seat Height

From 24" up to 30"

Weight

25.5 lbs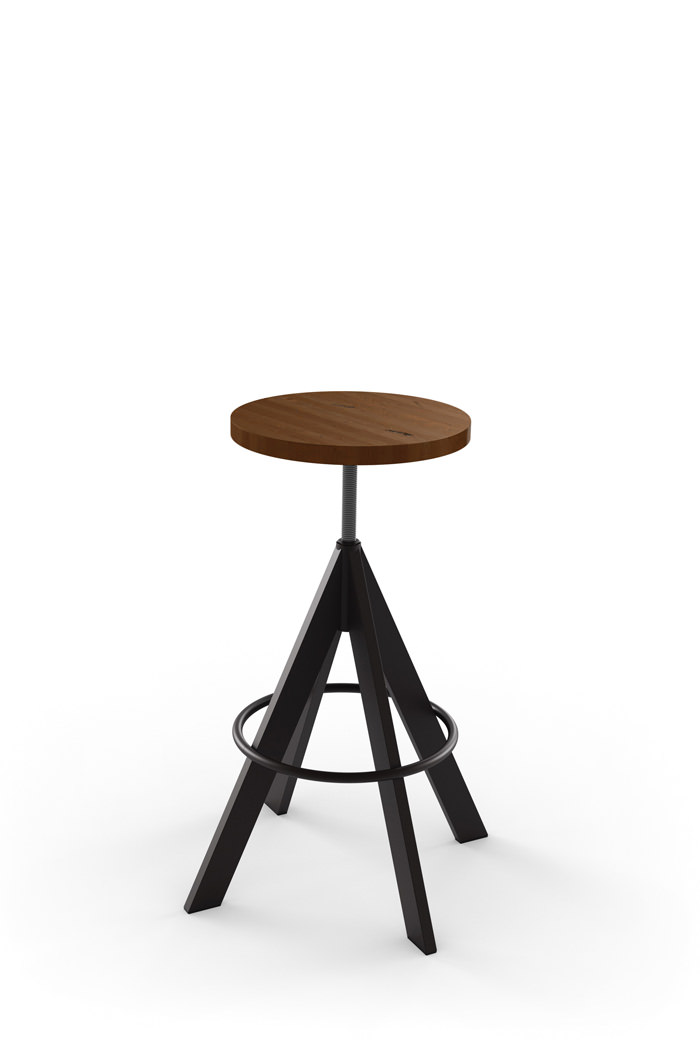 Shipping Details
Typically ships within 2-3 weeks. Free shipping!
About Amisco
Amisco's modern yet timeless bar stools add class to any interior. These worldly, welcoming stools are the definition of sophisticated style. Choose Amisco for a fresh, modern spin on traditional design.
Amisco's stools feature comfortable cushioned seats, perfectly placed footrests, and straight, strong legs — everything you'd expect in a high-end bar stool, plus a refined sense of style that's just so right now.
Amisco's sturdy steel-frame stools are perfect for everyday use. Every piece is designed and built in Canada and backed by worry-free after-sale support.
You can feel good about owning Amisco furniture, too. Amisco uses eco-friendly manufacturing processes like waste recycling, recycled/recyclable packaging, packing waste reduction, and reduced energy consumption.