Nowadays, kitchens are the go-to spot in the home where friends and family gather around the island while someone either cooks or serves drinks.
According to the 2022 Houzz survey, kitchen islands are being built longer. "Nearly 2 in 5 islands are more than 7 feet long, a significant increase from last year, indicating that islands in general are getting longer."
Making sure your kitchen design meets all your criteria (and makes sense) is the most crucial part, but with so many kitchen design articles out there, it can be a bit overwhelming. Where do you start?
Here, we decided to combine the most common questions you may have in one spot. Enjoy!
Table of Contents:
6 Types of Kitchen Layouts
When renovating your kitchen or starting with a blank canvas, the absolute first order of business is choosing a layout that will best serve your needs.
Your floor plan will have huge impact on the efficiency and the overall flow of your cooking area.
Also, start thinking about what you will want to achieve in your kitchen. Nowadays, kitchens aren't just for cooking.
"The kitchen island has become increasingly important for activities other than cooking: More than half of renovating homeowners (52%) use it primarily for entertaining, and nearly half (44%) use it primarily for socializing. Unsurprisingly, given pandemic-related changes in work arrangements, doing work is the top activity at the island for 1 in 5 renovating homeowners (20%), up by 4 percentage points from the previous year."

Houzz, 2022
Here are 6 common kitchen layouts and how they're beneficial:
L-Shaped Kitchen Examples
Although, one-wall layouts provide counter space at both sides of the range, the sink and the refrigerator still take up a lot of the working area. If you choose this layout, you need to combine it with compact appliances to ensure enough counter and storage space. Some modern designs also include an island that can serve as a dining area as well.
One Wall Kitchen Examples
The only downside of the galley kitchen is that it completely eliminates traffic and prevents the interactions with guests and family. The design is also not appropriate for large rooms and doesn't include a dining area.
Galley Kitchen Examples
U-Shaped Kitchen Examples
There are two main problems with the u-shaped kitchen:
First, it doesn't provide enough space for a table and chairs.
Second, it may be impossible to place the dishwasher next to the sink.
You can address the seating issue by creating a pass-through to the dining room or use an island as an eating spot like so:
Be mindful about the space if you choose the second option. There should be at least 3½ feet between the surrounding appliances and the island in order to move safely, open the cabinet doors properly and perform effective home cleaning.
G-Shaped Kitchen Examples
Kitchen Island and Peninsula Examples
A peninsula is a connected island that serves to convert the basic layout designs. It is incredibly functional and can help you upgrade your existing kitchen design layout. For example, you can turn the L-shaped layout into a horse shoe.
---
What Height Should a Kitchen Island Be?
Here's why:
Young or old, you will have an easier time getting in and out of the stools, as the seat height is going to be closer to the height of your bum.
It's going to be less dangerous for kids as opposed to counters much higher.
You will have a much more extensive selection to choose from when shopping for counter stools at this height. You will need a 26″ or if you want more leg room, a 24″ counter stool.
From cooking to entertaining guests to doing office work, this height will be the most comfortable height for everyone.
---
8 Design Ideas for Your Kitchen Island
Transform your kitchen with these little-known tips which are cost-effective and easy to do.
Lighten Up with Philips Light Hue Strips
Add a creative glow underneath your kitchen island with the Philips Hue LED light strip for $69.99. It's multicolored and dimmable, so you can create your desired ambiance.
Change or Add Pendant Lights
If you don't have pendant lights over your kitchen island, adding them can certainly amp up the design you want or have.
Below are photos of the on-trend white kitchen. Look how many different kinds of pendant lights there are and how it changes the vibe of the space:
Repaint Kitchen Island Base
A fresh coat of paint can really change up the design in your kitchen. In this case, you can repaint your kitchen island base (here's a beginners guide on how to do this). See below for examples of kitchens that have colors on their base:
Freshen Up with New Seat Cushions
Switching out seat cushions can make a change to your kitchen by lightening it up or even introducing a color. Bar stools, like the ones we carry, allow you to unscrew the seat or back so you can:
Recover them yourself.
Purchase new cushions.
Decorate with Flowers or Fruit
This is the simplest and most cost-effective solution and it's something that you can change up weekly, monthly, quarterly and even yearly, depending on the type of flower/plant you add. Not only does fruit look beautiful, it also adds immense health benefits. Below, are examples of flowers and fruit in kitchens:
Mount a Hanging Pot Rack
Free up cabinet space with a hanging pot rack and create a sense of dimension.
Add cooking utensils in a stoneware pitcher
Keep your spatula, whisk, and wooden spoons in easy reach by standing them on your island in a beautiful pitcher. You can get a basic white pitcher from Ikea or a colorful, classic pitcher from Le Creuset.
Add Footrail to Island Base
Footrails not only add to the comfort of your island, but they can also be decorative and create a new feeling in the space.
---
How to Design for a Minimalist Kitchen
Minimalism is one of the hottest design trends right now. More and more people choose the simpler and easy-to-maintain space over the heavily decorated places. The core idea behind minimalism is functionality. This is what makes it a great solution to the hard-to organize cooking area.
When designing a minimalist kitchen, only include the essentials. Each piece should serve a specific purpose. The rest should be removed.
There is more than just one way to incorporate minimalism in your kitchen. It depends on your taste and the place you have. Here are some ideas that will get you started.
Work with Your Space
The design of your kitchen depends on the size and architecture of your place. The good news is that minimalism is appropriate for both big homes and small apartments. Think what types of appliances are suitable for your kitchen. If working with a limited space, ensure that you have enough storage solutions.
---
Create an Effective Layout
The layout of your kitchen needs to be straightforward.
You can stick with the traditional and effective work triangle layout. This refers to the area between the three major kitchen components – the refrigerator, the stove and the sink. Ideally you should have an easy access to all of them. The work surfaces or the countertop should be positioned between each of the triangle areas.
Remove the Excess
The key to a minimalist and organized kitchen is getting rid of the unnecessary.
The main reason for the cluttered place is keeping too many things in a tiny space. It's more convenient to just leave it on the counter than taking out and then putting it back on its place.
Being a minimalist doesn't mean that you should own only the basics. It's more about storing things according to the frequency of usage. Put essentials in the easy to reach areas, while the other items should be well kept.
Top tip: Store things according to the frequency of usage.
Keep it Simple
This is the mantra of every minimalist. Incorporate only appliance you know you will use. Don't simply arrange items for display. The same goes for the furniture.
Minimalism is not fussy or complicated. A dining set or a counter island is enough. You need to have enough room to move around. The more furniture pieces you include, the less natural flow you will have. This will also make everyday cleaning and maintenance a breeze.
Stick with the Neutrals
Clean lines and neutral pallets are the trademark of a minimalist design. White, beige and other unobtrusive shades adds sophistication and modern sense to the place. You can use the neutrals as a base. Create interest with details in bright shades.
---
White Kitchens: What's to Love and What's Tough
Have you noticed that more and more kitchens are done in a color that's…not really a color? Yes—we're talking about white kitchens.
From HGTV to house tours to new construction, we're seeing white kitchens everywhere.
So should you switch over to a white kitchen in your home?
What's to love about white kitchens
White kitchens are clean and fresh. They wake you up in the morning and give you a shot of energy after a long day at work. They also inspire us to eat healthier—fruits and vegetables just look so good on the surfaces of a white kitchen.
There's also the feeling of gourmet that accompanies a white kitchen, evocative of a chef's coat and hat. If the all-black kitchen represents the on-the-go urban takeout lifestyle, the white kitchen stands for farm-fresh culinary delight.
What's tough to love about white kitchens
White kitchens can attract extra colors that aren't part of your carefully selected color palette—spaghetti splatters, muddy tiles, caked-on grease and more. You really have to love to clean if you're going to live with a white kitchen. (Or maybe you're lucky enough to have someone to clean for you!)
White kitchens also run the risk of looking too sterile, more like a hospital room than a kitchen. Beware of pairing too much stainless steel or chrome with a white kitchen, especially if you don't have any color or wood accents in the room.
White kitchens can be overwhelmingly bright. Consider your windows and how the sun enters the room. Warm the light with translucent curtains, lampshades, indirect lighting, or even carefully chosen stained glass. And beware of overhead fluorescent lights!
What type of seating is best for a white kitchen?
Most French Country stools look fantastic in a clean, white kitchen. Silver finish, brushed steel, or light wood accents on any barstool also works well.
You can match the colors of your cushions to your room's accent colors, but be sure that it doesn't create too many pops of color.
Often a kitchen will be designed without consideration for color from the chairs—so if your white kitchen already has all the color it needs, stick with white, birch, ash, or silver on your chairs.
---
9 Unexpected Ways to Splash Your Kitchen with Color
Here are 9 kitchen color ideas you can use year-round to keep your home looking fresh and beautiful.
Display colorful mason jars.
Sprinkle color around the room with a mason jars! You can save up your garden's produce, or you can buy jellies, jams, pickles and sauces at your local farmer's market. When properly sealed, mason jars don't have to be refrigerated so they're perfect for your counter.
Mason jars are a timeless part of any kitchen, and right now they're really popular. You can also use them to store crayons, organize knick-knacks, make candles, hold fresh flowers and more! Search for mason jar on Pinterest and you'll find tons of ideas.
Add colored light to your flowers.
With new underwater LEDs, you can add color to a clear vase and create a cozy mood in the evenings. Just get this submersible LED light from Amazon and drop it in your vase. It's powered by 3 AAA batteries and it changes color automatically.
You can keep the vase as a focal piece on your kitchen counter, dinette set, or home bar. Best of all, it looks great whether you use real flowers or fake.
Bring in colored soap dispensers.
Soap comes in an endless variety of colors. You can fill a clear dispenser with different color dish soaps. If you have a dish soap you already like, just get a funky, colorful dispenser. You can also add bars of hand soap in any color of the rainbow. A good soap can add a big dollop of color to your kitchen.
Add color with placemats.
Who said placemats are a thing of the past? There's always a way to make old styles contemporary. Here are some placemats that are bright and beautiful, yet also subtle.
Warm up with colorful candles.
You can find locally made candles at the farmer's market or in boutique stores. If not, there are all sorts of candles available in big-name stores.
Just like soap, the colors are endless – and so are the scents! If you don't want your candles to compete with your cooking, though, make sure to use unscented candles.
Add pop of color with notepaper.
This is one of our favorite little things that makes a big difference – coordinating your note pads with your décor! You can either go for a match with your textiles such as towels or window dressings, or you can create contrast with primary colors, pastels or patterns. Modern black-and-stainless-steel kitchens look great with neon post-it notes.
Brighten with towels and other textiles.
Add a splash of color with dish towels, mitts and pot holders. These are easy to find and rotate on a seasonal basis. Hang them on the oven door, fold them on the counter, stack them on a shelf, or use hangers or hooks. They not only look great – you'll save tons of paper towels!
Make a statement with mugs.
If your kitchen doesn't have a lot of color, mugs are an easy way to liven it up. Guests especially like using a fun, colorful mug. You can buy mugs in a matching set, you can create seasonal assortments, or you can collect them on your travels. The next time you see mugs for sale, try thinking not so much about the design or the pattern – think about the color first.
Get creative with gadgets.
Bottle openers, peelers, pepper grinders, and of course, the classic Kitchen-Aid mixer – each is an opportunity to bring color into your kitchen. Who can resist colors like Tangerine, Green Apple, Raspberry Ice, and Crystal Blue?
---
Upholstered Patterns in Today's Modern Kitchens
These days, modern kitchens tend to keep things simple and clean and sparingly add patterns. I'm here to tell you that you can break the rules and have fun with patterns, while keeping it modern. But first, before you break the rules, let's learn what the rules are.
Table of contents:
Rules for Designing with Patterns
First — Try to avoid two patterns of the same scale such as 2-inch checks on the stool and 2-inch checks on the drapes. Alternate the sizing by using tiny checks with larger 2 inch checks.
Second — Try not to add two busy patterns in a room. For example, a busy leaf pattern with a busy geometric pattern as shown below: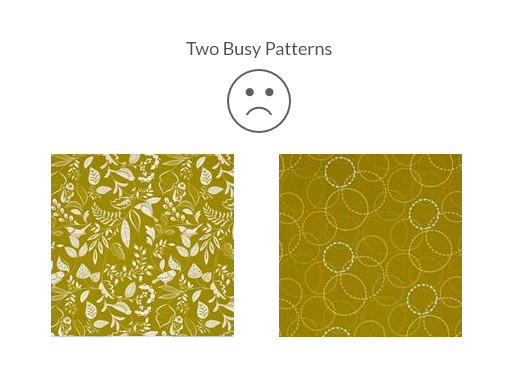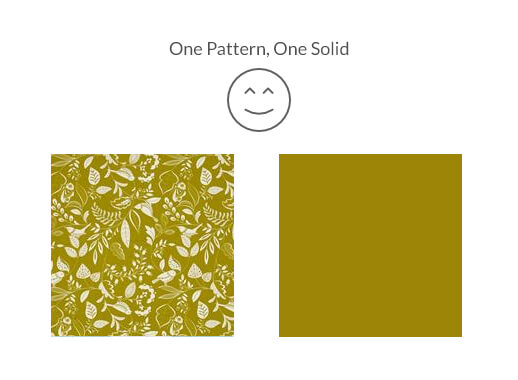 Now, let's take a look at over 10 top designers and how they broke the rules and designed with patterns.
Stripes in Modern Kitchen Designs
The most common pattern found in modern kitchens are stripes. Stripes come in all colors: blues, reds, greens, browns, etc. and typically convey a 'fun' mood. If stripes are skinny and tight, they can convey a clean, orderly space with a splash of fun.
Here's a few kitchens showing off stripes:
Striped Patterns for Bar Stools & Chairs
Fabric.com has striped patterns here:

Nature-Inspired Prints in Modern Kitchens
From leafs to palm trees and everything in between, leaf prints are making their way inside kitchens of all kinds of styles.
Nature-Inspired Prints for Bar Stools & Chairs
Checkered Patterns in Modern Designs
In a modern kitchen, checkered patterns create a country or traditional feeling. Depending on the color, they can create a beach-like style to the kitchen. Here's how these designers made checkered patterns work:
Checkered Patterns on Bar Stools
Here's a set of checkered patterns that would look beautiful on a bar stool or chair:

Cowhide Fabrics in Modern Kitchens
Cowhide patterns are becoming super popular in today's modern kitchens. They can create an edge to your design and can give the room a lively feeling and can even exude a little country charm. Check out how these designers used this pattern:
Abstract & Geometric Patterns in Modern Kitchens
Modern designs typically have a lot of sharp angles and clean lines and so, geometric patterns compliment modern and contemporary kitchens beautifully. Here's how these designers did it:
Geometric Patterns for Bar Stools
More geometric patterns can be found online. Here is a set that would look amazing on furniture:

Here is a list of our favorite fabric dealers:
Feeling inspired?
You've seen kitchens with all types of patterns and I sure hope these have inspired you to think a little outside the box!
Even if you're not a designer, you too, can create a design that you're proud of. Look at how these designers orchestrated their kitchen. Take note on how they balanced everything in the room. Take note on how they contrasted various elements in the room.
---
Tips for Kitchen Renovations from Interior Designer Jil Sonia McDonald
We recently talked to residential interior designer Jil Sonia McDonald, founder of Jil Sonia Interiors. Jil lives outside of Vancouver, BC, Canada and provides e-design services for clients all over North America. She also does plenty of in-person residential design in the Vancouver metro area.
BC: Many people are hesitant to mix two or more patterns. What advice would you give to people who tend to go neutral or are afraid of mixing patterns?
Jil: The easiest way to mix patterns is to let a designer help you—we're experts at this! Color and pattern can add so much to your room.
If you want to mix patterns yourself, I would suggest using a large pattern, a small pattern, and stripes. As long as the colors of those patterns coordinate, it will look great.
If you have a neutral space without any patterns, you can always start with one pattern to liven up your room. Even just a little will help!
Which colors do you recommend for designing kitchens?
Right now lots of my clients love a very light, warm gray paint color for walls, such as Nimbus by Benjamin Moore. It's a soft color and it works beautifully with a wide range of accent colors.
Can you give us any tips on how to save money on a kitchen renovation?
Kitchen renovations are a big undertaking, so saving money is always important! If your cabinets are in good condition, hire a painting company to paint the cabinets a soft white. Make sure you have a great painting company do this, because white is very difficult to do well.
This gives the cabinets a new, fresh look and brightens the entire kitchen—and saves you the cost of new cabinets!
When do you know you've added too many things to a kitchen?
If you're wondering whether you've over-accessorized your kitchen, take a photo of it. For some reason, we can more objectively understand our rooms through the lens of a camera.
Whether you look at the photo on your phone, on your laptop, or on paper, you'll have your answer right away.
What are some of the biggest design challenges that you and your clients face?
Luckily, we don't have too many challenges because I use a 15-step design process. It doesn't leave much room for error!
I find clients are challenged by the sheer number of decisions that have to be made during renovations. It gets overwhelming. Even if you like to do things yourself, hiring an interior designer for two or three hours will help you get on the right track and avoid design mistakes. It's our job to give you a home you love!
A note from Jil:
Thanks for reading! I'm honored to be interviewed by Barstool Comforts. If you want more information or an online design consultation, please visit my website at www.JilSoniaInteriors.com.
---
How to Make Your Kitchen Pet-Friendly
It's easy to create a kitchen that is welcoming for both you and your pets. Although it can seem impossible to stay on top of the chewing, scratching, shedding and stains, here are a few tips to keep your home clean and pet-friendly!
Choose metal-legged furniture to prevent chewing and scratching.
Dogs love to chew on the wooden legs of tables and chairs, and cats turn furniture into a scratching post. An easy way to prevent this is to choose furniture with metal legs and a powder-coated finish. Many of the stools on our site, like these by Trica, have metal construction.
These pieces aren't like the metal chairs and stools you remember from years past, though. They have a warm and welcoming look and feel. You can customize them with your favorite powder-coated finish to match any interior while keeping them free from pet attacks.
Even if you choose metal barstools for your kitchen, you'll probably still have some wooden chairs, cabinets or table legs that are prone to pet abuse.
To help steer your pets away from these temptations, make sure they always have a few toys around the house. That way they can take out their chewing and scratching energy on the toys, and they won't even think to "play" with the furniture!
Prepare for the inevitable shedding and stains.
There's not much you can do to keep your pet from shedding – the best you can hope for is to keep the fur under control. And no matter how much you train them, pets have accidents every now and then – but you can be ready.
One trick is to make sure your furniture, flooring, carpet and upholstery will hide any fur that it picks up. Dark or patterned surfaces are great at hiding fur, stains and dirt (that's why hotel lobbies have crazy carpets!). If your pet has white fur, adjust accordingly with lighter color patterns.
When choosing furniture, you can pick upholstery that will hide your pet's fur. For many of our stools, you can choose from dozens of cushion upholsteries to find the perfect "pet camouflage."
---
Table of contents: