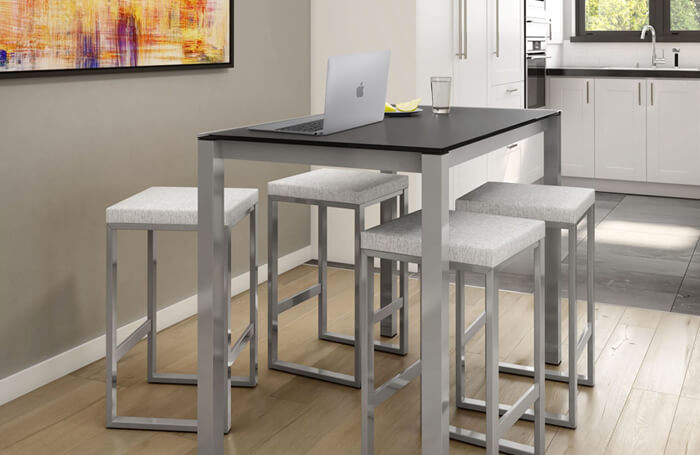 Now that more people are working from home, we're starting to see kitchens doubling up as office spaces. After all, the kitchen is the heart of the home.
"Following a kitchen renovation, one in five homeowners say that a top activity at their island is work (20%), up four percentage points from 2021. Homeowners are making space for this activity with nearly two in five islands stretching more than 7 feet in length (39%), up five percentage points from last year. Homeowners are also making the space brighter with the vast majority installing new light fixtures above islands (92%)."

Houzz, 2022 Survey
With that said, we're sitting. A lot longer. And we need comfortable seating that will last us hours without having to constantly looking at the clock hoping for another break.
Here are our top 12 picks you should consider for your kitchen office nook in 2022:
Cushioning
What comes to mind when you first think of comfort? We say upholstery!
The truth is: wood seats are really beautiful and create warmth in a space, but they're not going to be comfortable for a long period time. You'll definitely feel it in your lumbar and glutes.
However, we recommend opting for an upholstered seat, typically with thick padding that isn't too firm. Here are three comfortably cushioned bar stools:
Deep and Wide Seats
We also recommend shopping for deep or wide seats. If you're tall, we definitely recommend deep seats which are typically 16 inches and higher. Anything lower and you'll feel like you're going to fall off the stool.
Most of our stools have a depth between 18-24″ which is going to give you the comfort you're after.
Wide seats also play a factor and while you, yourself, may not be a big person, you'll appreciate the extra room because you won't feel the padding or arms on the sides of your legs.
Here are 3 deep and wide seats we recommend:
Curved Metal Backs
So far, we recommended 6 bar stools, all with padded backs. Naturally, padding on a back will add more to the comfort level, but if you find yourself eyeing up a bar stool with no back padding, is it going to be comfortable enough?
We say: if the back is slightly curved, then yes!
Here are 3 metal backs that are curved for comfort:
Padded Backless Stools
As we mentioned above, if comfort is key (and it should be!), we recommend opting for a bar stool with a back. However, we understand that budget constraints and space may only allow for a backless stool.
What makes a backless stool comfortable? Padding, padding, padding!