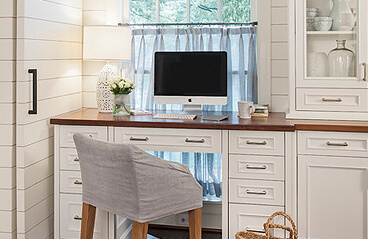 This post was updated on April 26 2022.
TREND ALERT: Homes are ditching office rooms in favor of offices in kitchens.
According to Houzz's 2022 survey, "one in five homeowners say that a top activity at their island is work (20%), up four percentage points from 2021."
The kitchen marks the hot spot of the home, and most people are getting tired of separating themselves from the action and staying in a room away from everything. Plus, the kitchen tends to have windows and bright colors which keeps them inspired.
Here's how to incorporate a functional office in your kitchen while keeping your productivity high (click the link to drop down to that section):
See the light.
Studies have shown that if your office space is located near a window that brings in natural light (vs. artificial light from a lamp) that you will be able to get more done and sleep better!
By increasing the natural light available to workers, employers may find those workers sleep better and show up for work more rested, leading to increased productivity. — Forbes
Here are a few examples of offices in kitchens near windows:
Call attention with plants in your kitchen office.
Did you know adding houseplants can make you smarter?
In a study to be published in the Journal of Environmental Psychology, researchers show that the mere presence of plants in an office setting boosts one's ability to maintain attention. — Scientific American
Here's examples of modern desks in kitchens with houseplants:
Also: photos of trees and greenery can make you happier and reduce stress!
Keep it clean.
If you're feeling distracted by other things in the space, you may need to get organized and give everything a place.
"The key to maintaining order in your office is keeping everything in its place. Otherwise, organizing becomes an endless task. Have labeled binders for papers, a folder for receipts, a tray or hook for keys, and a catchall for coins and other miscellaneous items. The more you abide by the system you develop, the less work it'll take to maintain." — Mens Health
Keeping a clean workspace has the advantages of higher productivity and adhering to deadlines.
Here are a few examples of organized kitchen offices:
Above, you'll see a chalkboard with a written to-do list. Lists can be very helpful if you need to keep an eye on the tasks of the day, week, or month.
Add personal touches.
If your current workspace stresses you out, it may help to add photos of your family and friends near your kitchen office.
Photos of your family and friends can help inspire you and keep you motivated when working.
Here are a few examples of this:
Lower back problems? Try sitting up high in your kitchen office.
If you have lower back problems, try sitting up a little higher than standard chair height. When you sit down on a chair, you have to bend your knees way down.
However, if you're sitting on a 26-inch bar stool, typically your hips will be in line with the height of the seat. In this case, you won't be having to bend your knees much to sit down. You can slide right in.
See our article on 12 best stools for your kitchen office nook.
Here are a few examples of barstools in kitchen offices:
How do you stay productive in your kitchen? Let us know on our Facebook page!