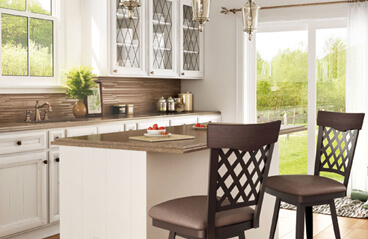 Transform your kitchen with these little-known tips which are cost-effective and easy to do.
1 — Lighten Up with Philips Light Hue Strips
Add a creative glow underneath your kitchen island with the Philips Hue LED light strip for $69.99. It's multicolored and dimmable, so you can create your desired ambiance.
2 — Change or Add Pendant Lights
If you don't have pendant lights over your kitchen island, adding them can certainly amp up the design you want or have.
Below are photos of the on-trend white kitchen. Look how many different kinds of pendant lights there are and how it changes the vibe of the space:
3 — Repaint Kitchen Island Base
A fresh coat of paint can really change up the design in your kitchen. In this case, you can repaint your kitchen island base (here's a beginners guide on how to do this). See below for examples of kitchens that have colors on their base:
4 — Freshen Up with New Seat Cushions
Switching out seat cushions can make a change to your kitchen by lightening it up or even introducing a color. Bar stools, like the ones we carry, allow you to unscrew the seat or back so you can:
Recover them yourself.
Purchase new cushions.
5 — Decorate with Flowers or Fruit
This is the simplest and most cost-effective solution and it's something that you can change up weekly, monthly, quarterly and even yearly, depending on the type of flower/plant you add. Not only does fruit look beautiful, it also adds immense health benefits. Below, are examples of flowers and fruit in kitchens:
6 — Mount a Hanging Pot Rack
Free up cabinet space with a hanging pot rack and create a sense of dimension.
7 — Add a Footrail to Base
Footrails not only add to the comfort of your island, but they can also be decorative and create a new feeling in the space.