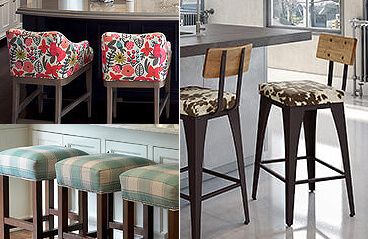 These days, modern kitchens tend to keep things simple and clean and sparingly add patterns. I'm here to tell you that you can break the rules and have fun with patterns, while keeping it modern. But first, before you break the rules, let's learn what the rules are.
Table of contents:
Rules for Designing with Patterns
First — Try to avoid two patterns of the same scale such as 2-inch checks on the stool and 2-inch checks on the drapes. Alternate the sizing by using tiny checks with larger 2 inch checks.
Second — Try not to add two busy patterns in a room. For example, a busy leaf pattern with a busy geometric pattern as shown below:
Now, let's take a look at over 10 top designers and how they broke the rules and designed with patterns.
Stripes in Modern Kitchen Designs
The most common pattern found in modern kitchens are stripes. Stripes come in all colors: blues, reds, greens, browns, etc. and typically convey a 'fun' mood. If stripes are skinny and tight, they can convey a clean, orderly space with a splash of fun.
Here's a few kitchens showing off stripes:
Striped Patterns for Bar Stools & Chairs
Fabric.com has more striped patterns here:
Nature-Inspired Prints in Modern Kitchens
From leafs to palm trees and everything in between, leaf prints are making their way inside kitchens of all kinds of styles.
Nature-Inspired Prints for Bar Stools & Chairs
Checkered Patterns in Modern Designs
In a modern kitchen, checkered patterns create a country or traditional feeling. Depending on the color, they can create a beach-like style to the kitchen. Here's how these designers made checkered patterns work:
Checkered Patterns on Bar Stools
Here's a set of checkered patterns that would look beautiful on a bar stool or chair:
Cowhide Fabrics in Modern Kitchens
Cowhide patterns are becoming super popular in today's modern kitchens. They can create an edge to your design and can give the room a lively feeling and can even exude a little country charm. Check out how these designers used this pattern:
Cowhide Patterns for Bar Stools
Abstract & Geometric Patterns in Modern Kitchens
Modern designs typically have a lot of sharp angles and clean lines and so, geometric patterns compliment modern and contemporary kitchens beautifully. Here's how these designers did it:
Geometric Patterns for Bar Stools
There's a ton of geometric patterns to choose from and even more found on other fabric stores online. Here's a set that would look amazing on furniture:
Here's a list of our favorite fabric dealers:
Feeling inspired, yet?
You've seen kitchens with all types of patterns and I sure hope these have inspired you to think a little outside the box!
Even if you're not a designer, you too, can create a design that you're proud of. Look at how these designers orchestrated their kitchen. Take note on how they balanced everything in the room. Take note on how they contrasted various elements in the room.
If you have any questions or need help with color coordinating, Deborah would be happy to help you. She even wrote an article on this here.