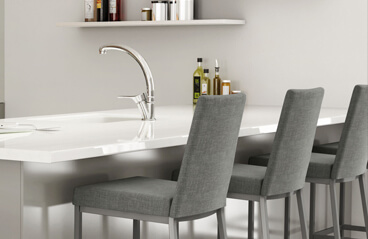 A kitchen breakfast bar is a great way to get the family together—not just in the morning, but anytime.
A breakfast bar is a raised counter, either built into an island, against a wall or window, or as an extension of the main kitchen counter.
Turn your breakfast bar into a functional gathering place for your family.
1. Choose stools that are good for children or adults.
Get stools that are sturdy and stationary. Avoid stools that swivel or tip, which could create a falling hazard.
Choose welded frames over screwed-together frames, because welded frames are stronger and have fewer edges that could snag or scrape.
Choose a frame design without jutting edges—no decorative wrought-iron points or intricate metalwork. Solid seats without a lot of latticework in the backs are ideal for kids, because there's nowhere for them to get stuck or pinch themselves.
2. Prepare the space for kids.
The breakfast bar is a great place for kids and their friends to hang out, making it easy to keep an eye on them.
Keep activity items nearby or in a countertop bin, like crayons, markers, puzzle toys, or whatever they prefer this week.
Or, if you're cooking, pretend you're on the food network and narrate what you're doing to keep the kids engaged.
3. The breakfast bar is the new kitchen computer desk.
The kitchen desktop computer is a thing of the past.
With laptops and handheld devices, a seat at the counter is the new computer desk. Your kids can do homework or play games while sitting at the breakfast bar. This makes it easy to talk face to face.
In the past, most computer nooks were oriented against a wall, which made face to face conversations difficult.
4. Make it your power spot.
If you want an easy way to gather everybody in the kitchen, create a family charging station as part of your breakfast nook or countertop.
An electrician can install a row of plugs, and even a harness or shelf for chargers and phones. Some families even choose to leave their devices here overnight to improve their sleep hygiene.
Despite the kitchen location, many families have a rule of no devices during meals. A shelf or drawer for devices located near the charging station can make this easy to follow.
What do you think?
Do you have a breakfast bar in your home? How does it fit into your daily schedule? Tell us on our Facebook page.
If you're looking to create a breakfast bar of your own, let us know! We can help you choose a set of stools to match your home and your style.