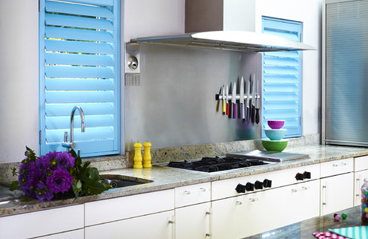 Here are 12 kitchen color ideas you can use year-round to keep your home looking fresh and beautiful!
1. Freshen your kitchen with flowers
Go with whatever's in season: Wildflowers in the spring, lush blooms in the summer, harvest arrangements in the fall, and Hawaiian orchids in the winter.
2. Decorate with seasonal fruit
Place a bowl or two of fresh fruit on your counter or island.
Again, it's fun to reflect the changing seasons. For spring and summer, the amount of color is endless! For fall, choose apples from red to yellow to green. For winter, go with citrus from yellow to green to orange.
For fruits that need to be refrigerated, you can set out the family's "fruit goal" in the morning and (hopefully) it's gone by night. Leftovers can go back in the fridge.
3. Mix up your cushions
You can find all sorts of fun, handmade seat cushions for wood stools. They're easy to swap out with the seasons – usually you just tie the cushion to the stool with a simple bow.
4. Display colorful mason jars
Sprinkle color around the room with a mason jars! You can save up your garden's produce, or you can buy jellies, jams, pickles and sauces at your local farmer's market. When properly sealed, mason jars don't have to be refrigerated so they're perfect for your counter.
Mason jars are a timeless part of any kitchen, and right now they're really popular. You can also use them to store crayons, organize knick-knacks, make candles, hold fresh flowers and more! Search for mason jar on Pinterest and you'll find tons of ideas.
5. Add colored light to your flowers
With new underwater LEDs, you can add color to a clear vase and create a cozy mood in the evenings. Just get this submersible LED light from Amazon and drop it in your vase. It's powered by 3 AAA batteries and it changes color automatically.
You can keep the vase as a focal piece on your kitchen counter, dinette set, or home bar. Best of all, it looks great whether you use real flowers or fake.
6. Have fun with your soap!
Soap comes in an endless variety of colors. You can fill a clear dispenser with different color dish soaps. If you have a dish soap you already like, just get a funky, colorful dispenser. You can also add bars of hand soap in any color of the rainbow. A good soap can add a big dollop of color to your kitchen.
7. Add color with placemats.
Who said placemats are a thing of the past? There's always a way to make old styles contemporary. Here are some placemats that are bright and beautiful, yet also subtle.
8. Warm up with colorful candles
You can find locally made candles at the farmer's market or in boutique stores. If not, there are all sorts of candles available in big-name stores.
Just like soap, the colors are endless – and so are the scents! If you don't want your candles to compete with your cooking, though, make sure to use unscented candles.
9. Add pop with notepaper
This is one of our favorite little things that makes a big difference – coordinating your note pads with your décor! You can either go for a match with your textiles such as towels or window dressings, or you can create contrast with primary colors, pastels or patterns. Modern black-and-stainless-steel kitchens look great with neon post-it notes.
10. Brighten with towels and other textiles
Add a splash of color with dish towels, mitts and pot holders. These are easy to find and rotate on a seasonal basis. Hang them on the oven door, fold them on the counter, stack them on a shelf, or use hangers or hooks. They not only look great – you'll save tons of paper towels!
11. Make a statement with mugs
If your kitchen doesn't have a lot of color, mugs are an easy way to liven it up. Guests especially like using a fun, colorful mug. You can buy mugs in a matching set, you can create seasonal assortments, or you can collect them on your travels. The next time you see mugs for sale, try thinking not so much about the design or the pattern – think about the color first.
12. Get creative with gadgets
Bottle openers, peelers, pepper grinders, and of course, the classic Kitchen-Aid mixer – each is an opportunity to bring color into your kitchen. Who can resist colors like Tangerine, Green Apple, Raspberry Ice, and Crystal Blue?
Your Turn
How do you add color to your kitchen? Visit our Facebook page and let us know.
Happy decorating!