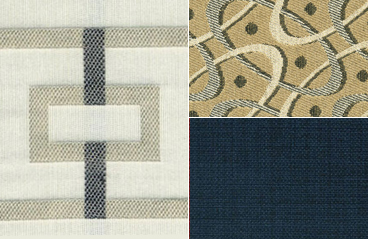 The patterns and stripes you choose can say a lot about your home. That's why we give you over 100 choices of fabric and leather for the seat of your Trica barstools. But where to start? Let's go through a few of the options you can choose from to bring the perfect barstool into your home.
Pinpoint patterns create a neat and refined atmosphere. They're great for giving your home a sophisticated, modern or minimalist vibe. Consider Jilt Graphite.
Busy Patterns bring a sense of fun to your household. They also conveniently hide stains, so these playful patterns are great if you have kids or pets. Check out Spaceship in Charcoal or Mocha.
Earthy patterns reflect aboriginal art and abstract natural designs. These patterns give your home an intriguing, global sense of cool. Are you into travel? Do you like to experiment with new cuisines? Consider Kimchee Noir.
Black and white patterns are modern and fashionable. It's easy to bring big, bold patterns into a clean and modern home if you choose black and white. Or, go the minimalist route with a fine pattern – it's up to you. Check out Sarteano Newsprint.
Solid colors should never be underestimated! If your kitchen has a dramatic focal point, such as a killer countertop or light fixture, you can keep the attention on it by choosing a solid fabric for your barstools. This way you don't have multiple elements competing for attention.
By choosing the right color, you can complement your focal point. Consider the many colors of the Linoso line.
Lastly, remember there aren't any rules for choosing a fabric for your furniture. If it makes you happy, it belongs in your home! If you have any questions about choosing a pattern, drop us a note on our Facebook page by clicking here.
Happy pattern hunting!