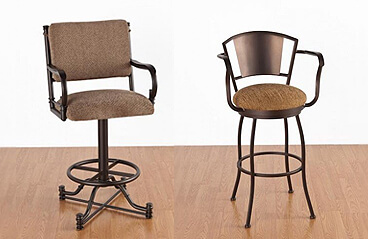 When buying a bar stool, things like price, availability, and style affect your overall decision.
But what about comfort?
It's a general notion that all of us want a comfortable stool to sit on, whether we're eating Grandma's new pot roast or reading the morning newspaper, a comfortable stool is a priority.
Here are 10 traits that classify as a comfortable bar stool.
Trait #1: Stools With Backs
Stools with backs are usually your most comfortable because they give support on the back if you are spending a lot of time on them.
If you're socializing for an hour or more at the bar or counter, a stool with a back will be much more comfortable, but if it's just a place to sit to have a cup of coffee or just to sit for a short time, backless stools work fine.
---
Trait #2: Padded Seats
Padded seats (as opposed to wood seats) are a preferable choice for comfort and are softer to sit on, but even wood seats can have tie-on pads that can be removed for washing and can be comfortable.
---
Trait #3: Deep Seats
Deep seats are seats that are wider from front to back and are ideal for taller people because they support the legs better without cutting into the thigh like a shallower seat would.
---
Trait #4: Shallow Seats
Shallow seats (seats that are shorter from front to back) are good for people who are vertically challenged because the legs tend to be shorter and are supported better.
---
Trait #5: Wide Stools
Wide stools, with deep seats, are very comfortable for tall or larger people, but we find that they are comfortable to most and give a roomier and relaxed feeling if you have the room because they tend to be larger than most stools.
---
Trait #6: Curved Backs
A stool with a curve or rounded shape to the back is usually more comfortable than a flat back and will support the back a little better.
Although there is no definite rule to this theory because everyone has a unique body structure and may feel more comfortable in a flat back.
---
A stool with about an 8 inch high back can be very comfortable if it has a rounded back and will "hug" the lower back.
However, it does not support the upper back and may not be suitable for those who have upper back problems.
When sitting at the counter for a long length of time, a full size back on the stool will give you fuller support.
---
Trait #8: Padded Backs
Stools with padded backs are a nice touch, which can be more comfortable as opposed to a metal back.
Some people don't like the feeling of cold steel on the back, but we found that most of the time it's not an issue because the comfort of the stool makes up for that.
However, plush upholstered backs and seats are sometimes the choice in a certain style and design which evoke a softer feel.
---
Trait #9: Backless Bar Stools
Backless stools are more comfortable when they have padded seats.
The seat shouldn't be too small. They should be able to accommodate the buttocks without feeling like you're falling off.
Saddle stools are wide, but narrow, and are very comfortable. They are also great for tucking under an island. Saddle stools have indented seats like a saddle, but do not swivel.
---
Trait #10: With Arms
Stools with arms make the stool more comfortable and give a place for the arms to rest.
They do make the stool wider, but are only recommended if you have the room so please measure your area to be sure they'll fit.
Stools without arms can be comfortable too when resting your arms on the bar or counter.
---