Voltaire Dining Chair #630
Voltaire Dining Chair #630
See More by Holland Bar Stool Co
$300.00
Tax Free
Free Shipping / Ships in 7-10 Business Days

Due to their custom nature, all Holland items take 7-10 business days to be made.

These are shipped out of Holland, Michigan directly to you.
In Stock
Features
Enhance the aesthetics of your space with the Voltaire dining chair by Holland Bar Stool Co.
This exceptional chair features a wooden back available in various finishes and styles, an amply padded seat cushion, and a sturdy metal base that ensures stability and durability.
The chair's versatile design makes it an excellent choice for a wide range of design styles, including traditional, transitional, country, and farmhouse.
Whether you want to complement your hardwood floors or wood cabinets, the Voltaire dining chair is a great option that is sure to satisfy your refined taste.
5-year limited residential warranty
It's made to last you for decades
Heavy-duty commercial-grade steel
Powder-coated metal finish for heavy-duty use
Sturdy enough to hold up to 350 pounds
Two layers of foam, over 2″ thick
Well cushioned seat for long periods of sitting
Proudly made in the USA
Goes great in dining rooms, kitchens, and restaurants
Includes nylon glides on the bottom of the feet to protect your linoleum floors — add felts for wood or linoleum floors for extra protection
Eco Initiatives
Holland Bar Stool Co. manufactures all seating products to nationally recognized standards for Fire Retardancy of upholstered materials and foam padding. We use 100% urethane foam with no fillers. This product passes the following flammability specifications:
California Technology Bulletin
FMVSS No. 302
We also recycle leftover cardboard and we avoid overpacking. Learn more here.
Easily Customizable
Love this? Customize it to make it your own.
Available in a variety of powder-coated finishes including anodized nickel, black wrinkle, bronze, and pewter.
Available in a variety of comfortable fabric colors including blacks, blues, browns, cream, grays, greens, oranges, purple, reds, whites, and yellows. We also have Crypton performance fabrics from our grade 2 collection.
Available in a variety of wipe-off-ready vinyl including black, rein bay, as well as blacks, blues, browns, cream, grays, greens, oranges, purple, reds, whites, and yellows.
We also accept C.O.M. (customers own material) if you'd like to send in your own fabric, vinyl or leather, which allows you to use any color or pattern on our stools or chairs.
Measurements
All measurements are approximate.
Overall Width

18"

Overall Depth

18"

Seat Height

18"

Overall Height

32"

Weight

22 lbs

Weight Capacity

350 lbs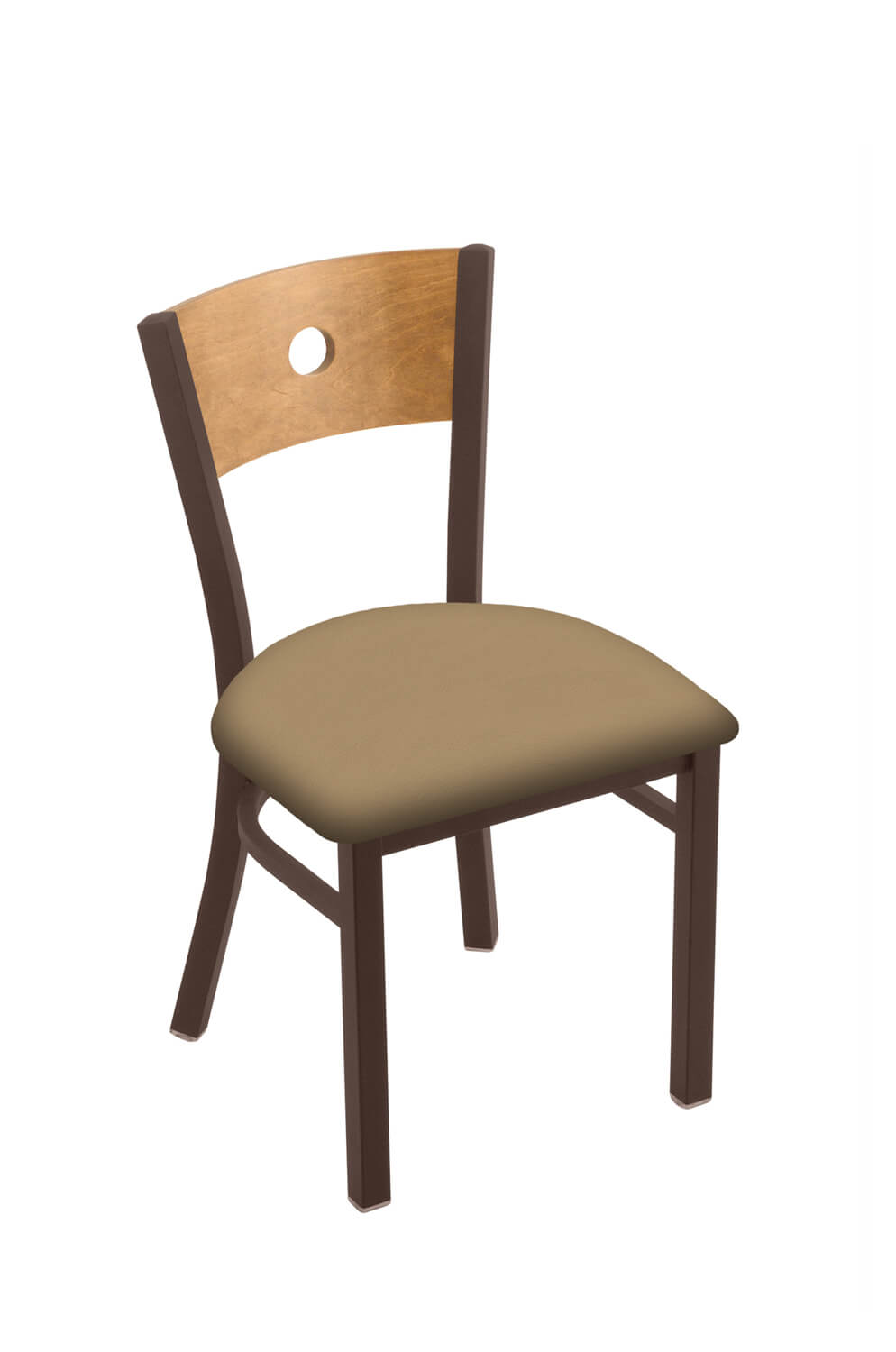 Specifications
| | |
| --- | --- |
| Item # | DC630 |
| Application | Commercial, Residential |
| Arms Availability | Armless |
| Assembly | Arrives Fully Assembled |
| Base Style | 4-Legs |
| Material Availability | Customers Own Material (COM), Fabric, Vinyl |
| Seat Style | Square Seat |
| Special Features | Made in USA |
| Style | Traditional |
| Swivel Availability | Non-Swivel |
| Warranty | 5-year residential warranty |
| Weight | 22 lbs |
| Weight Capacity | 350 lbs |
Reviews
Review Summary
5.0
2

reviews
Shipping Details
Due to their custom nature, all Holland items take 7-10 business days to be made.
These are shipped out of Holland, Michigan directly to you.
Free shipping!
Customers Own Material (COM)
Have a fabric you love? Holland will upholster your stools or chairs with it.
How To Order
Select Will send own material in the Upholstery Type dropdown.
After you order, we'll send you an email with the address to mail your fabric.
How Much to Send?
For each Voltaire Dining Chair #630, you will need 1/2 yard(s).
Additional Information
All fabric must be continuous yardage; we cannot accept multiple pieces of material.
Please make sure this is an upholstery fabric, vinyl, or leather.
Questions? Learn More / Contact Us
About this brand

The Holland Bar Stool Company of Holland, Michigan, uses traditional American craftsmanship to make highest-quality barstools and furniture.
Holland's wood products are made from solid Red Appalachian Oak or solid hardwood maple and finished with the finest catalyzed lacquer in the industry. Metal stools are made from plating-grade steel and finished with an oven-baked powder-coat that is extremely durable and long-lasting.
You can customize Holland's products in dozens of ways, such as seat height, finish, and upholstery. If you need a specialty product outside of the standard options, Holland will produce custom heights, finishes or upholsteries to give you exactly what you need.
From the raw parts to the finished product, Holland pays close attention to every detail to make sure that you're happy with your furniture for years to come. That's why their logo is the "Kiss of Quality"!