"Like many of us who are now working from home instead of a proper office environment, finding a comfortable, high-quality desk chair that ALSO looks great AND matches your decor is a major challenge. That's where I found myself these past few months until I found Barstool Comforts online and connected with Deborah (Designer & Barstool Expert). From that moment, I knew my search was over.
Throughout the entire process, Deborah and Barstool Comforts were AMAZING! They quickly answered my questions, sent me a collection of samples and truly earned my business. I am more than willing to pay a little more for a great, high quality product as long as it comes with service to match.
The chair I selected (Darafeev 615 Flexback chair) is exactly what I had been searching for to go with my beautiful 1930s era roll-top-desk inherited from my father. This special desk has been in my family for over 60 years and deserved just the right chair to complement its style and functionality. I never thought I'd be able to customize so many variables to create this one-of-a-kind chair for me. The team at Barstool Comforts walked me through the options, costs and shipping details in such a way that turned price into value.
If I could change just two things about this experience, it would be to have found Barstool Comforts sooner AND to show my dad how great his desk looks in my home today. Our desk now has a partner chair never to be separated again.
Thanks for everything…worth every penny…wonderful service!"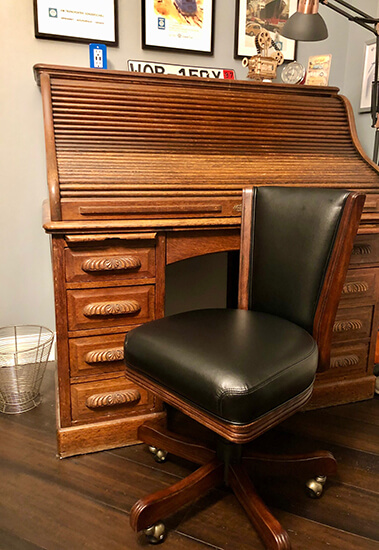 ^ Wood Finish: Tobacco, distressed • Seat and Back Cushion: Black, vinyl • Ball Caster Finish: Antique Brass