If you're in the market for new bar stools for your kitchen, the sheer number of options available can be overwhelming. To help simplify your search, we've compiled a list of the top 10 best-rated bar stools for 2019.
Whether you're looking for something sleek and modern or more traditional and cozy, this list is sure to have something that fits your style and budget. So sit back, relax, and let us help you find the perfect addition to your kitchen.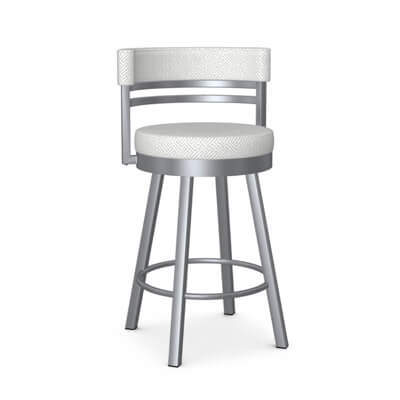 "I saw these bar stools in a local furniture store and new I had to buy these. They are very modern and contemporary which blends great in my house. They swivel which is an added feature.I recommend them highly." — Glenn, Arizona
"We purchased 14 bar stools and a pub table. All were extremely well made and the sturdiest bar stools we have ever had. There were so many fabrics and finishes from which to choose. Barstool Comforts was very helpful and I would not hesitate to order from them again or to recommend them to purchase Amisco bar stools." — Mary, Ohio
"Extremely pleased with our new counter stools. They are very well made and the style is perfect in our new kitchen. We will get years of use from them. Really like the option to customize with great choices of fabrics and materials. Customer service was excellent." — Leslie, Kansas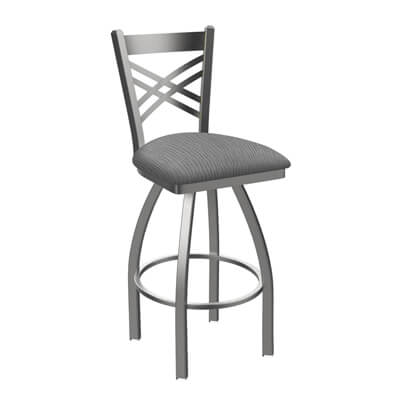 "Barstool Comforts had great customizing options. I was able to get stools for my kitchen bar top at the perfect height of 34″ and customize the metal finish (pewter) and cushion fabric (rein). The chairs are sturdy and the swivel works perfectly. They were delivered on schedule and were easy to assemble." — Stephanie, Tennessee
"I bought 3 stools approximately 6 years ago and they still look brand new so I bought 3 more for a downstairs apartment the picture is of the old ones can't get better quality for anywhere near the cost. beautiful stools, super quality even better price" — Michael, New Jersey
"We love our Holland swivel stools. We have had them for about 1 month now. Excellent quality, quite comfortable, and good looking at a reasonable price!" — Susan, South Carolina
#3: 2545 Tilt Swivel Stool by Lisa Furniture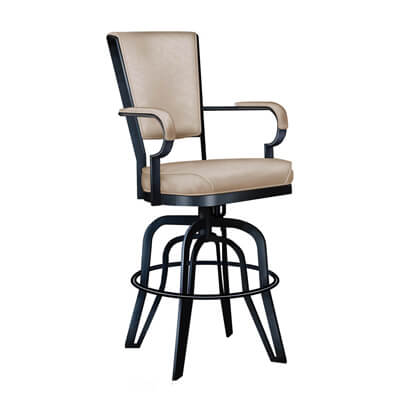 "We love our new barstools. We have actually admired them for several years and only just convinced ourselves to buy them last November. Now we wish we hadn't waited so long. They are really comfortable." — Robert, Ohio
"I spent a lot of time looking at barstools to buy and these were the only ones I liked. I couldn't find a better, higher quality, more comfortable barstool locally or online. Being able to customize them to fit our style and the décor of the room was a bonus feature. I should have bought 6 all at once to get the discount but I was afraid I wouldn't like them. The 3 I bought first were so nice I didn't wait long to order 3 more."— Sharlette, Oklahoma
"My family and I have been looking for counter stools for our newly remodeled kitchen. We decided to give you a try and we are glad we did. The men of my family are all former football players and the women played basketball and volleyball, so we are "bigger" people. The stools fit us fine and are very sturdy. We are happy and will be buying more." — John, Ohio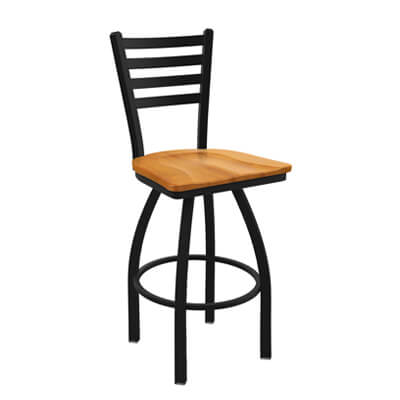 "My bar counter top is 44 inches from the floor. I needed extra tall stools to be able to sit and eat at the bar. Working with the designer here I was able to get the size and the colors I needed. I sent pictures to the designer and went with her suggestions. Very happy. They are heavy duty and very nice looking and sturdy." — Linda, Louisiana
"These stools are so sturdy and the stainless finish is well worth the price difference. Customer service was amazing. Deborah and Joe were very responsive to all of our questions or concerns. Great experience in all!" — James, North Carolina
"Great quality, well built, easy assembly. Initially thought the price was high, but you do get what you pay for at least in this case. Could not be happier. I would add that four decades in the hospitality business have had occasion to purchase commercial grade restaurant/ bar furnishings. These bar stools would stand up easily to commercial use." — Michael, Virginia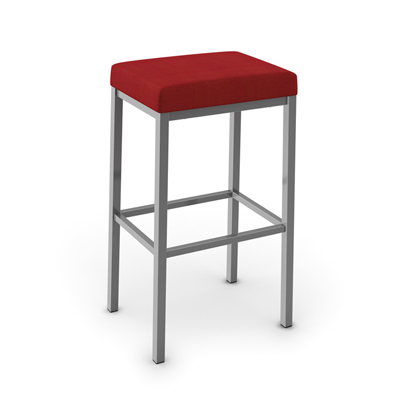 "Love my barstools, this is the second order I have placed, great quality and very sturdy. Also, I ordered several other barstools online before I found Barstool Comforts. The others were so cheaply made, there is no comparison to the quality of Barstool Comforts for the price." — Tim, Florida
"We love our bar stools! They were the perfect dimensions for a small bar area and they're comfortable. I loved being able to choose the finish and the color of the seats. Your site was easy to use and you delivered them in a professional and timely manner. The stools were packaged well and arrived undamaged. We are very happy with them and highly recommend your company. Thank you!" — Kristina, New York
"Absolutely love our barstools! I looked everywhere for the perfect size and colors and could never find exactly what I needed. I loved how I got to pick out the colors so that I got exactly what I needed for our house. The shipping was fast considering that they were custom." — Jade, Texas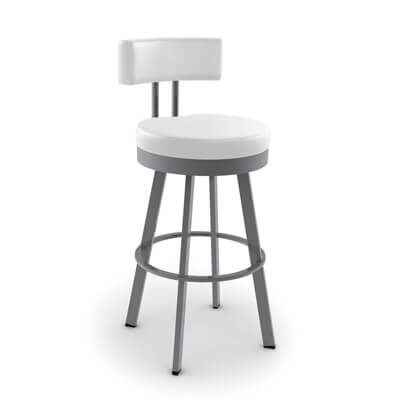 "We love, love our Amisco counter stools! They are extremely well made, easy to assemble, and arrived double boxed and well protected. As we are out of state, we were fortunate to have been able to locate a store that carried our stool so that we could be sure of its comfort. If you can't try it out, no worries, it is a great stool." — Carol, Massachusetts
"Excellent quality & value. Lots of choices & timely delivery. Highly recommended." — Timothy, Indiana
"We are sooo happy with our stools. Deborah and the team were great and easy to work with. I even had some install troubles that they were able to help me out with over the phone." — Lance, California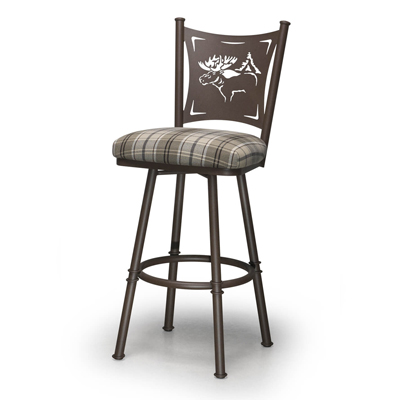 "I LOVE the chairs… I wish I needed more. My husband and I love anything with Palm Trees on it. When I saw the backs of your chairs had palm trees on them, I had to order them. They were even more beautiful than we imagined." — Lori, South Carolina
"My new counter stools are the most comfortable stools I have ever sat in and on top of that they are unbelievably beautiful! I love them!" — Mary, Florida
"I love the designs that you can choose from. I got 4 bar stools with palm cutouts for the kitchen bar and one with music cutouts for my husband to sit on when he plays his saxophone for guests. The chairs really make a hit with friends that visit. Really good quality and sturdy to boot." — Laura, Florida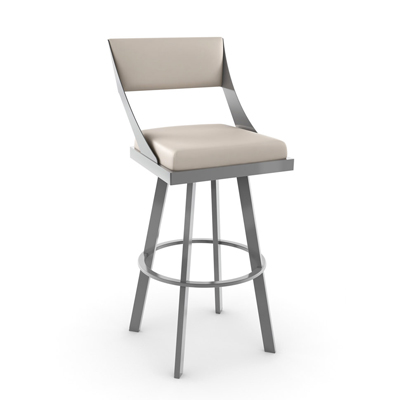 "This is the second time we purchased these exact same counter stools (different finish and fabric of course). We love the design and comfort of these stools so much we decided why not stick with what you know? Ordering, delivery and setup was painless and smooth at a substantial savings from our local retailer where we purchased our original stools." — Kenneth, Florida
"The chairs are very comfortable, and sturdy. The staff was friendly. I was a little skeptical about ordering online but I must admit that I love my chairs." — Vita, Georgia
"I love, love, LOVE my new barstools. They are exactly what I want. There are so many variations you can choose, I can't imagine not being able to find exactly what you want. They were quick and easy to assemble, look lovely in my kitchen, and are very comfortable to sit in. I am so happy!" — Karen, California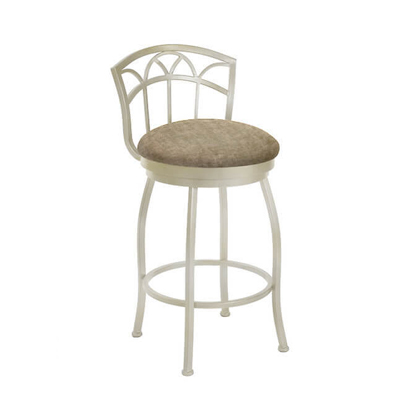 "These barstools are extremely well designed and make a very attractive addition to our home. Highly recommend these stools to a quality minded consumer. The staff are very knowledgeable and helpful – a pleasure to talk too and work with to determine what products best meet ones needs." — Patrick, Georgia
"The stools are gorgeous. The quality is impeccable. The assembly, paint, cushions, sturdiness are all first class. We definitely made the right choice." — Rhonda, Georgia
"We love the barstools. They look great. The spectator height is perfect. Well-made. Very fine quality. Extremely comfortable seat. We had a problem with one stool and an adjustment with the manufacturer was made quickly. We are fully satisfied with your product. Thank you so much." — Jacqueline, New Jersey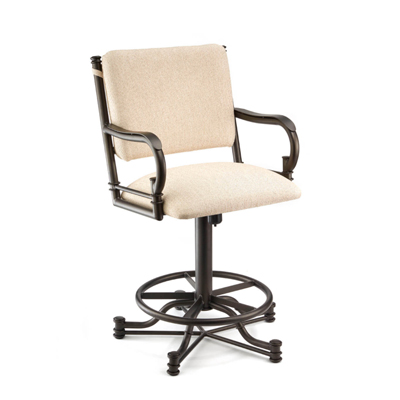 "They are the best looking and great seating barstools that we have ever seen, second time buying this style." — Charles, Florida
"Excellent bar stools, heavy duty, comfortable, great choices and excellent customer service." — Dawn, California
"We are incredibly pleased with our bar stools! The quality is as good as it was on stools we purchased more than 10 years ago! Great job!" — Mark, Wisconsin
---
We hope that our list of the top 10 best-rated bar stools for 2019 has helped make your search for the perfect kitchen seating a little easier.
Each of these stools offers unique features and designs to fit a variety of styles and needs. From the sleek and modern to the cozy and traditional, there's something for everyone on our list.
Remember to consider factors such as height, material, and style when selecting the right stool for your space.
With the right bar stools, you can create a comfortable and stylish area for entertaining guests or enjoying a meal with family.