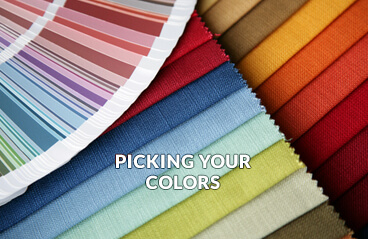 You've finally found "the one" stool you're going to add to your kitchen. Now it's time to choose your metal frame color, your seat color, and possibly a wood color, depending on the stool.
Now, you may worry that it's too difficult to chose the best colors for your stool, but I'm here to tell you it's actually pretty simple!
How to pick colors for your stools in 8 steps:
You just have to ask the right questions. How do we do that? I'll guide you.
First, look at the colors in your kitchen. Get your pen and paper ready.
What color are your cabinets? Shades of brown, blue, an off-white? Write that down.
What are the colors in your kitchen island or table? Are there earth tones? Gray? Beige? White? Jet Black?
What color is your floor? Brown, gray, off-white, white?
Let's look at your appliances. Is your fridge stainless steel, black, or another color? What about your dishwasher, microwave, or oven? Jot that down, please.
Now, ask yourself:
Which colors stand out? Let's contrast.
Now that you have all the colors in your kitchen, ask yourself: what colors stand out? Let's take a look at this kitchen:
The colors of the flowers stand out.
The chalkboard sign hanging up does.
The knobs on the oven do.
In this kitchen, the designer decided to take the colors in the chalkboard and oven fixtures and bring them into the metal frame on the stool. It's a nice contrast against the off-white and sandy colors in the countertop.
Also, notice how the colors in this kitchen form a triangle shape to the eye. This dark charcoal is present at different angles of the room, giving it a sense of balance.
If the designer were to make the metal frame white, there wouldn't be much contrast. The stools would blend into the countertop and the whole space would feel drab.
In your kitchen — which colors stick out? What colors don't? Keep these in mind, so you can create contrast with your stools.
Here's another kitchen that has balance. Notice the green seat color on the stools and the green wall in the kitchen. They're at opposite sides, but compliment each other in the room. For example, green and white on the walls, green and white on the stools.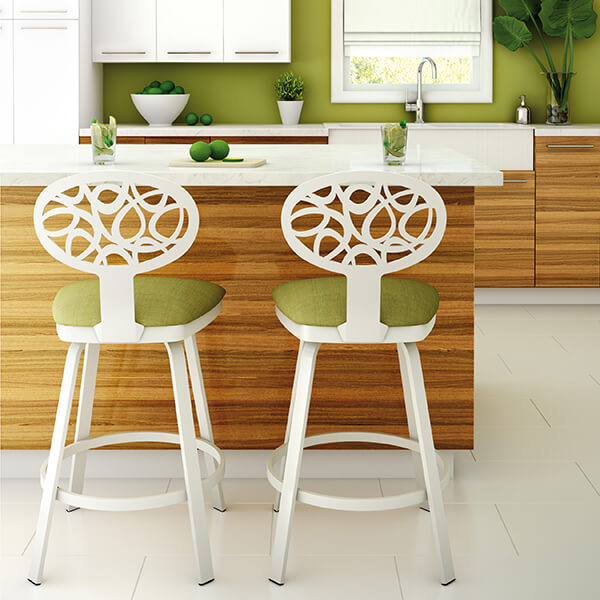 And the white color on the metal frame of the stool contrasts great against the medium brown color on the base of the counter.
But what about the metal frame on the back? It's similar in color to the top of the counter. Yes, it is, but here it's not a problem because the back of the stool isn't higher than the counter, so the stool doesn't get lost.
Here's a kitchen where the fabric on the stools don't match the colors on the counter, but contrast with the brown tones in the kitchen. If you want to lighten a dark kitchen, I recommend using a lighter color on the stools.
Notice how the color of the metal finish on the stools goes great with the granite countertop.
Contrasting with Shades, Patterns or Textures
Let's look at one more kitchen that does a great job of balance and contrast without using a lot of color.
Here is a fairly monochromatic kitchen. A monochromatic kitchen is a kitchen which primarily use one color with different shades, patterns or textures to create contrast.
Here, you'll notice a lot of the same shades of grays, some darker and some lighter. The base and cabinets are an off-white which creates contrast.
Notice how the legs on the stool have a lot of contrast to the base in the countertop, making the stools stand out even in a monochromatic kitchen.
Patterns are commonly mixed, but small, subdued patterns work well with large patterns on window treatments for example, etc.
Another example is large stripes on curtains can be matched against stools with tiny stripes, small checks, etc. on seats of stools. Here's an example:
It's not recommended to use a large pattern on a window treatment against a large pattern on a stool seat. For example, large stripes on a window treatment and large stripes on a stool seat unless it's the same fabric pattern.
Here's another kitchen with monochromatic roots, but with a few splashes of red:
You could essentially design everything in the same tones, but have little pops of color throughout the room, whether it be a red bowl or a picture frame. It's a way to change your color if you get tired of it without spending a lot of money and keeping your kitchen looking fresh.
Contrasting with Wood in a Kitchen
If you have wood accents in your kitchen, the same rules apply. You can use all one color on the stool or a two-toned combination (seat is one color, backs and legs another). And the same principle would apply as in choosing padded seats (contrasting light and dark).
Pull colors out of the countertop
When picking colors, it's a good idea to start pulling some colors out of your countertop and applying some of those to your stools, whether it be in the metal finish or fabric.
For example, here's a kitchen that has a little black in the countertop. The designer here decided to make the base frame a black with a lighter seat cushion color:
Pull colors from light fixtures
Sometimes a pendant light fixture above the center of the island or counter can be matched to the style of the stool (metal pendant – metal stool).
Ornate Pendant light fixtures can match an ornate stool. Straight lined light fixtures with no curves can match a simple, straight line on stools.
Pull colors from appliances like stainless steel
If the kitchen has a lot of stainless appliances, stainless finishes on stools can be a nice addition to the room as long as they are not too close together. Here's a few examples:
A lot of stainless will look industrial, if that's what you like. For example: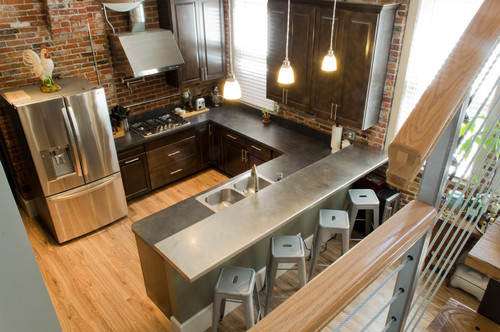 but can be warmed up with extra wood tones in the room:
Make sure the stools contrast your counters
Floors under the stool should be contrasting to the stool.
A wood or metal stool should not be the same shade or color as the floor. If the color of the stool is the same color as the floor, it could look too blended and not contrasting.
Here's some examples of kitchens that have a good contrast between the floor and the stools:
Working with Patterns
If there are patterned fabrics in the room such as window treatments, table place mats, and accessories, the pattern fabric on the stool is okay.
Patterns are commonly mixed, but small, subdued patterns work well with large patterns on window treatments for example, etc.
Another example is large circles on curtains can be matched against stools with tiny stripes, small checks, etc. on seats of stools.
Kitchen Color Schemes
We went over a lot with selecting colors, where to select them, how to contrast with colors and patterns. I would like to leave you with some color schemes that I find work in today's modern world, but are also a little out of the box.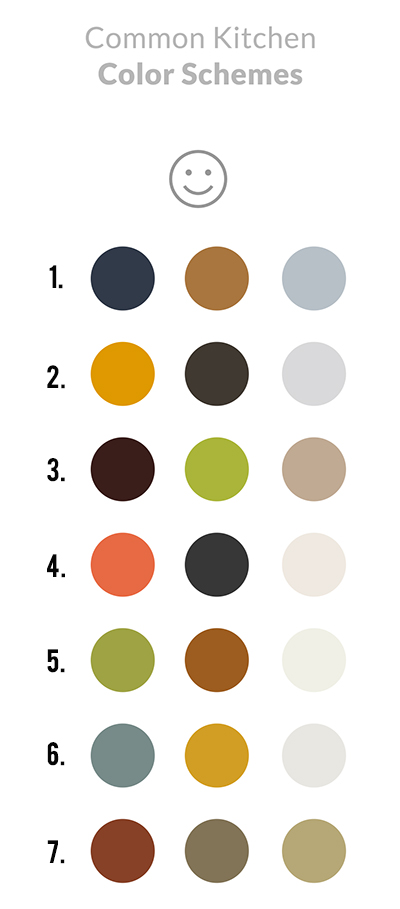 And I'm sure you can find a color scheme of your own that works just as well. Your kitchen is a reflection of you and your personality.
What colors make you feel at home? What colors make you feel comfortable? What colors are inspiring to you?
Questions? Comments?
If you have any questions on anything in this article or need some help picking your bar stool colors, I'm here to help!
You're also welcome to send in pictures of your kitchen, home bar, or other space where your stools are going. I've been color coordinating for the past 25 years and love it.
Kind regards,
Deborah