The Man Cave: Your Personal Sanctuary
A man cave is not just any ordinary room in the house. It's a personal sanctuary where you can escape the daily grind, let loose, and be yourself.
Whether it's a dedicated sports bar, gaming den, or home theater, the man cave is a space that embodies individuality and freedom.
The Bar Area: The Heart of the Man Cave
One of the key features of any man cave is the bar area, where your friends can gather, drinks can be poured, and memories can be made. But what good is a bar without comfortable bar stools?
Comfortable Bar Stools for the Ultimate Man Cave Experience
Choosing the right bar stools is essential to creating a relaxing and inviting atmosphere that encourages guests to stay for hours on end.
---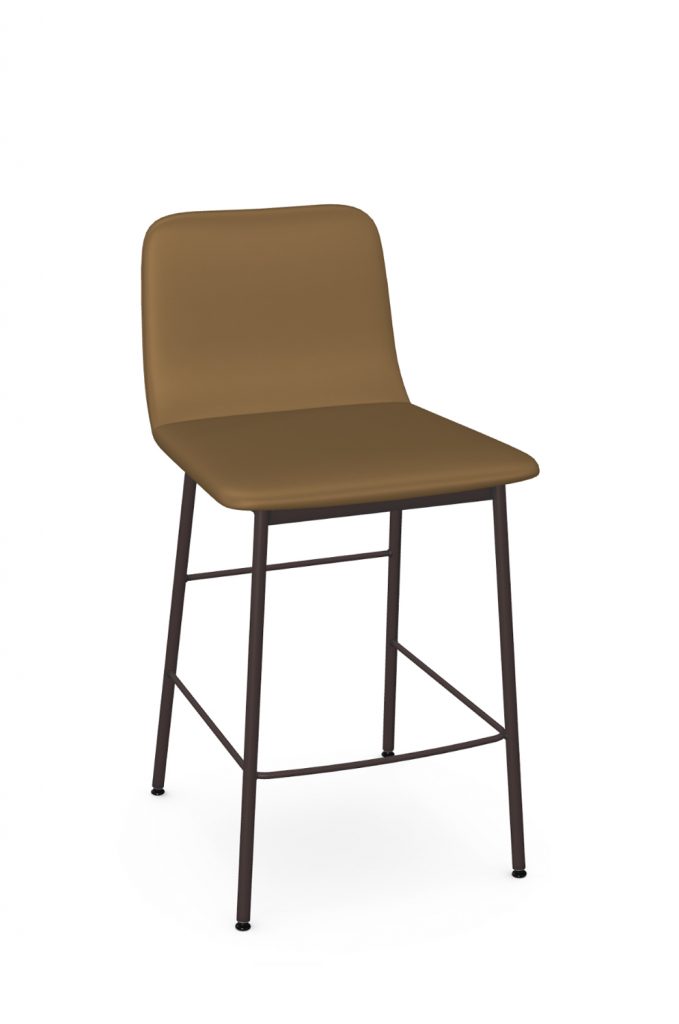 Bar Stool for the Modern Man Cave
The Outback bar stool by our Amisco brand adds a relaxed, yet sleek vibe to the modern man cave.
It's shown in the 52 Oxidado metal finish, a dark brown, and is complimented by the ER Caramelo vinyl on the back and seat.
You'll love sitting in this comfy stool, plus it's easy to clean!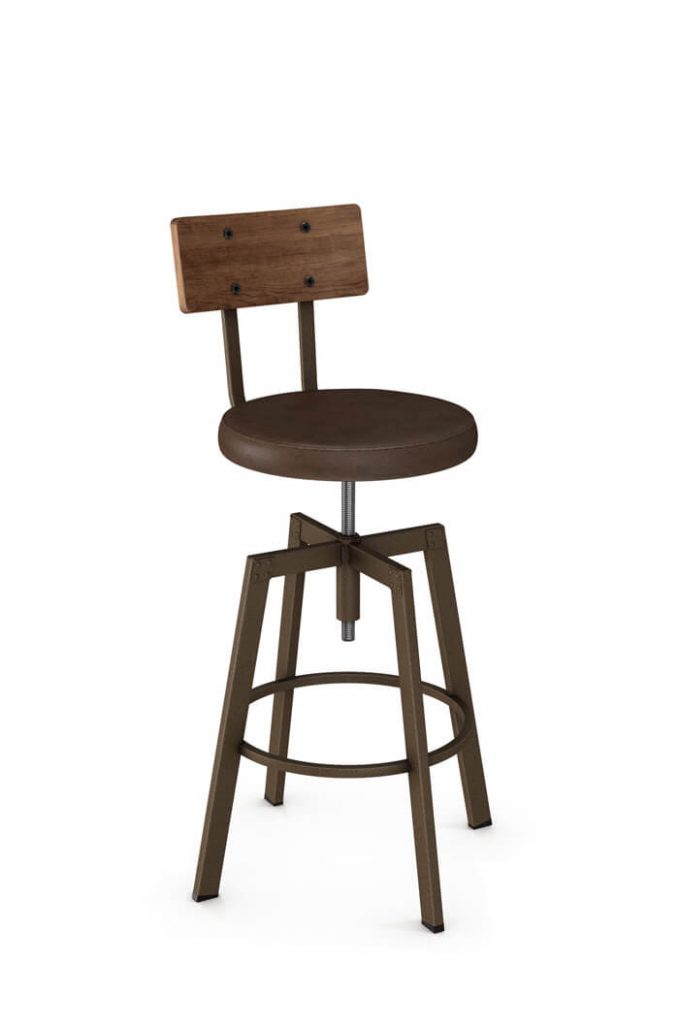 Bar Stool for Industrial Style Lovers
The Amisco Architect metal bar stool boasts a solid wood back accented by exposed nails, a comfortable round seat cushion, and a distinctive screw base.
Ideal for any industrial-style space, this stool fits seamlessly into a man cave.
The stool's design allows for a full 360-degree swivel, and the seat height can be adjusted from 25⅞" to 31¼" for optimal comfort.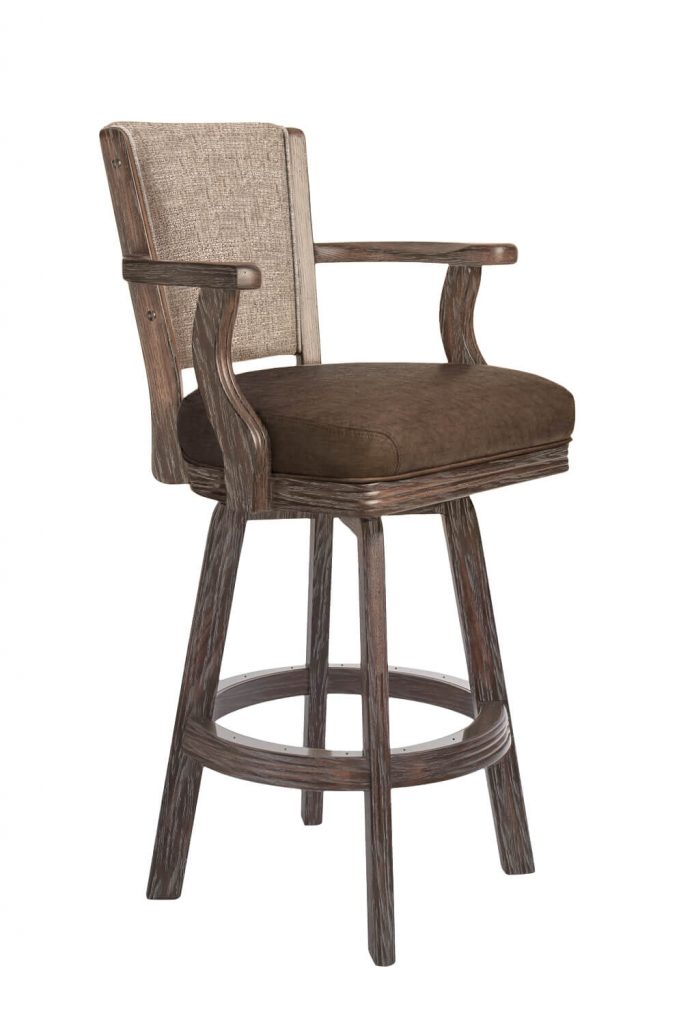 Bar Stool for Refined, Traditional Spaces
The 660 swivel bar stool is made of solid oak and comes with arms as well as an upholstered back and seat.
This design is a perfect placement in a traditional style man cave because it's timeless and will never go out of style.
This counter stool comes in a variety of fabrics, vinyls, and leathers to choose from.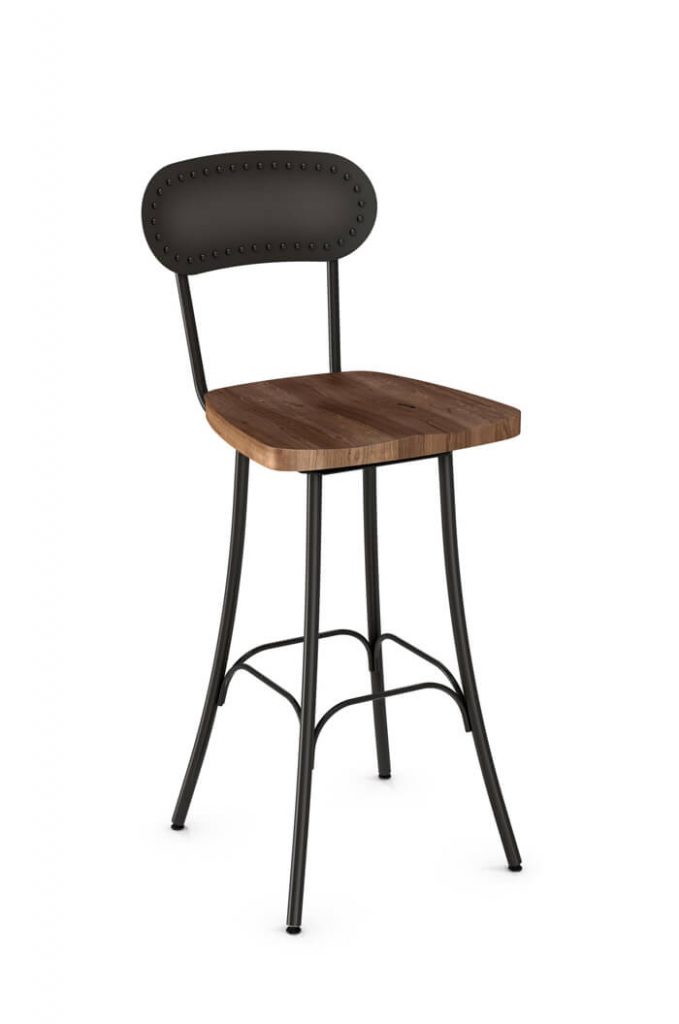 Bar Stool for a Farmhouse-inspired Man Cave
Get ready to add a touch of rugged masculinity to your farmhouse man cave with the Bean swivel bar stool.
Featuring a robust metal frame and a distinctive bean-shaped back punctuated with hammered nails, this stool is built to last.
The wood seat adds a warm, rustic feel to the design, while the range of available finishes lets you customize the stool to perfectly suit your man cave's décor.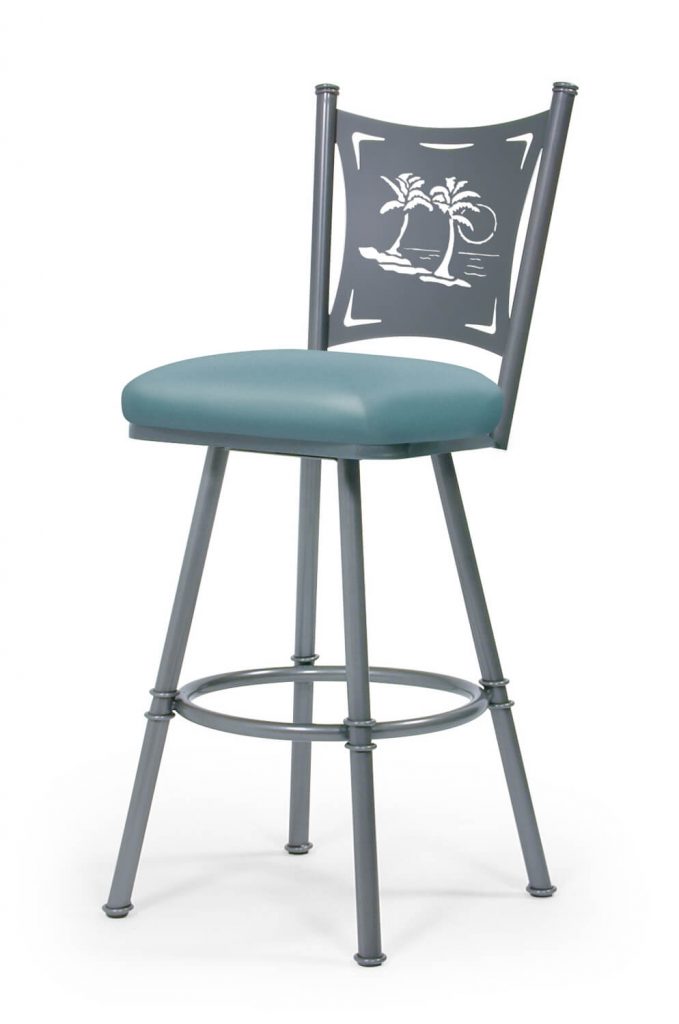 Bar Stool for a Coastal Retreat
Unleash your inner beach bum and bring a touch of coastal cool to your man cave with the Creation Collection swivel bar stool by Trica.
The stool's backrest showcases two palm trees swaying in the ocean breeze against a backdrop of crashing waves, while the comfortable seat cushion and sturdy metal frame ensure you can sit back and relax in style.
With every element customizable, including the seat height, you can tailor this bar stool to suit your every need.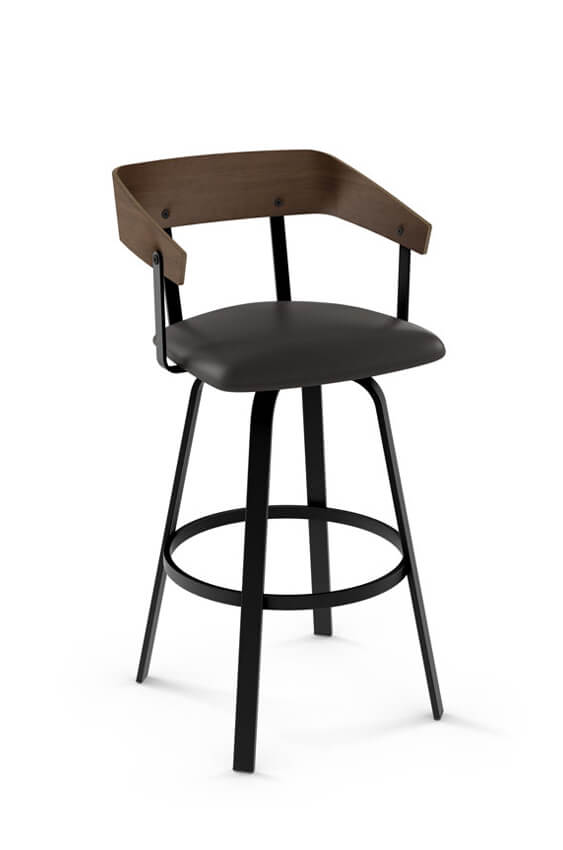 Bar Stool for Scandinavian Design Enthusiasts
Who says man caves can't have style? The Carson swivel stool by Amisco proves that sophistication and comfort are not mutually exclusive.
Crafted from durable steel, this stool features a wood veneer back with an enveloping design, complete with splayed arms and a curved back for added comfort. The well-padded seat is made of dense foam, ensuring hours of comfortable seating.
With the ability to customize every aspect of the stool, including the finish and fabric, you can create a truly unique piece that elevates your man cave's style to the next level.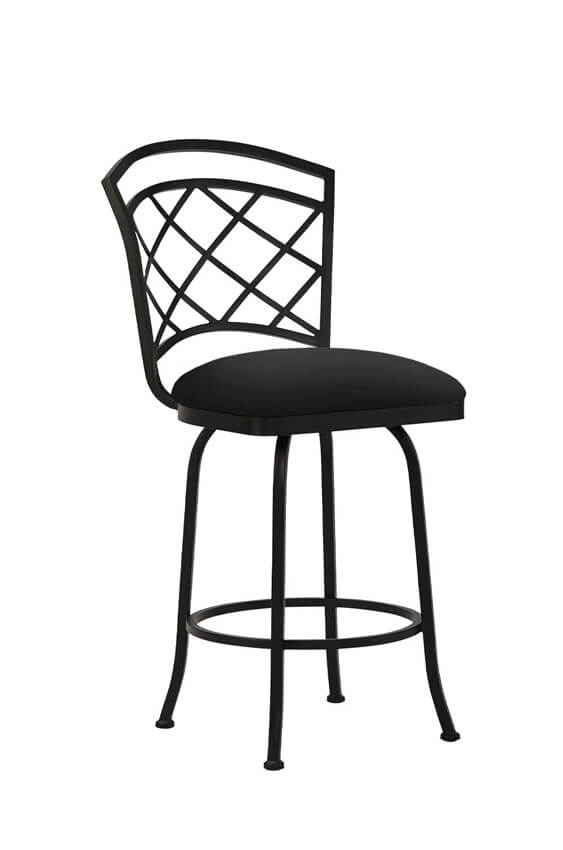 Bar Stool for a Mediterranean-Inspired Man Cave
Featuring a stunning wrought-iron style, this stool boasts a lattice-style back design that is both visually appealing and comfortable.
Whether you're sipping a Negroni or indulging in a delicious Mediterranean-inspired meal, this bar stool will transport you to a charming Italian bar or bistro.
Choose from a range of performance fabric or vinyl for the seat to make it your own.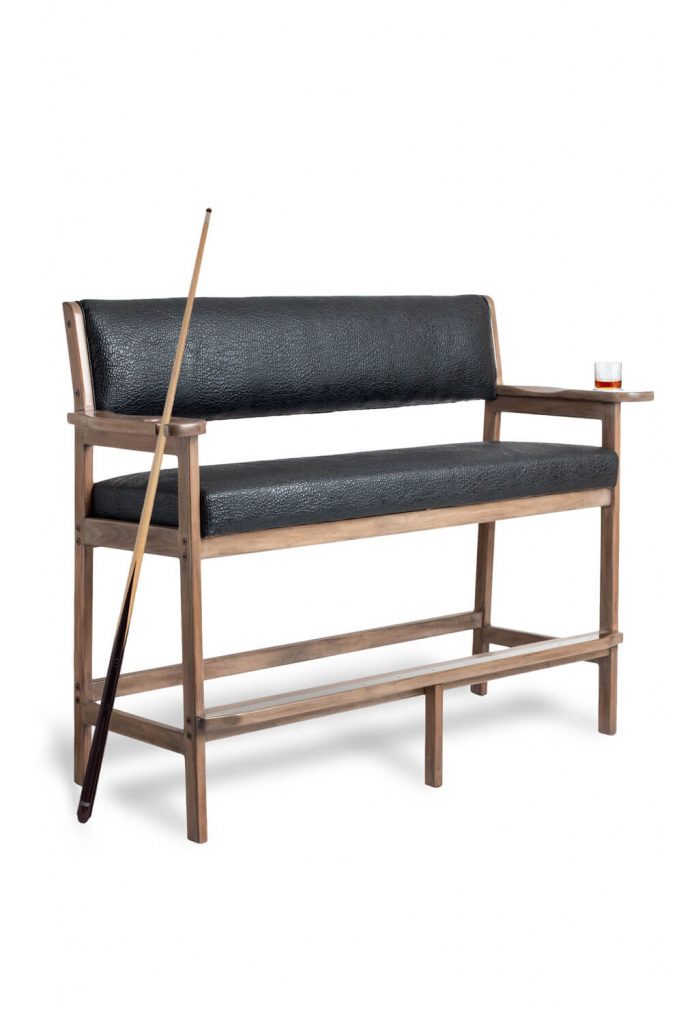 Bar Stool for Those Who Want to Entertain
With its unique design, this bench is perfect for accommodating more people in your space, without sacrificing comfort or style.
Featuring cup holders at each end and a convenient slot to rest your pool cue, this bench is the ultimate addition to any man cave.
But that's not all — the footrest on the 907 bar stool bench is significantly larger than other stools, providing you with unparalleled comfort as you relax and unwind.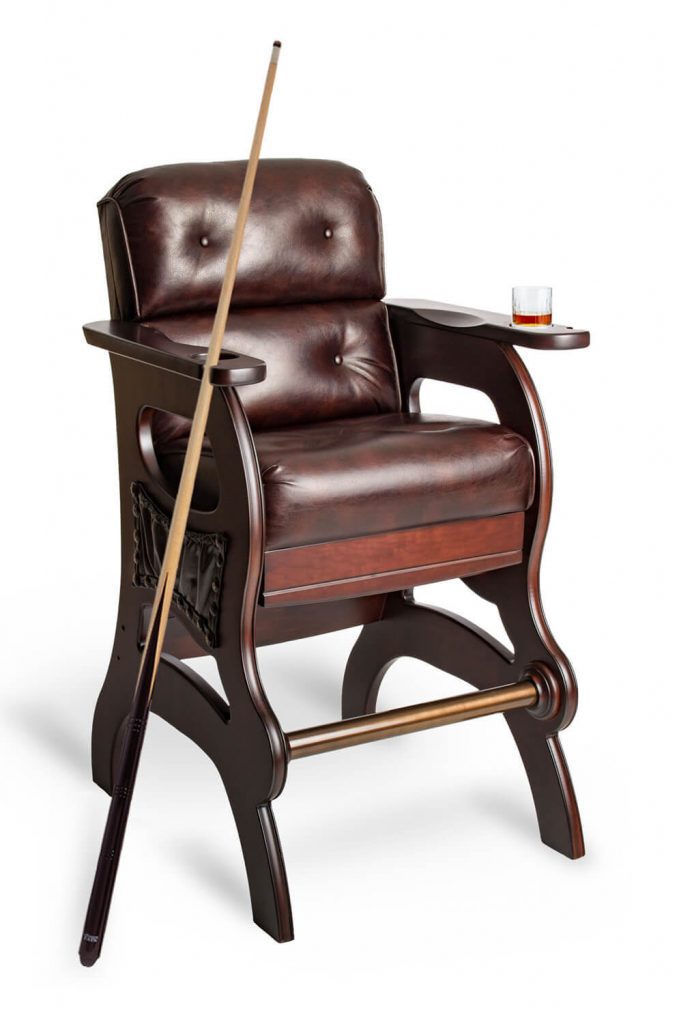 Bar Stool for Pool Players
Absolutely no game room is complete without the Mann Sports theater billiards chair hand built by Darafeev in California.
With a proper cut out for a pool cue and your favorite cocktail, button tufting that is reminiscent of the glamour and elegance of the roaring 20's, you will be the envy of everyone.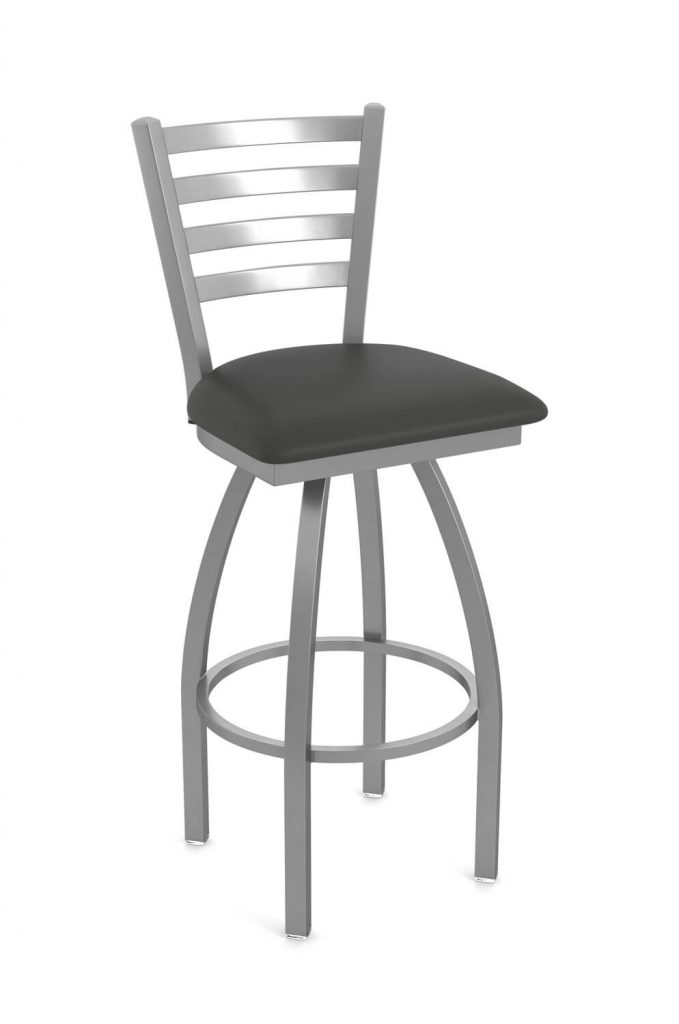 Bar Stool for Man Caves with Outdoor Access
If your man cave has easy access to the pool or garden, you need a bar stool that can withstand the elements while still providing ultimate comfort.
That's where the Jackie swivel bar stool comes in – it's made for the outdoors and is completely waterproof, making it perfect for your outdoor man cave.
The Jackie swivel bar stool also features a stylish design that you'll love swiveling in. You can select from 6 different vinyl options for the seat, ensuring it matches your outdoor decor. The metal frame is made of stainless steel, which matches most outdoor appliances and provides durability that will last for years to come.
Summary
As you can see, selecting the right bar stools is crucial in creating a comfortable and inviting atmosphere in your man cave.
Bar stools come in different designs, materials, and functionalities to match any man cave style or theme. From traditional to modern, industrial to beachy, or Scandinavian to Mediterranean-inspired man caves, there is a bar stool for everyone's preferences.
Whether it's for swiveling, relaxing, or socializing, bar stools are a necessary addition to any man cave bar area.
So take your time, consider your needs, and choose the perfect bar stool that reflects your personality and makes your man cave a true sanctuary.