Now is the ideal time to build your dream game room.
With a large number of people working remotely, homes have become the central hub for work, leisure, and entertainment.
Whether you have a small vacant area, a spare room, or a basement, creating a dedicated space for relaxation and gaming can be a fantastic way to bring people together.
To inspire you, we have compiled a list of ideas that you can incorporate into your game room, along with some creative designs. From sleek and modern to cozy and traditional, we have something for everyone. So, get ready to unleash your inner gamer and take your gaming experience to the next level!
Game Room Ideas
While a standard game room may include a billiard table or dartboard, nowadays, people are taking creativity to new heights with innovative additions like:
Here are some inspiring ideas to include in your game or entertainment room:
Games
Apple TV includes games
Air Hockey Table
Billiard Table
Bumper Pool Table
Chess Table
Dart Board
Foosball Table
Nintendo Switch
Pacman Arcade Table
Pinball
Ping Pong Table
Playstation
Poker or Card Game Table
Shuffle Board
Skee-Ball
Table Tennis
Xbox
Music-Centric
Disco Ball
Jukebox
Piano, and other instruments
Record Player
On the Wall
Chalk painted wall for a chalk board
Dart Board
Axe Throwing Board
Projection screen for movie nights or video games
For Large Game Rooms
Basketball Court
Bowling Lanes
Fireplace
Golf Simulator
Home Theater with Reclining Chairs
Wine Cellar
Furniture
Bean Bags
Full Bar
Built-in Bar
Rolling Bar Cart
Pub Table with Stools
Outside the Box Ideas
Chalkboard Game Table
Fish Tank
Bookshelf
Fun Additions
Gumball Machine
Slurpee Machine
Soda Maker
Snow Cone Machine
Popcorn Maker
Multifunctional Poker Dining Tables
If your game room or gaming space is limited in size, selecting items that serve multiple functions can be a smart choice.
Our versatile tables are perfect for gaming, playing poker, and dining, all in one design. You can easily switch between the dining side and the poker/board game side by flipping over the tabletop.
We love tables like this!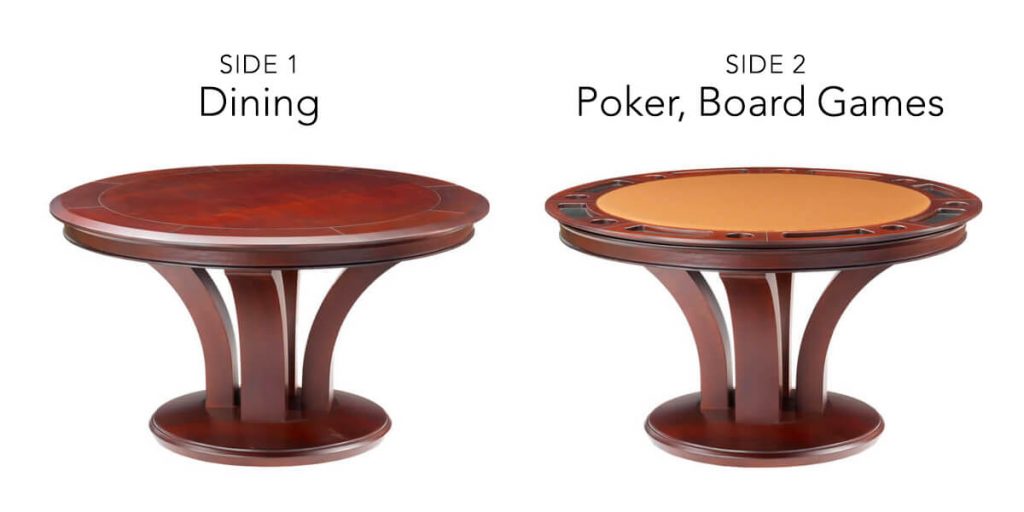 Here's 3 tables from our collection:
Bumper Pool
If you're searching for an entertaining version of billiards that can fit into a limited space, a bumper pool table might be an excellent addition to your rec room!
Bumper pool was a beloved game in the 70s and 80s, and adding it to your space can evoke a nostalgic atmosphere.
Plus, it's incredibly enjoyable and can provide hours of entertainment for you and your guests.
How to Play Bumper Pool:
3-in-1 Bumper Pool Tables
Our multifunctional tables provide you dining, poker gaming, and bumper pool all in 1:

Here's 3 tables from our collection:
Game Room Designs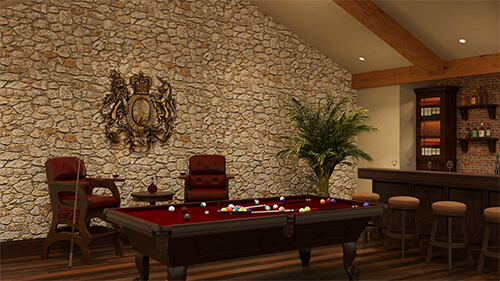 Best Bar Stools and Chairs for Game Rooms