Now is the perfect time to create your ultimate game room. With so many of us now working remotely, the home has transformed into the go-to spot for work, eat, sleep, and play.
If you have a small open spot in your home, a spare room, or a basement, we encourage you to build a space that brings people together.
Below, is a list of ideas on what to include in your game room with several designs to inspire you!
Game Room Ideas
A typical game room may consist of a billiard table or dart board, but nowadays, people are getting more and more creative like so:
Below, is our list of ideas to include in your game or entertainment room:
Games
Apple TV includes games
Air Hockey Table
Billiard Table
Bumper Pool Table
Chess Table
Dart Board
Foosball Table
Nintendo Switch
Pacman Arcade Table
Pinball
Ping Pong Table
Playstation
Poker or Card Game Table
Shuffle Board
Skee-Ball
Table Tennis
Xbox
Music-Centric
Disco Ball
Jukebox
Piano, and other instruments
Record Player
On the Wall
Chalk painted wall for a chalk board
Dart Board
Axe Throwing Board
Projection screen for movie nights or video games
For Large Game Rooms
Basketball Court
Bowling Lanes
Fireplace
Golf Simulator
Home Theater with Reclining Chairs
Wine Cellar
Furniture
Bean Bags
Full Bar
Built-in Bar
Rolling Bar Cart
Pub Table with Stools
Outside the Box Ideas
Chalkboard Game Table
Fish Tank
Bookshelf
Fun Additions
Gumball Machine
Slurpee Machine
Soda Maker
Snow Cone Machine
Popcorn Maker
Multifunctional Poker Dining Tables
Often, your game room or gaming space may be small and you may have to opt for less items. However, we recommend choosing items that provide multiple functions.
The tables we offer are great for gaming, playing poker, and dining. It's an all-in-one design.
Simply flip over the table top to reveal either the dining side or the poker / board game side.
We love tables like this!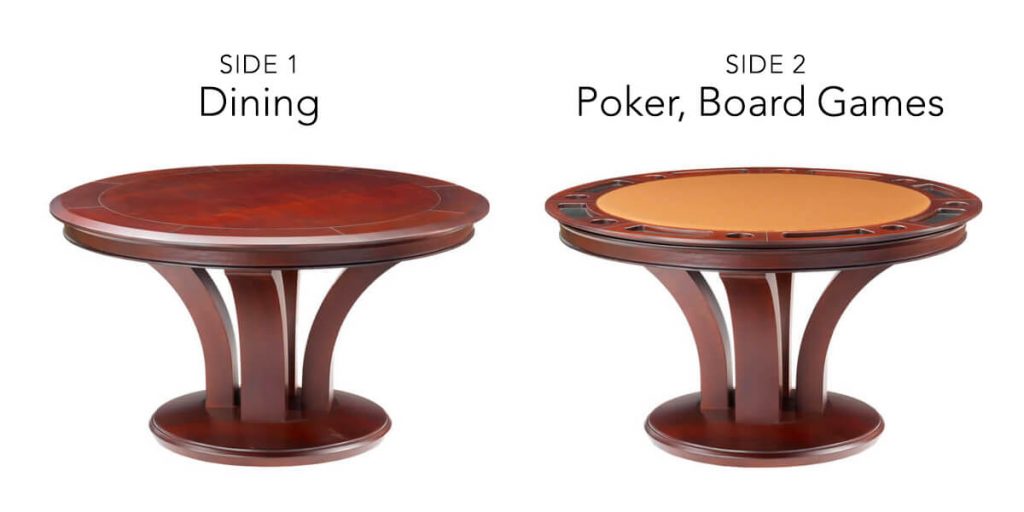 Here's 3 tables from our collection:
Bumper Pool
If you're looking for a fun version of billiards that fits into a small space, then you might want to consider include a bumper pool table in your rec room!
Bumper pool was very popular in the 70s and 80s and can bring a sense of nostalgia to your space.
It's also incredibly fun!
How to Play Bumper Pool:
3-in-1 Bumper Pool Tables
Our multifunctional tables provide you dining, poker gaming, and bumper pool all in 1:

Here's 3 tables from our collection:
Game Room Designs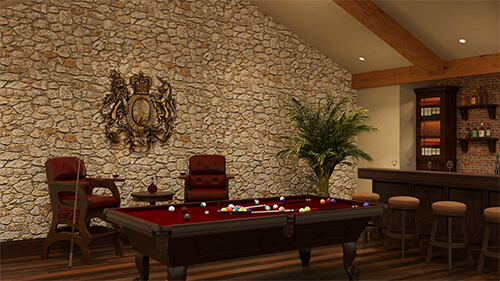 Best Bar Stools and Chairs for Game Rooms