Enhance your kitchen's aesthetic appeal by adding a fresh set of bar stools in 2019.
These brand new bar stools are not only visually appealing but also comfortable, providing you with the perfect spot to sit and enjoy a meal or drink.
Don't wait any longer, upgrade your kitchen island with these stylish and cozy bar stools today!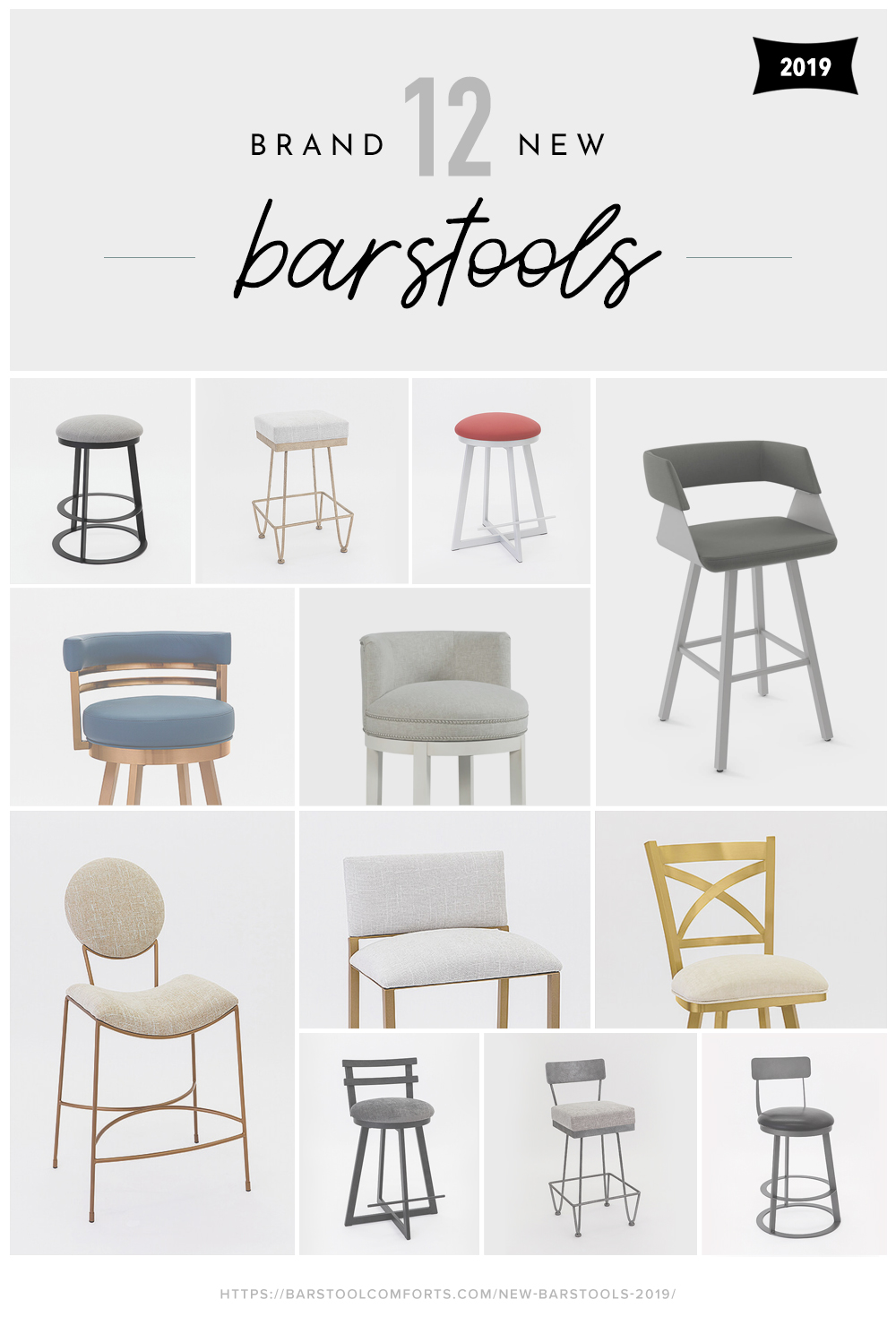 From top to bottom, left to right:
Clay Backless • Clark Backless • Harrison Backless • Miramar Copper Stainless • Cosmo • Stacy • Jamestown • Franklin • Edmonton Gold Stainless • Harrison with Back • Clark with Back • Clay with Back
Bar Stools in Kitchens and Dining Rooms in 2019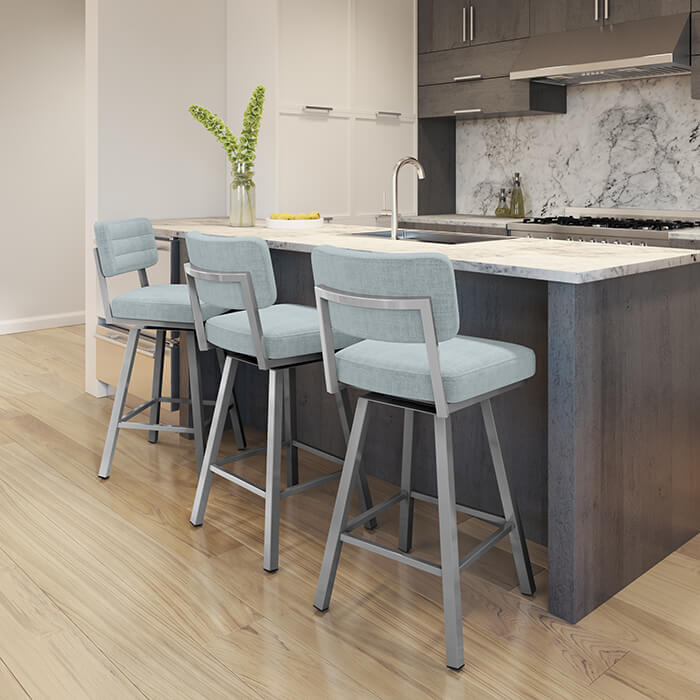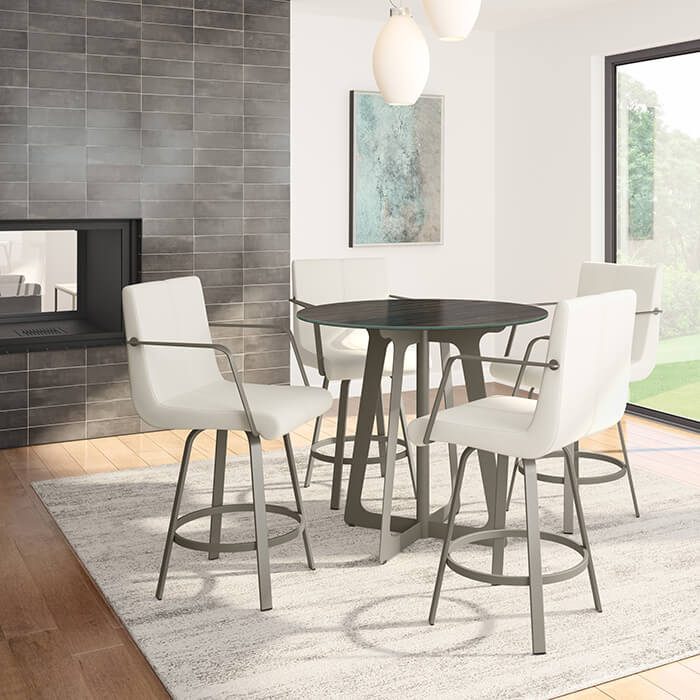 With new bar stools comes new finishes. Let's look at what's hot in 2019.
Top 3 Popular Bar Stool Finishes for 2019
Copper
If you're looking to elevate the look of your kitchen, consider incorporating warm metal finishes like copper and bronze into your hardware, appliances, accessories, and chairs.
These finishes add a touch of luxury and sophistication to any kitchen and pair exceptionally well with black, navy, white, and natural wood tones, creating a beautiful contrast that enhances your kitchen's overall style.
Check out the following examples of kitchens that incorporate these colors to see the impact they can have on your own kitchen's aesthetic.
Pewter and Gunmetal
In 2019, the classic design trend of pewter and gunmetal finishes remains popular. These finishes offer a subtle yet elegant touch to any space, creating a softer and more sophisticated look.
If you're looking to update your home's decor, consider incorporating pewter or gunmetal finishes into your design scheme.
Whether you opt for hardware, lighting fixtures, or other decorative elements, these finishes are sure to add a touch of timeless style to your space.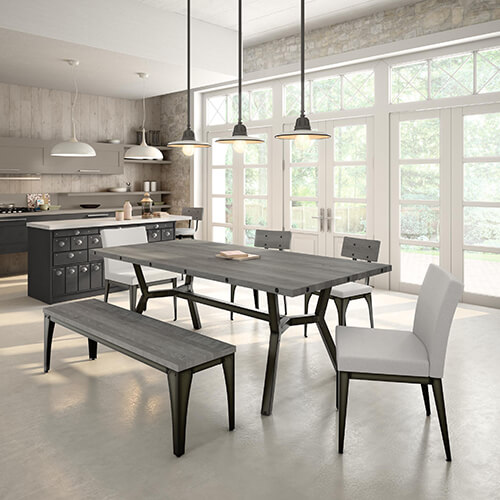 Bar Stools in Pewter and Gunmetal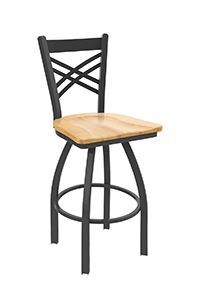 See more in Pewter in our Holland and Wesley Allen brands. Our Amisco brand is available in a gunmetal called 51 Harley. We also love bar stools in silver stainless steel.
Gold Accents and Hardware
If you're a fan of classic design elements, you'll be pleased to know that gold accents and hardware are making a comeback in 2019.
These luxurious touches add a touch of elegance and sophistication to any kitchen, creating a warm and inviting atmosphere.
Whether you choose to incorporate gold into your hardware, lighting fixtures, or other decorative elements, this trend is sure to bring a touch of glamour to your home's interior.
So don't wait any longer, add some gold accents to your kitchen and bring some timeless elegance to your space.
Bar Stools in Gold
You can find gold metal finishes among the products of the following brands: Amisco, Trica, and Wesley Allen.
---
In conclusion, 2019 has brought a plethora of new and exciting bar stool designs to enhance your home's decor.
From vintage-inspired designs to sleek and modern styles, there is something to suit every taste and aesthetic preference. Additionally, the use of warm metal finishes, such as copper and bronze, as well as classic pewter and gunmetal, continues to be a popular trend in kitchen design.
With so many options available, it's easier than ever to find the perfect bar stools to complement your home's interior. So why wait any longer? Upgrade your bar seating with the latest designs and add a touch of style and comfort to your home today.