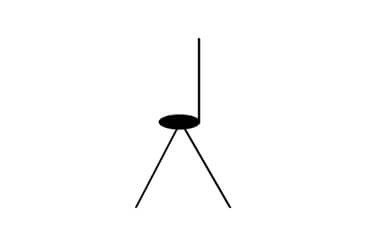 Bar and counter stools that swivel are a favorite among kitchen owners! Here's why and what you should know when shopping for a stool that swivels.
Benefits of a Swivel Stool
Swivel stools are generally easier to get into. If you can turn the seat to the left or right, then you can easily sit in it. If you can't turn the seat, then you might have to move the stool back to get into it.
Swivel stools make it easier to interact. Swiveling allows you face the kitchen and converse or easily swivel to watch TV or talk to someone in the other room.
Swivel stools are generally more fun and can be fun for kids (just make sure your stools have arms on them for the kids' safety).
So, you're staying with a swivel stool? Great. But wait, there's one more decision you have to make.
Which swivel is right for me?
| | |
| --- | --- |
| Standard Swivel | Memory-Return Swivel |
| Allows you to rotate 360-degrees while sitting on the seat. | Allows you to rotate 180-degrees (or left and right) while sitting on the seat. |
| When you get up from the stool, the back/seat will remain in the position you left it. | When you get up from the stool, the back/seat will spring to the center. |
| While sitting, the stool will remain in the position you leave it. | While sitting, the stool will feel like it wants to spring back to the center, causing you to hold the stool with your feet or hands. |
| In terms of comfort, the standard swivel is more comfortable. | In terms of comfort, the memory-return swivel is not as comfortable. |
Types of Stools That Swivel
We carry all types of swivel stools: ones that include arms, backs, backless, wood, and more.
Swivel stools with arms
We have a ton of bar and counter stools that come with arms. Here are the benefits:
Arms can add to your enjoyment when sitting on the stool, especially if you're sitting for a long period of time.
Arms can help keep your posture aligned. When you're sitting on a stool near your kitchen island, you'll need a place for your arms. Without arms on a stool, you would rest them on your counter, allowing your back to lean forward. With arms on a stool, your arms stay in one place and are more aligned with your spine.
Arms are safer for kids. Arms will help protect kids from falling off a stool when they're swiveling.
Arms help you get into the stool. They can help you get into a stool by having something to grab onto, especially if your stool is higher like 30 or 34-inches.
Warning: arms require more space.
Arms make stools wider by 2-3 inches, which might minimize the amount of stools you can place at your counter.
You'll also want to make sure your arms slide under your counter, to increase the walking space behind the stool.
Below, is an illustration for a standard 36-inch high counter.
You'll need a 26-inch stool for this.
If you're going to add arms, make sure the arms slide under the counter, so you'll want to find a measurement under 36 inches.
In this case, the Cardin stool fits perfectly at 34⅛ inches.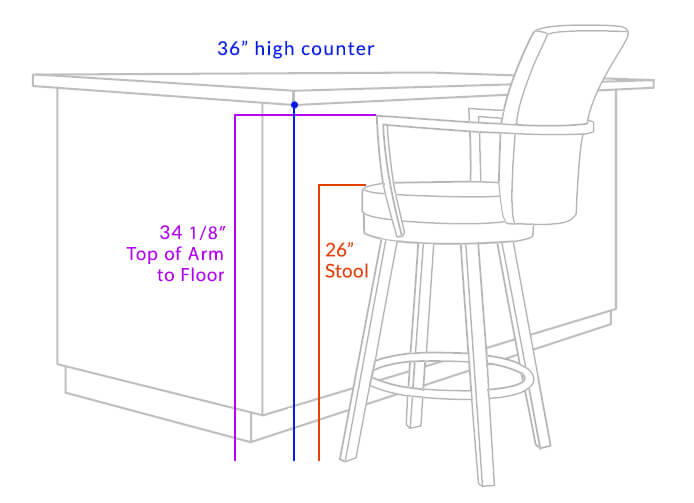 Remember to check the dimension charts for the stool including the width, depth, arm height, top of seat to floor and total overall height. This will ensure you get the proper size you need.
Swivel Stools with Backs
Swivel stools with backs are great when turning to watch the TV or talking with guests.
However; the back on a swivel stool can bang into the counter when swiveling if there is a force used.
To prevent damage to your stool or counter, felt strips can be applied on the edge of the counter or the back frame on the stool.
Swivel Stools That Tilt
A tilt swivel is offered on some of our stools for a relaxing rocking motion and adjustable tension to the required degree of motion.
However, take caution due to the risk of accidental tipping from a lofty distance (we're here to help you folks).
Are these swivel plates durable?
They are! Our swivel plates are made of hardened steel and are typically made by Trendler, the world's leading swivel manufacturer.
They rarely malfunction, but if they do, just give us a call or send us an email and we'll help you out. Majority of manufacturers have warranties and can be supplied to you at no charge.
Some of our Swivel Stools: