Are you aware that swivel stools are becoming increasingly popular among homeowners?
There are a number of reasons why, including the fact that there are two types available, each with its own benefits, making it easy to find the perfect one for your needs.
Advantages of Swivel Stools
Easier to Get Into
One of the biggest benefits of swivel stools is their ease of use. With a swivel stool, you can easily turn the seat to the left or right, making it much simpler to sit down. In contrast, with a stationary stool, you may need to move it back in order to sit comfortably.
Easier to Interact
When you're sitting on a swivel stool, you can easily face the kitchen and converse with others while preparing food, or swivel around to watch TV or talk to someone in another room. This level of flexibility is not possible with stationary stools.
---
Mechanism Types
| | |
| --- | --- |
| 360-Degree Swivel | Memory-Return Swivel |
| Allows you to fully rotate 360-degrees around while sitting on the seat. | Allows you to rotate 180-degrees, or left and right, while sitting on the seat. |
| When you get up from the stool, the back will remain in the position you left it. | When you get up from the stool, the back will spring to the center. |
| While sitting, the stool will remain in the position you leave it. | While sitting, the stool will feel like it wants to spring back to the center, causing you to hold the stool with your feet or hands. |
| In terms of comfort, this swivel is more comfortable. | In terms of comfort, the memory-return swivel is not as comfortable. |
Swivel Bar Stools with Arms
The Benefits of Stools with Arms
Having arms on a stool can greatly enhance your sitting experience, particularly if you plan on sitting for extended periods of time.
Posture Alignment and Improved Comfort
One major benefit of having arms is that they can help keep your posture aligned. Without them, you may be tempted to rest your arms on the counter, which can cause your back to lean forward. However, with arms on a stool, your arms will stay in one place, helping to keep your spine aligned.
Safer Option for Kids
Armed stools are also a safer option for kids, as they provide an extra level of protection against falling off the stool while swiveling.
Ease of Use
Additionally, arms can serve as a helpful aid when getting onto the stool, particularly if it's taller than average.
Considerations for Stools with Arms
It's important to note, however, that arms can take up additional space. They may increase the width of the stool by 2-3 inches, which could limit the number of stools you can fit at your counter. Therefore, it's crucial to ensure that the arms can slide easily under your counter to provide sufficient walking space behind the stool.
Additional Space Requirements
You'll also want to make sure your arms slide under your counter to increase the walking space behind the stool.
Below, is an illustration for a standard 36-inch high counter.
You will need a 26-inch counter stool for this.
If you're going to add arms, make sure the arms slide under the counter, so you'll want to find a measurement under 36 inches.
In this case, the Cardin stool fits perfectly at 34⅛ inches.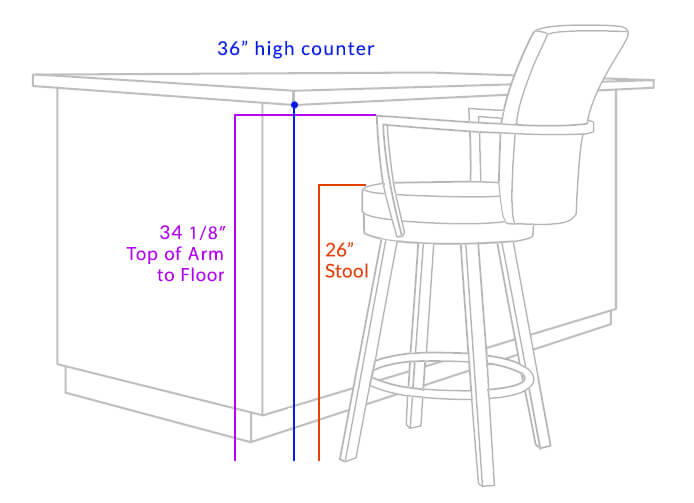 To ensure that you select the correct stool size, it is essential to check the dimension charts carefully. The key measurements to consider include width, depth, arm height, top of seat to floor, and total overall height. Taking these measurements into account will help you find the right size stool for your needs.
To make your search easier, we've compiled a list of three popular bar stools with arms:
Swivel Bar Stools with Backs
Enhancing Comfort with a Backrest on Your Stool
Having a backrest can greatly enhance the comfort level of any stool. Not only do backs offer support, but they also make the stool more inviting to sit in.
Backrest Options: Short or Tall
Backs are available in both short and tall versions.
If you prefer a clear view of your counter, a stool with a short back may be the better option.
If you are looking for additional back support, a stool with a taller backrest would be more suitable.
Preventing Damage to Your Counter
While some people may avoid stools with backs for fear of damaging their counters, there are two ways to prevent this issue.
One option is to select stools with upholstered backs, which will cushion any accidental impact with the counter.
Alternatively, you can add felt strips to the edge of your counter or the back frame of the stool to prevent any damage.
Top 3 Stool Options with Backrests
To make your search for a stool with a backrest easier, here are three popular options:
Swivel Bar Stools that Tilt or Recline Back
For those seeking extra comfort and relaxation, some swivel bar stools come with the added feature of tilting or reclining back. This feature allows you to lean back in the stool and adjust the angle to your liking.
Here are 3 popular options for tilt and recline swivel stools:
Durability
Our swivel plates are constructed from hardened steel and are manufactured by Trendler, a world-renowned and trusted swivel manufacturer.
By using these premium swivel plates, our stools are guaranteed to have a long lifespan and maintain their functionality for years to come.