Shopping for dining tables can be overwhelming due to the number of options available.
Wood or glass, you ask? If I want to sit 4 people, what size do I need? Stay tuned — we'll answer those questions and then some.
Dining Tables with Wood Tops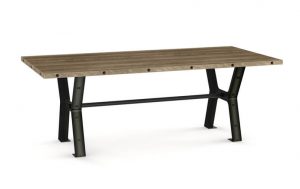 Majority of dining tables come with your choice of wood tops: wood veneer, solid wood, or distressed solid wood. Choose the wood style based on your taste.
Wood table tops are great for matching wood cabinets in your kitchen. They also typically provide a warm and welcoming atmosphere. If you're nature-inspired, they're irresistible.
How to care for a wood top: 1-2 times per year, apply min-wax paste wax or butchers wax to the top for protection. When using every day, apply moisture.
Dining Tables with Glass Tops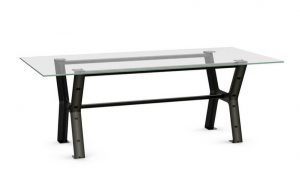 Glass tops will give the dining area a more open and airy feeling. They typically go great in modern kitchens or modern dining rooms and can be complemented with a set of metal chairs with really, any color upholstery. Glass tops are universal in that way!
Glass tops typically come in 3 different styles of edges: beveled edge, flat edge, and pencil edge. There's minor differences in each, one being that each edge has a different thickness.
They also come in different tints such as a Black flat edge or a White flat edge.
Types of Dining Table Bases
Pedestal Tables
These tables feature a single column down the middle of the base of the table. These types of bases will give more seating around because the legs are not in the way.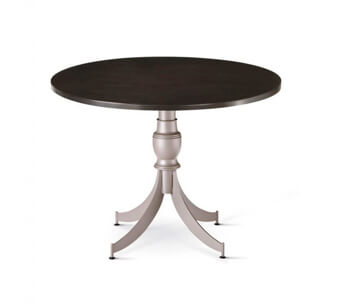 Leg Tables
These tables feature four legs at the base of the table. Sometimes the legs are square shaped; others comes to a point.
The benefit of this type of table is that it provides more stability than a pedestal table.
Also, the elderly sometimes need to push up on a table to get out of their chairs. In this case, the leg table would be recommended.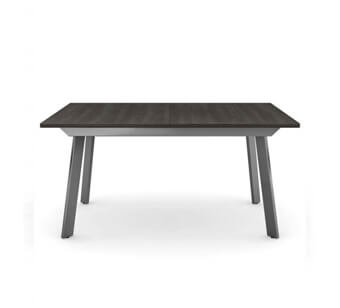 Sizing for Your Dining Table
To be able to get in and out of the table when sitting comfortably, you will need a minimum of 18 inches around the outside of the table.
If you have 2-foot, you will have plenty of room.
Here are the most common dining areas (in feet) and the table size you will need:
6′ x 6′ minimum = 36-inch round
6½' x 6½' minimum = 42-inch round
6′ x 8′ minimum = 36 inches x 60 inches rectangular
If the area you want to put your new table in is open, simply put down newspaper to the size of the table you want and walk around it. This will give you a better feel if the size fits your needs.
36-inch Round Top
This is the perfect size for dining for two people.
However, you can get four place settings for four people in a pinch, but there will be no room on the table for the mashed potatoes.
42-inch Round Top
This is the standard size top in the dining industry because it provides space for four people and gives room on the top for your side dishes.
36-inch x 60-inch Rectangular Top
This is the standard size top in the dining industry for six people for everyday use.
36-inch x 36-inch Square Table
These tables accommodate four people, two people on each side.
Dining Tables with Leaves
These tables are commonly referred to as extendable dining tables or drop leaf tables, and they allow you to extend the length of your dining table on the fly!
Depending on the table, they can come with one leaf, two leaves, or more.
Just open up both ends of the table, add or "drop" the leaf or leaves in the middle, and voila! More space for everyone.
Sizing of Extendable Dining Tables
Always take the length of any table and divide that number by 10. This will give you the amount of people that size will comfortably serve. For example:
60 inches = 6 people
78 inches = 8 people
96 inches = 10 people
As you can see, I rounded up on the last two which is perfectly fine.
Custom Dining Chairs
Once you determine which dining table to go with, you can shop for quality dining chairs! We carry a variety of side chairs and arm chairs for you space. Here are just a few we recommend:
If you have any questions about dining tables, just ask! We have been in business for over 20 years and have a lot of experience with dining tables and especially, barstools!