Once reserved for bars and pubs, pub tables are now gaining popularity as versatile and stylish pieces for modern home decor.
Beyond their traditional use, these tables are being incorporated into homes in a variety of ways, adding a touch of sophistication and functionality to any space.
In this article, we'll explore five creative ways that pub tables are being used in modern homes.
On this page:
Pub Tables for Small Kitchens
If you're short on space in your kitchen, consider a pub table to maximize your square footage. These tall tables have high table tops that can comfortably seat 2, 3, 4, or more people, depending on the size you choose.
Pub tables come in a variety of shapes, including square, rectangular, and circular, and can fit seamlessly into any kitchen design.
Their elevated height creates a multi-dimensional look, adding depth and interest to your space.
Take a look at these examples to see how you can incorporate a pub table into your small kitchen.
Pub Tables in Game Rooms & Near Billiard Tables
Pub tables are a popular addition to game rooms, particularly when placed next to a pool or billiard table. These tables offer a convenient way to oversee the game and provide additional seating for players or spectators.
With their elevated height, pub tables create a commanding presence in the room and can add to the overall ambiance of the space.
If you're looking for inspiration on how to incorporate a pub table into your game room or billiard area, check out these inspiring examples:
Below, is a clever example of how to incorporate pub tables into your home. Notice the four stools arranged against the wall with a pub table in the center and another pub table on either side.
This setup ensures that each guest has their own table and all four chairs are facing the action.
By placing the tables in this way, you create a functional and visually appealing seating arrangement that maximizes space and encourages social interaction.
These small pub tables make a fun addition to this game room, which also features a ping pong table:
Similar stools:
Pub Tables in Wine Cellars
If you're a wine lover, why not turn your wine cellar into the ultimate gathering spot in your home? With a few design tweaks, your wine cellar can be more than just a storage space for your favorite bottles.
Check out these inspiring examples of how designers have transformed wine cellars into stylish and functional entertaining spaces.
Whether you want to create an intimate wine-tasting area or a cozy lounge for sipping and chatting, these ideas will help you take your wine cellar to the next level.
If you're working with limited space in your wine cellar, a simple pub table can be an excellent addition.
Even without seating, a pub table provides a convenient spot for guests to stand and mingle while enjoying a glass of wine. This arrangement is perfect for intimate gatherings or when space is at a premium.
Consider placing a few stools or chairs nearby for those who may want to take a seat. With a little creativity, you can transform even the smallest wine cellar into a cozy and inviting space for entertaining.
Pub Tables Provide a Superb View
If you're lucky enough to have a breathtaking view from your home, a pub table can be a perfect addition to your living space.
Elevating you a little higher, a pub table allows you to fully enjoy the view and feel like you're on top of the world. Imagine sharing a romantic evening with a loved one as the sun sets and the stars come out.
A pub table can create a cozy and intimate setting for enjoying the beauty of the outdoors from the comfort of your home. So, if you have a stunning view, consider incorporating a pub table into your decor to maximize your enjoyment of it.
Shop this look:
Pub Tables in Dining Rooms
Check out this mix-and-match pub table with two styles of stools and a rectangular wooden tabletop. It's a fun and eclectic addition to any space, and the perfect spot for enjoying a cup of coffee or a meal.
And if you're looking for a beautiful dining room pub table set, we have just the thing for you. Take a look at these inspiring examples that are sure to elevate your dining experience and impress your guests.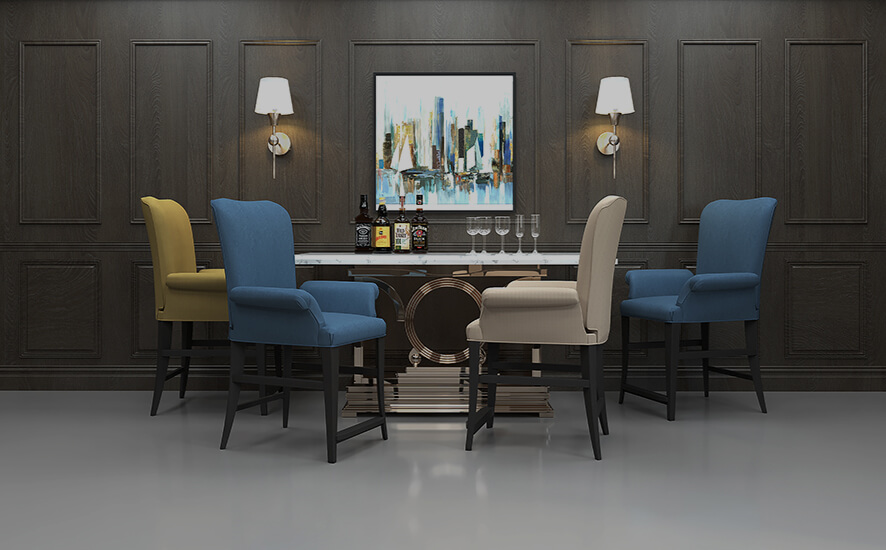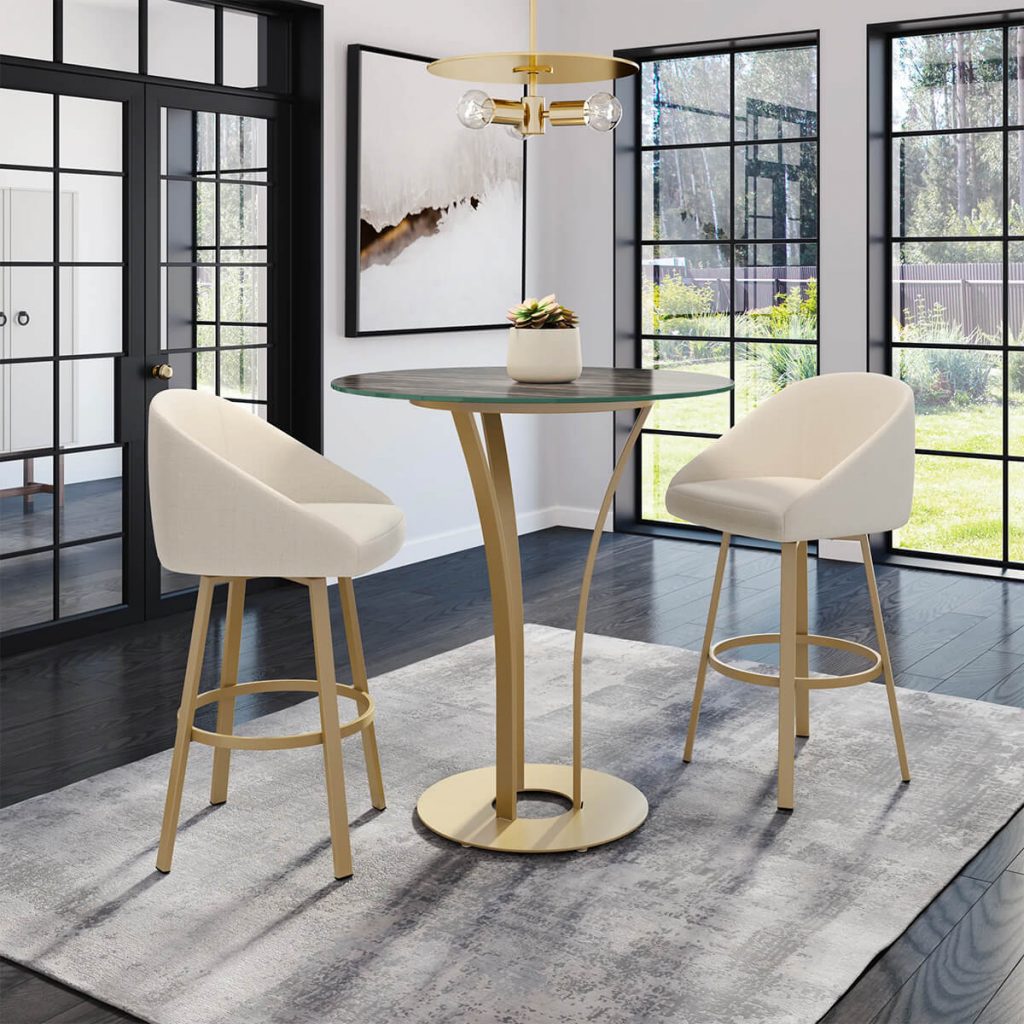 Our Pub Tables:
---
In summary, pub tables have come a long way from their traditional use in bars and pubs. From small kitchens to game rooms, wine cellars to dining rooms, and even outdoor spaces with stunning views, pub tables can add a unique and stylish touch to any setting.
Whether you prefer a classic or modern look, there are plenty of design options to choose from.
With their versatility, functionality, and visual appeal, pub tables are a trend that's here to stay.