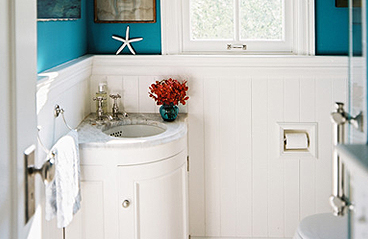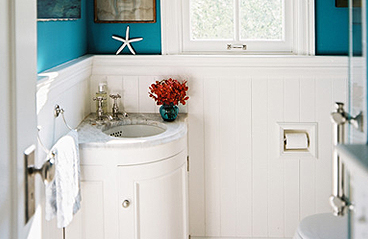 If you were unfortunate enough to have a small bathroom, then are likely already aware of the annoyance of working with one. Bathroom designs that are on the slim side will be really hard to clean and maintain, unless you are as flexible as a snake while you work on them.
Small bathrooms have good points as they will be faster to clean and easier to organize.
However they have a fair amount of challenges, too. This kind of bathroom will need specific solutions, such as a potentially customized toilet and sink, as well as ensuring you have enough clearance for the shower and other fixtures.
Despite the challenges, you can find a way to make use of the space you already have without being too worried. The following set of guidelines will provide you with more information on what you can work with to make it happen:
Install a Corner Sink
Depending on the space you have and the floor plan of your bathroom, you can really use a corner sink to make the most of what you already have. This will help make things look good, while at the same time being practical and without taking up valuable floor space in the process. You can also make sure your doors opening and closing will not get in the way and you can use the space you have for more important reasons.
Use Colorful and Interesting Shower Curtains
A sliding shower curtain will be one great way to ensure you have the floor space and you will not lose any of it. Shower tubs will also have much smaller spaces which would allow you to handle everything at about nothing but 60 inches or so in length when it comes to floor space. Doing so will ensure you have what it takes to make use of what you have in the best way you can.
Use Round Vanities
If you plan on having a vanity then you would do well to have it be with rounded corners, so you can escape the pain of hitting the edges in confined quarters.
A vanity of this kind will be a great solution for your bathroom as it will allow you to handle everything without it being too hard and by making cleaning far easier to handle, especially floor cleaning.
Add a proper vanity stool as well. There are quite a few good choices to be made out there. Pick a comfortable stool and you can spend however much time you would like in front of your vanity.
Make Your Counter Larger
You can do this to help extend the counter all around the toilet. It doesn't have to look like a throne, but in the end it will be worth the extra space you can work with.
An arrangement of this kind can be made fairly easily with the use of stone or wood and it will create that space you can work with. The placement of the toilet will not be really affected all that much, as this will allow for a more minimalistic look without it becoming a problem. You can deal with cleaning the bathroom fairly quickly with this approach, as it will make floor cleaning and tile cleaning fairly easy, especially if you keep your floors clear of clutter for easier mopping.