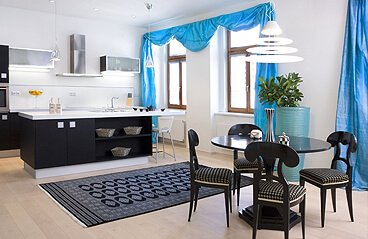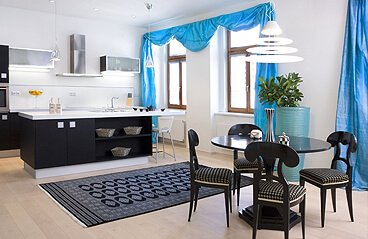 Big or small, formal or casual, the dining area has a special place in every home. This is where you gather with family and friends for celebrations or where you have your morning coffee and breakfast in the weekends.
As multi-functional place, the dining area can be a bit difficult to decorate.
The key is to create balance between comfort and elegance. Whether it is a tiny nook or a separate room, your dining area deserves your attention. Make the most of it with these minimal-effort decor tips.
1. Add a rug
Something as simple as a rug can tie together the design of your dining area and give it a finished look. Use it to highlight the focal point of your decor — the dining table.
Pick a carpet solution that works for your decor and your lifestyle. If you use your dining area on a daily basis, you may need flooring that is less susceptible to stains and allows easy carpet cleaning and maintenance. The rug will add not only texture and color, but also warmth and comfort.
If you are wondering what's missing in your dining room, it's probably a good rug.
2. Keep the table neutral
As mentioned earlier, the dining table often serves as a focal point in the dining area. You might be tempted to get a piece that will make a statement. Avoid this common pitfall and stick with a simple and classic design.
Choose a table that will stand the test of time and will remain stylish despite the passing trends. Focus on the quality of materials and construction.
Wood and glass are the most popular choices because of the flexibility and the ease of cleaning they offer. These materials fit wide range of designs, giving you the freedom to change up the room in the future.
3. Use different layers of light
A well-designed place has multiple light sources. There are three basic types: ambient, accent and task. In most of the cases, you will need the first two.
Of course, it depends on the size of your dining area and your personal needs. The different layers will create beautiful visual effect and will ensure that the light spreads evenly.
For bigger dining rooms, choose matching fixtures and arrange them evenly over the length of the table. Look for fixtures that have or can be use with dimmers to adjust the lightening and set an atmosphere.
4. Consider mismatched details
Mix-matching is a great technique to bring interest into the regular decor.
Get chairs with in different shapes, but similar color. This tip is more appropriate for more laid-back interiors.
If you want a more formal dining room, you can mix and match patterns and fabrics, while keeping the shapes and materials uniform. Don't forget that upholstered seats require special care and cleaning.
5. Put your bold wall art on display
Use your dining area to display your favorite art.
A standout creative piece will give character to the space. The trick is to choose wall art with appropriate size. You can hang a big piece or collection of smaller ones. The most important thing is to create cohesion and harmony.