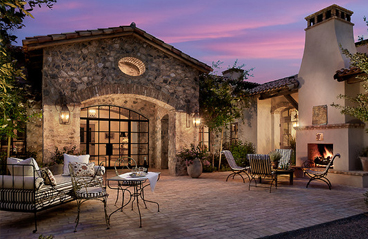 Whether it's breakfast, lunch or dinner, spring is a great time for outdoor dining. Here are a few French Country-inspired tips to create a memorable outdoor meal for your guests.
---
Wildflowers at each place
Give each guest a surprise greeting by putting a tiny sprig of cut wildflowers beside their plate. We've seen some hosts put the flowers right on the plate, but this might be below some guests' cleanliness standards. Bonus points for matching the flowers' color to your plates and napkins!
Put the table in the grass
Break away from the traditional deck or patio meal and put the table right in the middle of the lawn. The farther from the house, the better! This can transform the meal from just "eating outside" to a formal picnic. Footwear is optional: it's great to kick off your shoes and feel the grass under your feet while you eat.
Beware the wind
Plan around the wind—centerpieces, the table cloth, and everything you set out should be able to stand up to the day's breeze. We wouldn't even suggest an outdoor meal on a day that's uncomfortably windy. (As a backup, you can move to the deck or a shielded area.) Go with cloth napkins and metal napkin rings to keep the hand linens from blowing away.
Serve family style
It's easy to carry a couple of serving dishes from the kitchen. Resist the urge to plate in the kitchen and ask guests to carry their food to the table. You don't want anyone to trip and spill their meal in the grass, and you don't want them to even have to worry about the possibility!
Wooden folding chairs add a touch of class
Just say no to plastic lawn chairs. Wooden folding chairs are easy to store and easy to carry. They're usually sturdy, and if not, they're easy to fix. That's why there are still tons of wooden folding chairs on the antique market and at garage sales. You should be able to find a set of four to eight for a reasonable price.
Or, if you need a higher chair, go with some wooden folding bar stools.
What suggestions do you have for a delightful outdoor meal? Visit our Facebook page and share your suggestions!