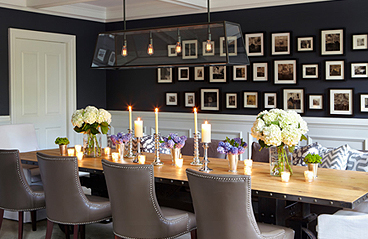 2015 is here, and what better way to start the new year than with some new ideas for dinner parties?
Dinner parties are a special type of design—experience design. How an event unfolds over a few hours can take just as much creative thought as decorating a room for the years ahead.
---
First, know the rules before you break them
Just like with interior design, it's important to know the time-tested formulas before you can add your own variations. Here are Jared Bland's six essentials of any dinner party:
Mellow instrumental music with pre-dinner drinks.
Lots of wine, just in case—more than you plan to drink.
A meal you can prepare 80% done before the party, served as a plated dinner with passed sides.
At least three locations: Kitchen (no guests hanging out here!), the dinner table, and a place for relaxing.
Simple, store-bought desserts. When in doubt, go for fine chocolate.
Thank your friends before they thank you.
---
Idea #1: Do it all yourself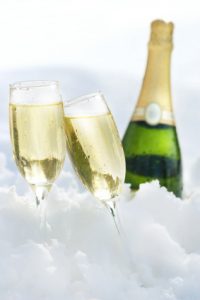 People get uncomfortable when they don't know where your party falls on the spectrum of potluck to catered event.
Is it sort of a potluck? Can we bring cheese? No and no. If people insist on bringing something, make it clear that wine is the only option.
Jared Bland puts it bluntly: "A dinner party is a performance, not an improvisation, and certainly not some sort of cooperative effort."
Idea #2: Tablescaping
Think landscaping, but for the dinner table. It's the art of arranging tabletops. From handmade centerpieces, personalized messages on place cards, color coordination—there's no limit to how you can dress up the table.
But don't feel obligated to buy fine china or spend hours making crafts by hand. Something as simple as paper plates and plastic cups can be a hit if color coordinated in a creative way. We've even seen a twister mat successfully used as a tablecloth. Pinterest always has great ideas for tablescaping.
---
Idea #3: Buffet dinners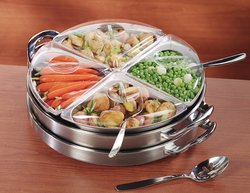 Although some people will insist that a dinner party should have plated dinners because "that's just how it's done," you need an army of servers to make sure everyone gets their food at the same time. If it's just you, plus maybe your significant other, the first guest's food is almost cold by the time the last person gets their plate.
Break the rules and go for a buffet dinner. That way everyone gets as much as they want, and, if you've set up the serving station right, everyone's food will be hot.
---
How do you plan to host in 2015?
Do you have any new ideas for hosting a dinner party? Let us know on our Facebook page!