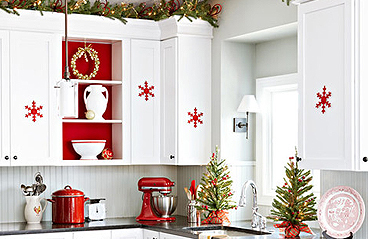 Sometimes the living room gets all of the attention during holiday decorating – but did you know there are just as many ways to deck out your kitchen?
With a few easy touches, you can turn your kitchen into a holiday season masterpiece. Here are a few of our favorite ways to decorate the kitchen for Christmas.
Evergreen branches and garlands
You can put evergreen branches in vases just like flowers. You can also wrap garlands over your windows, doors, or the tops of your cabinets.
Cranberries in a glass vase
Just fill a clear glass vase halfway with decorative cranberries, then top it with a spray of white flowers or a white candle. This looks great at the center of the kitchen island.
Holiday seat cushions
If your kitchen's barstools don't have built-in cushions, you can add holiday-themed cushions to the plain wood or acrylic seats. You can find beautiful handmade cushions on sites like Etsy, or at your local Christmas craft market. This is a great look for wooden barstools.
Red ribbons galore
Tie red ribbons around the backs of your barstools and other chairs. You can also add ribbons to your refrigerator doors. Small, delicate ribbons look great on cabinet pulls, too.
Ornaments for your cabinet pulls
Another idea for cabinets – instead of red ribbons, hang small, stuffed ornaments from the pulls. Avoid hard or fragile ornaments that could break or chatter when the doors open and close. Stuffed ornaments are best because they're silent and unbreakable.
Holiday dishcloths and pot holders
Swap out your kitchen's textiles for holiday-themed dish towels, pot holders and mitts. It's easy to find these unique soft goods at Christmas markets. If you want something a little more subtle, just go with solid seasonal colors.
Cheerful seasonal mugs
Just like the textiles above, you can put your usual mugs into storage for a month and use seasonal mugs instead. This is one of the easiest ways to spread the festive spirit — guests always love holiday mugs!
Christmas card crafts
Mount your holiday cards on your fridge doors or sides. You can also hang them tent-like from a piece of yarn draped across the wall.
Bonus! Here's a few more ways to jazz up your kitchen throughout the holidays:
What are your favorite ways to decorate your kitchen for the holidays? Let us know here on our Facebook page. As always, if you have any decorating questions, just call or write to us for free design advice. Have a wonderful holiday season!