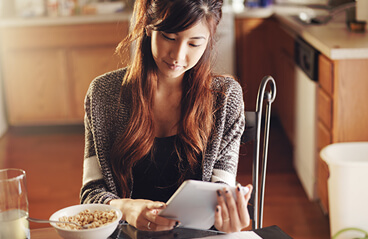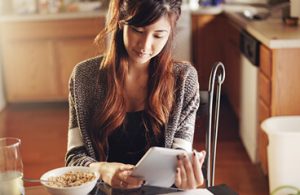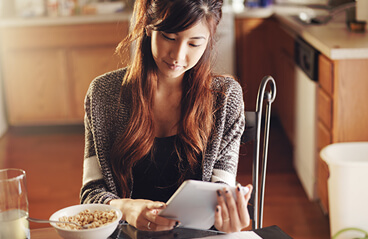 Stools are the best choice for working on a high surface such as a bar, café table, kitchen island, workbench or standing desk. But did you know that you can also improve your productivity with barstools? Read on to find out how…
---
Improve your posture – Barstools help you get your feet under your body and your spine lifted straight, giving you a healthy, alert posture that makes it easy to focus on your work.
Feel the high-altitude exhilaration – You know how you feel alive on top of a mountain? Sitting up high in a barstool can get your blood pumping compared to slouching in a low-to-the-ground chair. And that means your brain and your muscles are ready to perform!
Breathe better – One reason you can be more alert in a stool is because your good posture has opened up your lungs. You're breathing deeply now, flooding your brain with all sorts of productivity enhancing oxygen. Go you!
Stand and stay healthy – Every news site in the world has run an article on how you should break up bouts of sitting with standing and movement. It's easy to go from sitting to standing to sitting again with a barstool. Barstools help you take a standing break and keep working at the same time.
Stir up new ideas – Add little walks to your standing breaks. Popping to your feet – so easy with a barstool – and walking around the room can get the thoughts flowing, improving your creativity.
Get inspired by the view – If you've been sitting at a low desk, moving to a barstool and a higher work surface can give you a whole new view. And that means new inspiration!
Enjoy the boost of a new location – Maybe you've been working in your home office for a long time. Switch it up, bring your laptop down to the kitchen island, and grab a stool. If you can resist polishing off the chocolate ice cream, the new spot might be the productivity booster you've been looking for!
Swivel and think – If you're lucky enough to have a barstool with a swivel seat, just rotating back and forth can create the motion and movement necessary to whip up all sorts of productive insights – and it also counts as an ab workout!
Have a Drink – If all else fails, grab a seat at your home bar and pour yourself a glass of liquid genius!
Do you use a barstool to get work done? Visit our Facebook page and tell us your secret tricks!