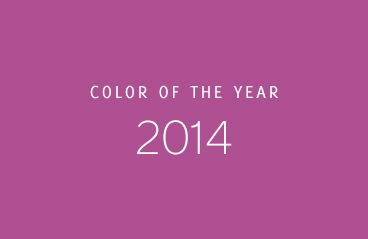 You're in store for a whole new look and design for your outdoor and indoor spaces come Spring!
Surveys from across the home industry indicate the want for low-maintenance, sustainable, and of course super attractive outdoor spaces for entertaining and relaxing, while bringing the outdoors in for a soothing yet colorful atmosphere.
Color of the Year
2014's color of the year is Radiant Orchid. How do we know this?
Pantone, the world authority on color, has announced its Color of the Year for 2014: Radiant Orchid. Described by the company as "a captivating harmony of fuchsia, purple and pink undertones," the vibrant hue is already beginning to pop up in interior designs on walls, upholstery, and textiles. Source: Press Release
Using Radiant Orchid in Your Design
Let's start with a general palette of complimenting colors that will mix well with Radiant Orchid.
Using Radiant Orchid Indoors
You don't have to complete an entire makeover to incorporate the use of new colors into your space. Here are a few ways use Radiant Orchid inside your home.
Area rugs
Paint an accent wall
Flower vases or flowers
Wall art
Picture frames
Throw pillows
Blankets
Lamp shades
Bedding
Bath towels/rugs or hand towels
Shower curtain
Using Radiant Orchid Outdoors
From furniture and accent pieces to overall design, it's easy to incorporate the color of the year into your outdoor design. Here are a few ideas for you!
Utilize the complimentary colors
One of the ways you can use Radiant Orchid in your outdoor design is to pair it with white or any of the complimenting colors. Use throw pillows, dining wear, flower pots or flowers, outdoor wall deco, and outdoor area rugs for pops of color.
One of the complimentary colors for use with Radiant Orchid is what we like to call lime green!
Give your indoor and outdoor spaces a makeover using Pantone's color of the year 2104 – Radiant Orchid in a variety of budget friendly ways!
Please contact us with any questions and feel free to browse the rest of our site for a wide variety of unique barstools!