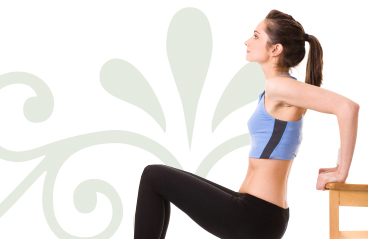 Happy New Year! Who else wants to forget about the feasting that's been going on since Thanksgiving?
If you're looking to shape up after the holidays, you don't have to rush out and get an expensive gym membership. Why not start with some of these easy workouts that you can do at home with your furniture?
Incline pushups
Put your hands on the floor and your feet up on the couch or a chair.
Now do some pushups, bringing your elbows straight back as close as possible to your body.
Do a set of pushups until you can't do any more, then take a break and do two more sets.
Now mix it up and incline your body in the other direction.
Put your hands on the couch and your feet on the floor. You can put your hands under the cushion on the firmer frame of the sofa for more support.
Here's an example of a decline chair push up:
Ottoman Ab Crunches
Lay your back on your ottoman with your knees bent and your feet flat on the floor.
The top half of your torso can hang off of the back, held up by your stomach muscles.
Now do a set of sit-ups until you can't do any more.
Rest and repeat two times. Good job!
Furniture slider pushups…and more
Grab an extra pair of furniture sliders, kneel on the carpet and put your hands on top of the sliders.
Now push your hands away from you, and then use your core to bring your hands back to you.
Check out this YouTube video for 20 workouts that you can do at home with furniture sliders.
Chair Dips
If you're new to chair dips, here's how to get in position:
Sit on the edge of a chair and put your hands on the edge of the seat, behind your hips and shoulder width apart.
Your feet should be flat on the floor and your knees bent in an L shape.
Scoot off the edge of the seat and lower your body downward until your elbows are at a 90 degree angle.
Then return to your starting position. Don't let your elbows fly out to the sides – keep them in line with your hands. You'll feel it in your triceps!
Bonus: Floor exercises
You don't have to use furniture to get a good workout. You can do pushups, sit ups, leg raises, squats, jumping jacks, running in place, shadow boxing, dancing, yoga – you name it – with only the floor. Want to throw in some weights? Grab a jug of water, the vacuum, your old bowling ball (in a bag) and start pumping!
How do you plan to get in shape after the holidays? Visit our Facebook page and let us know!