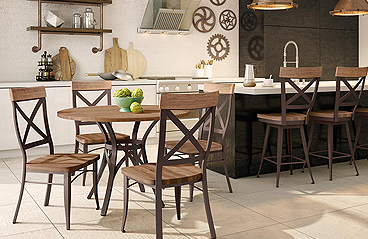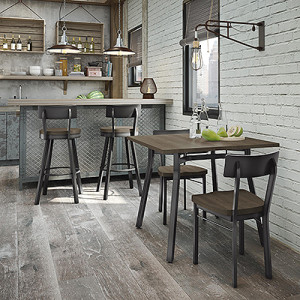 It's so exciting to make changes or update something in your kitchen.
Whether it's a new style of table and chairs, the addition of an island, or just changing the window treatments, the kitchen can feel like a whole new place. And since it's most often times the heart of the home, what better space to be proud of!
---
Can I mix barstools and chairs?
If your kitchen has a table and chairs and a kitchen peninsula, and you can only update one or the other, you may find yourself asking if ALL of the seating has to be the same.
Is it okay to mix and match chairs and barstools?
Do they have to be made of the same material?
Do they all have to be the the same style?
We're here to tell you that yes, yes you can mix and match! No, they don't have to be the same material, and no, the style can (and probably should) vary.
The key is doing a little planning before you start shopping.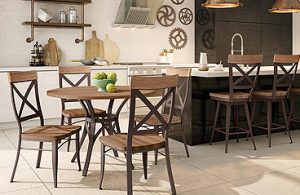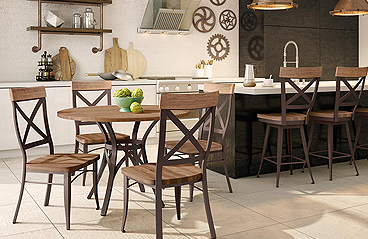 What to Consider
Changing the peninsula seating will certainly be less expensive than replacing your table and chairs, so here are a few tips to help you choose which barstools will best enhance your kitchen while meshing in style with your other chairs.
Consider the views. You'll need to know if you're shopping for no-back, low-back, or high-back barstools.
For example, if a scenic view from your kitchen windows will be blocked by high-back's, consider them out of the equation.
If your view of the kids playing in the family room will be blocked by high, solid-back barstools, opt for a style that allows for better sight lines.
Next, look at the chairs you're keeping. Do they have an open back or solid? If they are solid, opting for an open back barstool will bring variety to your kitchen and designate them to the island.
Design Tips
In order to keep a cohesive look throughout your kitchen, you could choose the same color finish, but have different styles.
Black barstool finishes will match well with other black chairs, wood grain, silver, etc. However a brushed bronze or metallic silver may be better suited to chairs that are similar in color already.
Take a look at our counter height barstools for inspiration in making your next kitchen update become a reality!
Please contact us with any questions and feel free to browse the rest of our site for a wide variety of unique barstools.