"I love how my new counter stools look in my kitchen. The welded construction makes them incredibly sturdy and the well-padded seats are quite comfortable. The high-quality vinyl fabric looks beautiful and is quite easy to keep clean.
I would have preferred stainless steel to match my appliances but read on the website that the welding points were pretty obvious. After seeing the welding, it definitely would have detracted from the appearance. I greatly appreciated the honest description.
Assembly only required the seat and legs to be attached with four screws and bolts. Having The two recommended 7/16" wrenches would have made the process much easier, but I got by using a small adjustable wrench and pair of pliers. My small hands also made this possible.
Unavoidable shutdowns due to the CoronaVirus delayed shipping by nearly a month, but the stools arrived undamaged in two days once shipped. I was notified of the delay up front.
All in all, a very pleasant shopping experience and great product.
Thank you!"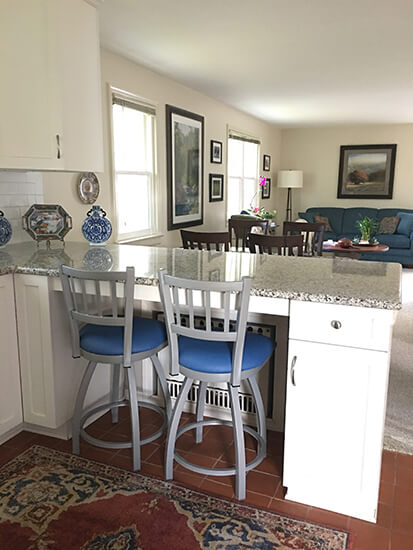 ^ Metal Finish: Anodized Nickel • Seat Cushion: Beeline Tidal, vinyl grade 2 • 24″ Custom Height