"Prior to purchase, I could not find any product review on Lincoln Swivel stool. After searching for the perfect counter stool, I'm glad I took a chance on this one.
My kitchen renovation is finally done, and these counter stools are beautiful. It's very sturdy and comfortable, the backrest hugs my back, and the swivel turns easily.
The metal is Magnetite and seat cover is Nova, it goes really well with my counter top, sink, cabinets, and appliances.
These were shipped all the way from Canada by Amisco, great customer service and very prompt in resolving minor issues.
My gratitude and appreciation however goes to Deborah of Barstool Comforts, for patiently and diligently sending me fabric samples, giving me feedback on my choices, and updates on delivery dates. Thank you so much for all your assistance and great customer service."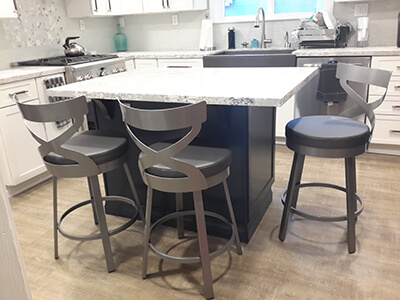 ^ Shown in 24 Magnetite metal and E8 Nova cushion