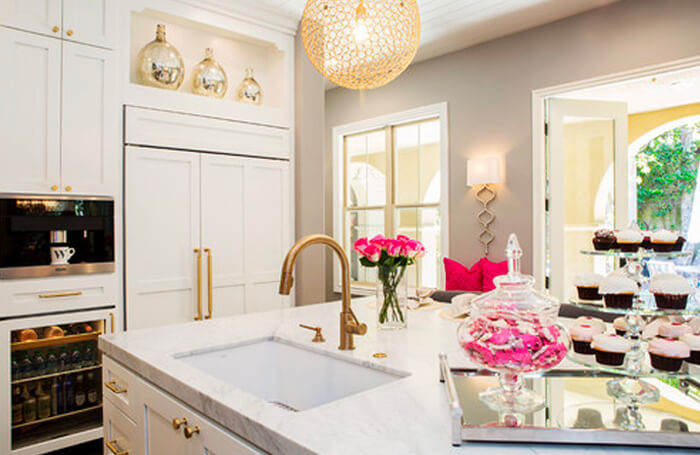 With white and gray kitchens staying on trend, a great way to add warmth is through color, especially gold. Add a splash of pink for a feminine touch that also evokes Hollywood glamour.
Pink and Gold Kitchen Designs
But how does one style with pink and gold in a kitchen without it looking tacky or last season?
First, you want to add a splash of pink. Not too much and certainly not an area that it's hard to remove like in the cabinets or hardware. You want to keep your hardware looking timeless and then add splashes of pinks in bowls, flowers, cupcakes, and pillows:
You can also add pink to your seating such as these bar stools below:
A popular shade of pink is blush which adds a subtle feminine touch. Classy and elegant.
These pink and gold counter stools create interest to an otherwise simple interior.
Adding pink and gold seating to a bathroom will create a soft touch.
As you can see, pink doesn't have to be overpowering to create glam. By adding a dash here and there, you're able to create a timeless kitchen design with class. Plus, if you decide to sell your home, you don't have to change anything. Keep the fixtures the same gold and take the pink accessories away before you sell.
Furniture and Accessories in Pink and Gold