As white and gray kitchens remain popular, incorporating warm tones can be a great way to add some character.
One way to achieve this is by using the elegant combination of pink and gold. This duo can add a touch of femininity to your kitchen while evoking the glamour of Hollywood.
Pink and Gold Kitchen Designs
But how can you incorporate pink and gold into your kitchen decor without it appearing outdated or overwhelming? The key is to use pink sparingly, without going overboard.
Avoid using it in permanent fixtures like cabinets or hardware, as this can make it harder to switch up your decor in the future.
Instead, opt for timeless hardware and accessories and use pink in smaller accents like bowls, flowers, cupcakes, and pillows. This will help to create a tasteful and stylish look that won't go out of style.
You can also add pink to your seating such as these bar stools below:
Blush is a popular shade of pink that can add a subtle and sophisticated feminine touch to any space. Its understated elegance makes it a timeless choice for those who want to incorporate pink into their decor without it being too overwhelming or flashy.
These pink and gold counter stools create interest to an otherwise simple interior.
Adding pink and gold seating to a bathroom will create a soft touch.
As demonstrated, incorporating pink into your kitchen decor doesn't have to be overwhelming to achieve a glamorous look.
By using small accents of pink throughout your kitchen design, you can create a timeless and sophisticated aesthetic. The great thing about this approach is that if you ever decide to sell your home, you can simply remove the pink accessories without having to change any of the fixtures.
By keeping the timeless gold hardware, you can maintain the luxurious feel of your kitchen while ensuring it appeals to a wide range of potential buyers.
Add Glamour to Your Home with Pink and Gold Furniture and Accessories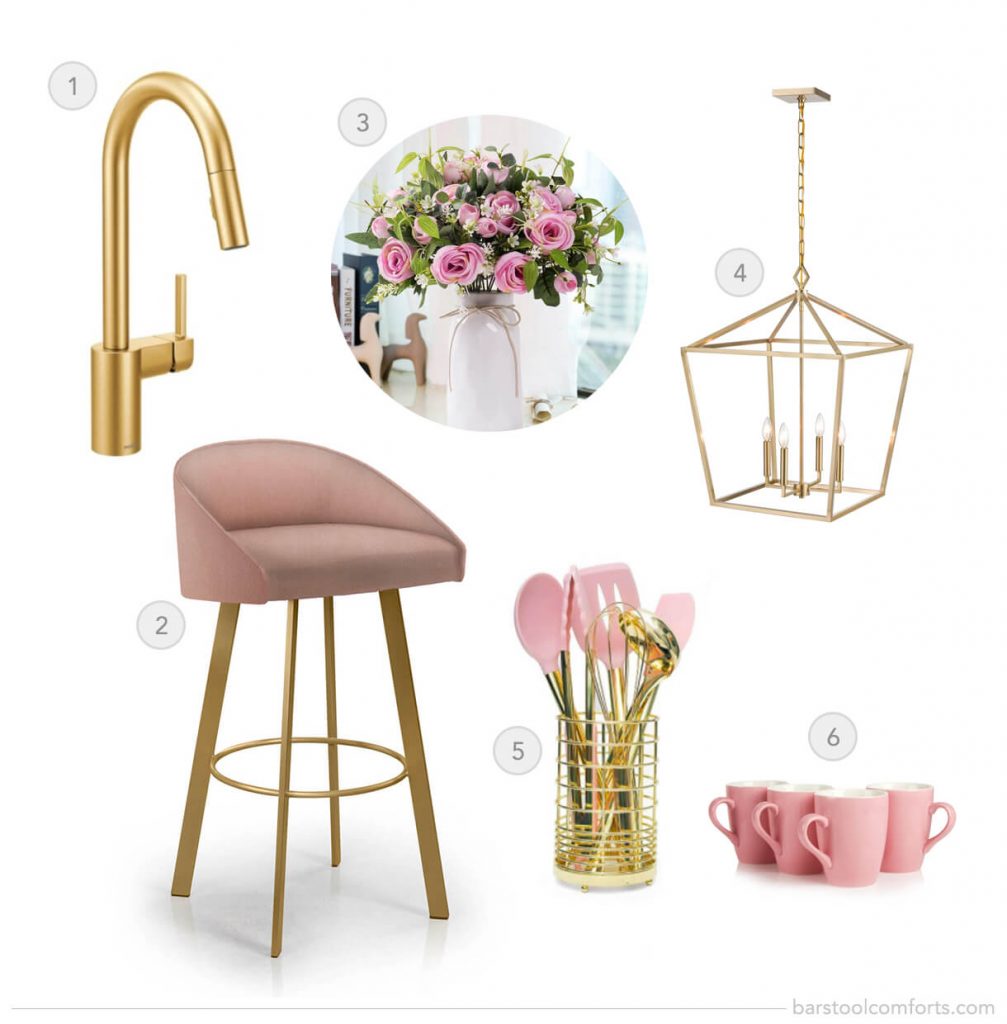 Explore More Gold and Pink Bar Stool Options for Your Home
---
By incorporating the classic pairing of pink and gold into your home decor, you can effortlessly elevate your space with a touch of glamour and sophistication.
From chic bar stools to stylish furniture and accessories, the possibilities are endless when it comes to bringing this timeless color combination into your home.
Whether you're looking to add a touch of warmth to your kitchen or create an elegant living room, pink and gold accents can provide just the right amount of feminine charm and luxury.
So, get creative and experiment with this stunning duo to create a home that is as unique and beautiful as you are!