Did you know yellow has the power to uplift any room?
If your kitchen is missing out on natural light, don't fret, simply add pops of yellow and you're all set (no rhythm intended).
Yellow boosts energy in the room and adds warmth. Pair yellow with white, silver, gray, and black or go bold and go blue. Below, are a couple of kitchens featuring pops of yellow.
Yellow Kitchen Designs
These designers decided to add contrasting pops of yellow against the gray cabinets. This helps break up the design, but also adds warmth.
Here we have a dominated white kitchen, but a pop of yellow bar stools really excites this space. Yellow goes very well with stainless steel bar stools.
This yellow backplash provides a focal point and the contrasting blue pairs extremely well here:
We love these bar stools upholstered in a yellow fabric that draws the eye around.
For a dramatic look, these yellow bar stools appear under a dark island. We love this extreme contrast, but the whole space still feels comfy.
We love the way these designers adding pops of yellow in the island and in the window treatments.
This white and black modern kitchen amps up the design with a dijon mustard set of bar stools. We love the boldness.
Combinations of Yellow
Mustard & Black
For a dramatic look, pair mustard with black. It's a strong contrast that makes the kitchen be the all-star in the house. Check out these mustard and black bar stools by Trica.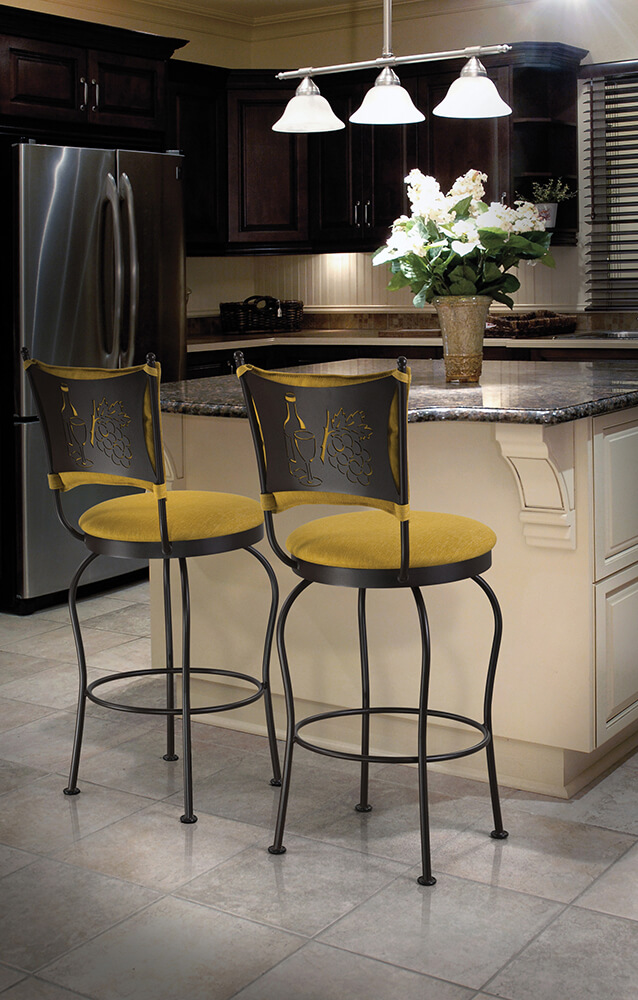 Mustard & Silver
For an understated look, pair mustard yellow with silver like these bar stools below.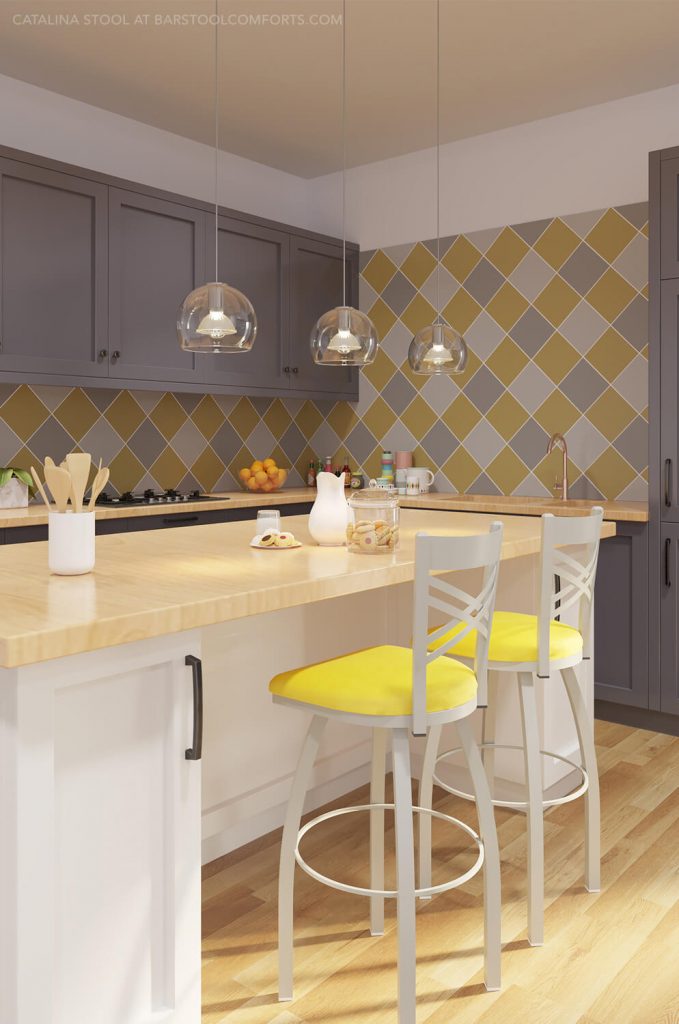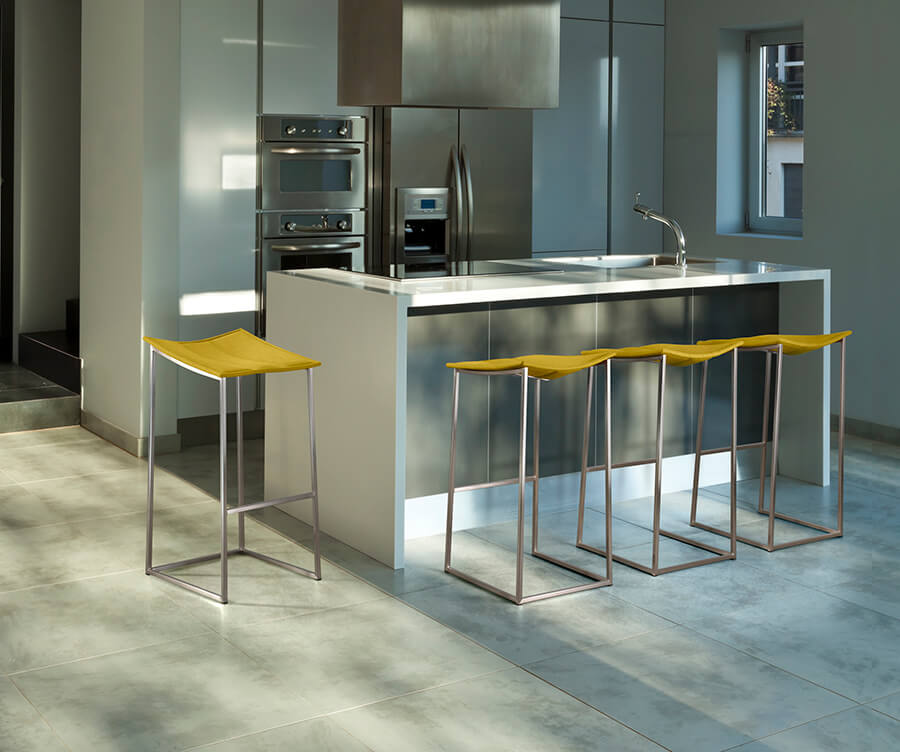 Yellow and Blue
When you look on the color wheel, blue is almost directly across from yellow and we love how these two colors play with each other here! We imagine lots of fun cooking classes with the kids in this space.
5 Ways to Add Pops of Yellow to Your Kitchen
Glenn Swivel Stool by Amisco (barstool with back, backless bar stool)
Kate Spade New York Electrics Toaster – Yellow (link)
Funny Mustard Yellow Gray Kitchen Wall Decor (link)
Art Collection #1 Swivel Stool with Custom Back Design (discontinued)
Unfold Pendant Lamp Muuto Yellow (link)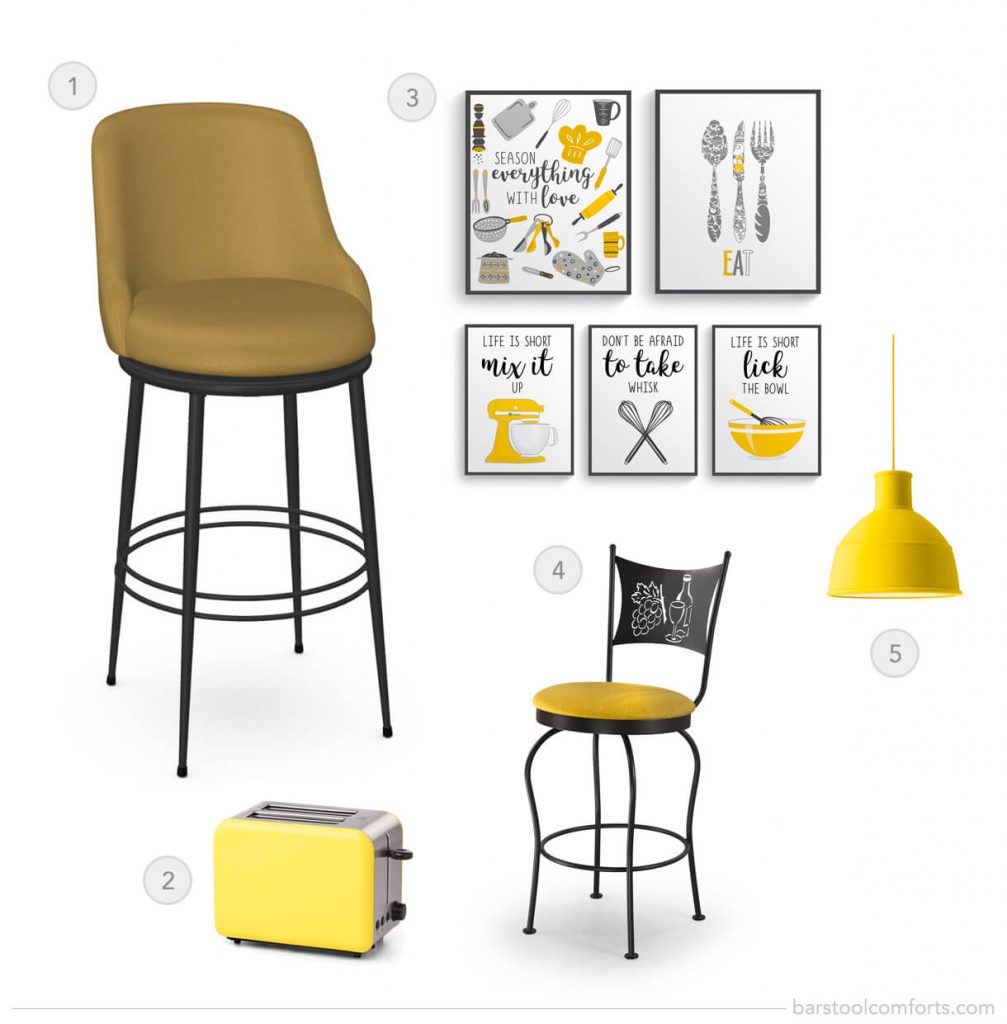 6 Yellow Bar Stools