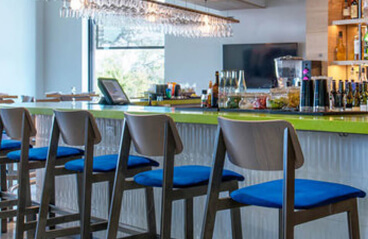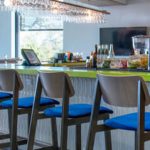 Getting a drink in the 1800s was a standard affair: you'd walk up to the bar and order a drink. There were no stools to sit on. All you had was the counter to lean on.
It wasn't until much later when bars started adding stools, ensuring customers would stay longer and order more drinks. Stools added the comfort and support customers liked from dining chairs.
Which brings us to our question… What height should a restaurant bar be?
The answer: 40-42 inches.
Here's why:
This height allows seated customers to be eye-to-eye with their bartenders and other standing patrons. This makes it easier and more comfortable to communicate.
Sitting higher than the standard counter height can be more exciting for customers.
Overall, this height can bring dimension to an otherwise dull space.
You will have a wider selection to choose from when shopping for bar stools at this height. You will need a 30″ bar stool.
Now that you know the height you should build, come back and shop our collection of the most comfortable 30-inch bar stools online!