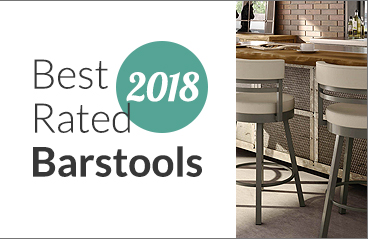 What makes one bar stool stand out from the rest? Is it the style, how comfortable it is, the price or something else? Whatever it is, our customer's found "the one" bar stool at Barstool Comforts and they had quite a lot to say about their stool!
So we decided to come up with the definitive roundup of the top reviewed bar stools for your new kitchen in 2018:
---
Name
Top Reviews

1




Features curved backrest. Well cushioned seat and back. With footrest.


25+ reviews

The stools are beautiful! They are well constructed and offered the height sizes we needed. VERY HAPPY WITH OUR SERVICE AND PURCHASES! Jerry, Missouri

Love these stools. They are very sturdy, easy to put together, and came in pure white. Most others I looked at were either cream or ivory. Shipped in a reasonable time. The magnetite finish matches stainless appliances and handles nicely. James, New Jersey

As a Construction Engineer I can attest to the structural integrity of the stools I first saw and the ones I purchased. Fit and finish are perfect, nicely welded, even powdercoat, nice hardware, heavy vinyl, easy assembly. No issues. These are the best stools for the money. Jeff, Colorado

2

Features handsome ladder back design and well cushioned seat and footrest.


9+ reviews

I first ordered one barstool that we had customized in height. I wanted to see if we liked this item and it fit well before ordering the other 7 we needed. I had our stool within 10 days of ordering. It is a beautiful well built stool! Very comfortable. We ordered the Jackie swivel XL which gave us a larger seat and makes a world if difference for comfort! We chose the black finish with a black vinyl seat! The vinyl is beautiful! It's not your typical shiny vinyl, it has a mat finish. Looks like leather and feels nice! I will send a picture when we have all 8 stools at our kitchen bar counter. Thank you! Lois, Tennessee

These stools are so sturdy and the stainless finish is well worth the price difference. Customer service was amazing. Deborah and Joe were very responsive to all of our questions or concerns. Great experience in all! James, North Carolina

We love them! Sharon, Michigan

3

Fairview Stool

Features curved low backrest design with slightly flared legs. Well cushioned seat with footrest.


7+ reviews

These barstools are extremely well designed and make a very attractive addition to our home. Highly recommend these stools to a quality minded consumer. The staff are very knowledgeable and helpful – a pleasure to talk too and work with to determine what products best meet one's needs. Patrick, Georgia

The stools are gorgeous. The quality is impeccable. The assembly, paint, cushions, sturdiness are all first class. We definitely made the right choice. Rhonda, Georgia

Excellent quality and very comfortable. L Jack, Arizona

4

Features tall backrest with the ability to customize laser etching. Well cushioned seat with footrest.


7+ reviews

I LOVE the chairs… I wish I needed more. My husband and I love anything with Palm Trees on it. When I saw the backs of your chairs had palm trees on them, I had to order them. They were even more beautiful than we imagined. Lori, South Carolina

My new counter stools are the most comfortable stools I have ever sat in and on top of that they are unbelievably beautiful! I love them! Mary, Florida

I love the designs that you can choose from. I got 4 bar stools with palm cutouts for the kitchen bar and one with music cutouts for my husband to sit on when he plays his saxophone for guests. The chairs really make a hit with friends that visit. Really good quality and sturdy to boot. Laura, Florida

5

Features a sleek, tall backrest with a square cushioned seat and footrest. Best for modern kitchens.

5+ reviews

This is the second time we purchased these exact same counter stools (different finish and fabric of course). We love the design and comfort of these stools so much we decided why not stick with what you know? Ordering, delivery and setup was painless and smooth at a substantial savings from our local retailer where we purchased our original stools. Kenneth, Florida

Excellent quality, style. Easy assembly. Very pleased. Kendall, Louisiana

The chairs are very comfortable, and sturdy. The staff was friendly. I was a little skeptical about ordering online but I must admit that I love my chairs. Vita, Georgia

6

Features a saddle shaped seat with square tubing on the feet. Narrow, but doesn't compromise comfort.

5+ reviews

I needed a narrow barstool, and was hoping for something upholstered, These are perfect. I selected my own fabric and the team at Barstool comfort was great about communication. Perfect! Paula, Illinois

Excellent match to our existing SOHO chairs. Good quality and special services offered by your company. Robert, Ohio

Fast response on request for swatches and delivery didn't seem overly long. Also very happy that the seat cushions were already attached and no need for assembly. William, Ohio

7

Rochester Stool

Features a cross back design with arms and footrest. Well cushioned seat and slightly flared legs.

5+ reviews

Nice stools, very comfortable. You get what you pay for!"Kerri, Massachusetts

The bar stools are great. Very comfortable and sturdy. I was afraid my grandchildren would twirl around in them or knock them over, neither are possible with these chairs. They are sturdy, stable, and swivel only enough to get in and out of them. Rebecca, Ohio

Our barstools are wonderful. Very comfortable, a quality product, easy to put together – well worth the money and the wait! Ann, Florida

8

#2545 Stool

Features a tall backrest, padded armrests and a tilt swivel mechanism at the base, allowing you to rock back in the stool.

4+ reviews

"Most comfortable barstool I've ever sat in." Denise, Florida

"Beautiful, strong, sturdy, yet easy to move." Michael, Florida

"Love the custom color choices of metal frame and chair fabric. Delivered on estimated date. High quality of bar stools and very comfortable." Jane, Florida

9

Features a tall backrest with armrests positioned on top a nice, deep seat. Comes with footrest. Goes great in modern kitchens.

4+ reviews

"We had 5 of these stools and liked them so well that we searched online to order 3 more. They are very comfortable to sit in – the back is padded and just the right height to support one's back. The armrests are comfortable and a good height. The foot bar is wide enough to support your feet well. The 360 degree swivel is a must have! They are very sturdy and wide enough to sit in comfortably for a long time. We watch our favorite NFL team play a whole football game in these bar stools." Linda, Washington

"These are the most comfortable bar Stools that I have ever owned. They are sturdy, well built and easy to put together. I selected the fabric and as promised, it is sturdy and attractive." Doris, Florida

"Beautiful, strong and sits really well." Lamerle, Indiana

10

Chrysler Stool

Features a slender frame, great for narrow spaces. Seat is well cushioned and includes a footrest.


4+ reviews

"Beautiful bar Stools! Perfect match to my Kitchen! Extremely sturdy! All one piece, ready to use straight out of the carton….packed very well! Wonderful company to do business with, very helpful and even sent out samples of fabric! Great experience all the way around! Couldn't be happier…..love them!!!" Selma, California

"The stools are sturdy, beautiful and comfortable. They arrived early, and were better than we expected." Roxanne, California

"Exceptional service and quality stools! They are very responsive and answered all of questions. Must have spent at least 20 minutes on the phone going over the stools that we ordered to match our current stools. Their product knowledge is impressive! Our stools arrived, fully assembled and very well packaged. They are absolutely a perfect match! Honest, reliable and trustworthy company! Thank you!" Michelle, Washington
Which one is your favorite?