Don't crowd the space near the bar.
Customers are going to be moving those bar stools around over the course of the night. Do you have enough space for people to get in and out, with room for foot traffic behind the stools?
For good flow, make sure there's enough of an aisle between the barstools and the first set of tables.
Don't use bar stools with wheels.
If your bar has stools with wheels, you're asking for an accident, a broken neck and a lawsuit.
It's hard enough for sober guests to balance on a 32 inch stool with wheels. Throw in a few drinks and things can get ugly fast. That's why we don't sell stools with wheels!
Don't store dining supplies in the bathroom.
Just last weekend I was out at a restaurant that had a couple of extra tables and a stack of chairs stored in the bathroom. How do I know that the table I'm eating off of wasn't pulled out of the bathroom just a few hours ago?
In another bar, a bunch of kegs were stored in the bathroom. Sure, they're airtight and they might be empty, but still – that's a mental connection I don't want to make.
Don't say you can reserve a table when you can't.
I called a new Chinese place a few weeks ago to make a dinner reservation for Friday night. No problem, the host said, and took my name and the time. But when we got to the restaurant, it was obvious they didn't have a reservation system and all the tables were full.
If you don't take reservations, that's fine – just please don't pretend that you do!
Don't choose awkward dinner music.
Music with lyrics can be a gamble. A song about a breakup, death, revenge, or any other negative topic can bring down a happy night.
Restaurants should always go with instrumental music – but please don't pick the Muzak version of the Titantic soundtrack, which we heard last time we went out for Malaysian. That was just weird.
---
Restaurant owners have tough decisions to make when designing the perfect dining space. You need the wow factor to attract patrons at their entrance, but the right atmosphere goes a long way in giving them a reason to return…in addition to fabulous food of course!
The overall style of the restaurant plays the largest part in choosing the perfect bar stools and chairs to act as the foundation of the space.
The ideas here should act as inspiration to not only update the restaurant's style, but provide alternatives to your seating. Blend the perfect bar stools with stylish and comfortable chairs to give patrons something else to brag about.
---
What Height Should a Restaurant Bar Be?
Getting a drink in the 1800s was a standard affair: you'd walk up to the bar and order a drink. There were no stools to sit on. All you had was the counter to lean on.
It wasn't until much later when bars started adding stools, ensuring customers would stay longer and order more drinks. Stools added the comfort and support customers liked from dining chairs.
Which brings us to our question… What height should a restaurant bar be?
The answer: 40-42 inches.
Here's why:
This height allows seated customers to be eye-to-eye with their bartenders and other standing patrons. This makes it easier and more comfortable to communicate.
Sitting higher than the standard counter height can be more exciting for customers.
Overall, this height can bring dimension to an otherwise dull space.
You will have a wider selection to choose from when shopping for bar stools at this height. You will need a 30″ bar stool.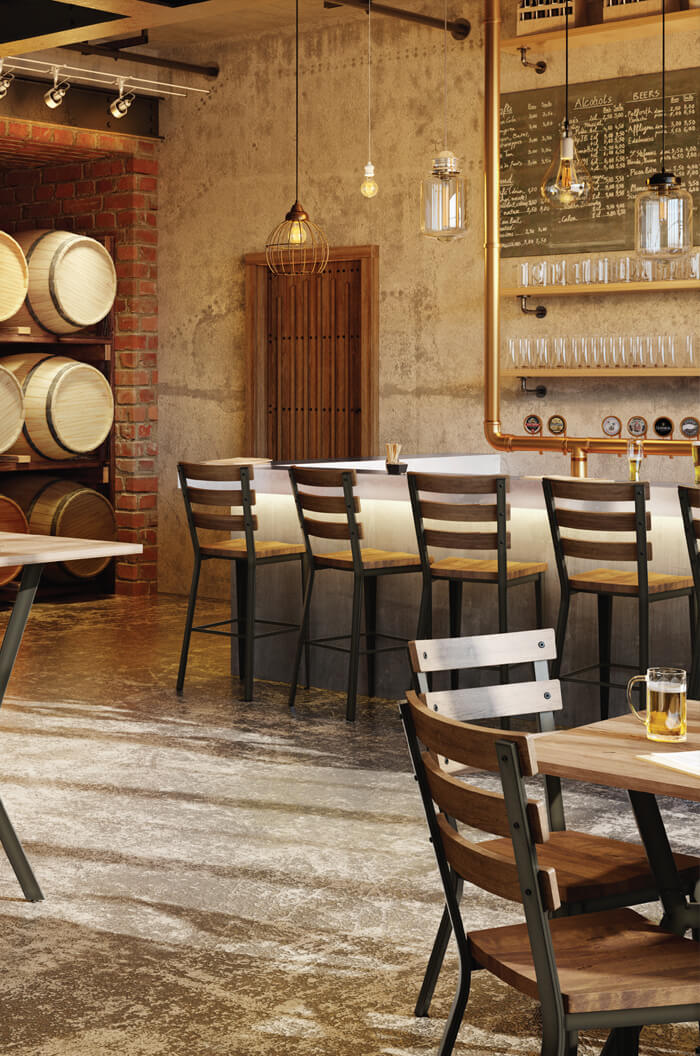 ---
Ideas for Restaurant Design
Do find the perfect blend of luxury and comfort.
The combination of luxury and comfort in this space is evident in the mid-rise back bar stools and the cozy, extra-high back lounge seating.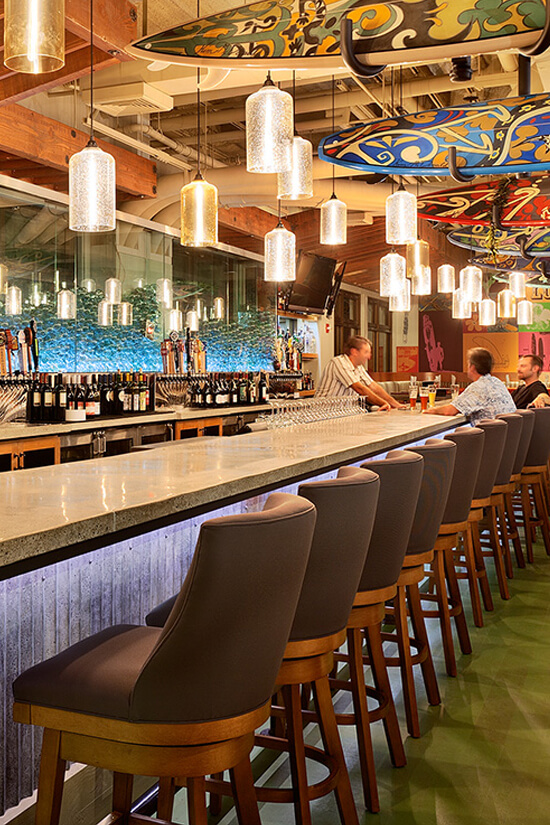 Do consider bar stools with low backs.
The short-back stools used in this bistro complete the look and feel of a cozy atmosphere perfect for a cup of coffee and a pastry! Guests are sure to feel welcome to stay for a second cup and maybe even invite a friend.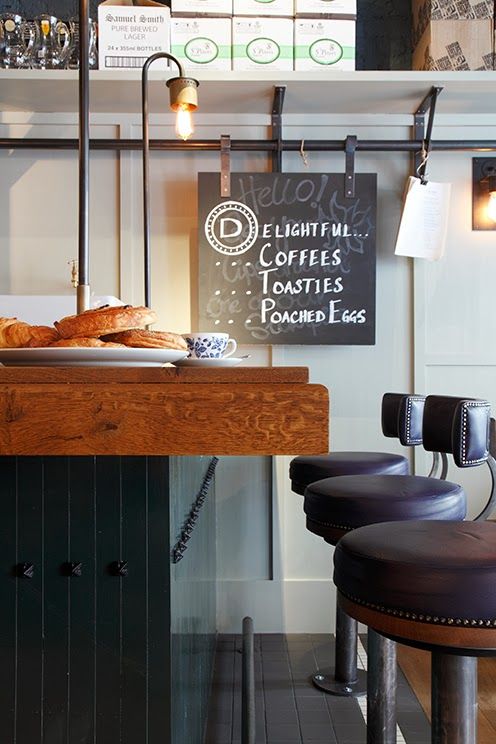 Do compliment the color palette.
Whether your bar is in a cooking school like this one or simply has a view to showcase, use the structure and color palette to help in your choice of barstools. In this case, the bar stools were chosen to compliment the window frames and overhead lighting without taking away from the festive, fun palette chosen.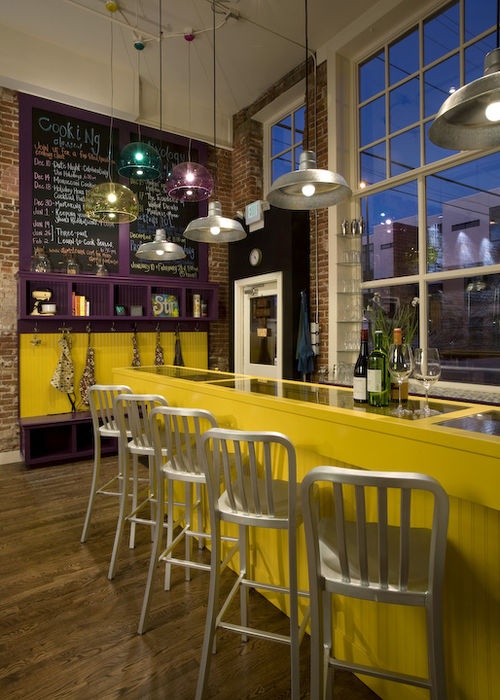 Do consider backless stools.
The simple yet sleek look of backless bar stools keep a space looking uncluttered and open. No matter the size of your restaurant or bar area, backless stools can provide comfort for the perfect amount of time patrons will be sitting.
---
With or Without Arms?
If you run a restaurant or bar, here's a choice you might not have considered: Should you use stools with armrests or without armrests?
Here are a few of the considerations…
Space
How much room do you have at the bar? How many people do you want to fit? Stools with armrests take up more space. This is fine if you have room, but if space is tight, look at stools without armrests.
Comfort
Are most of your guests regulars, who like to settle in and be comfy? Or are your customers always changing (travelers, for example)? Bar stools with armrests will give your regulars – or potential regulars – a reason to come back.
Turnover
Similar to the point mentioned above, a customer will stay in a comfy seat longer than a less comfy seat, reducing customer turnover on a single night.
Wooden stools without backs or armrests are good if you don't want people camping out at your bar for extended lengths of time.
But if you like to have your customers sit at your bar and watch the game while ordering drinks and food, stools with armrests will help keep them at the bar.
Reconfiguring Your Space
Simple stools are easy to move out of the way if you switch from dining to dancing after the dinner hour. Heavier stools with armrests? Not such a quick or easy change for your staff.
Cost
Simple fact: it takes more time and supplies to clean a stool with armrests than to clean a stool without them.
You'll have to run the cost calculations on your own, but consider this: One stool might take two or three squirts of cleaner, while a basic stool might take one. It might take a bartender 15 seconds to clean a stool with arms, but only 5 seconds to clean a basic stool. And the stool with armrests will get dirtier – especially on wing night – adding to cleaning time.
Depending on the size of your business, those small differences can add up over a year.
So, what's it going to be? We have both types, ready to ship right now.
Please contact us with any questions and feel free to browse the rest of our site for a wide variety of unique bar stools.