Running a successful restaurant is no easy task. Restaurant owners face a myriad of challenges, from managing staff and maintaining quality to staying within budget and keeping up with the competition.
While there are many things that restaurant owners should do to ensure their success, there are also some things they should avoid. In this article, we'll discuss five common mistakes that restaurant owners should steer clear of.
1. Keep the area around the bar clear for smooth flow.
To ensure smooth movement around the bar, avoid crowding the space in the immediate vicinity.
Throughout the night, customers are likely to shift bar stools around, so it's essential to provide enough space for foot traffic to flow freely.
You should consider whether there is enough room for people to come and go comfortably, and whether there is enough space behind the stools.
In order to maintain good flow throughout the bar area, it's crucial to ensure there is an adequate aisle between the barstools and the first set of tables.
By doing so, you can provide enough space for customers to move around without causing any unnecessary congestion.
2. Avoid bar stools with wheels for safety reasons.
We strongly advise against using bar stools with wheels, as they pose a significant safety hazard. Having stools with wheels in your bar increases the risk of accidents, including potential broken necks and lawsuits.
Even for sober guests, balancing on a 32-inch stool with wheels can be challenging. Introduce alcohol into the equation, and things can quickly turn disastrous. As a responsible bar owner, it's important to prioritize the safety of your customers by avoiding the use of stools with wheels.
It's worth noting that at our establishment, we do not sell stools with wheels. This decision reflects our commitment to maintaining a safe environment for our patrons.
3. Separate bathroom and dining supplies.
It is highly recommended that dining supplies are not stored in the bathroom. This is because it can create an unsanitary environment and raise concerns about the cleanliness of the items used in food service.
I recently visited a restaurant that stored extra tables and chairs in the bathroom, which left me wondering whether the table I was eating off of had been in the bathroom just a few hours prior.
Similarly, at another bar, I observed kegs being stored in the bathroom. While the kegs may be airtight and possibly empty, the mental association of storing them in such a location is unsettling.
To ensure the health and safety of your customers, it is crucial to keep dining supplies and equipment separate from areas that may be considered unsanitary or unclean. By doing so, you can uphold proper hygiene standards and promote confidence in the cleanliness of your establishment.
4. Be Honest About Table Reservations
It is essential to be honest with your customers when it comes to your restaurant's reservation policy. Making false claims about your ability to reserve tables can lead to disappointment and frustration for guests.
I recently had an experience with a new Chinese restaurant where I called ahead to make a reservation for a Friday night dinner. The host assured me that it wouldn't be a problem and took my name and time. However, when I arrived at the restaurant, I quickly realized that they didn't have a reservation system in place, and all the tables were already occupied.
If your restaurant does not accept reservations, that is perfectly acceptable. However, it is essential to be transparent about this fact and inform customers accordingly. By doing so, you can prevent any misunderstandings or unfulfilled expectations and ensure a more positive dining experience for all.
5. Choose Appropriate Dinner Music
It is important to be mindful of the type of music played during dinner service, as it can significantly impact the overall ambiance and mood of the dining experience. Opting for music without lyrics is often a safe choice, as songs with negative or upsetting themes can spoil an otherwise enjoyable evening.
Instrumental music is an excellent choice for creating a relaxing and pleasant atmosphere, but it's important to be selective in your choices. For instance, playing the Muzak version of the Titanic soundtrack at a Malaysian restaurant can be perceived as inappropriate and awkward.
As a restaurant owner or manager, it's essential to curate a playlist that aligns with the ambiance and theme of your establishment while avoiding music that might be perceived as out of place or uncomfortable. By doing so, you can create an enjoyable and memorable dining experience for your guests.
---
What Height Should a Restaurant Bar Be?
In the 1800s, getting a drink at a bar was a straightforward experience. You would approach the counter and place your order, but seating was not provided, and you were expected to stand while drinking.
However, as time passed, bars began to add stools to their establishments, providing patrons with a more comfortable and prolonged experience.
Which brings us to our question… What height should a restaurant bar be?
The answer: 40-42 inches.
Here's why:
This height allows seated customers to be eye-to-eye with their bartenders and other standing patrons. This makes it easier and more comfortable to communicate.
Sitting higher than the standard counter height can be more exciting for customers.
Overall, this height can bring dimension to an otherwise dull space.
You will have a wider selection to choose from when shopping for bar stools at this height. You will need a 30″ bar stool.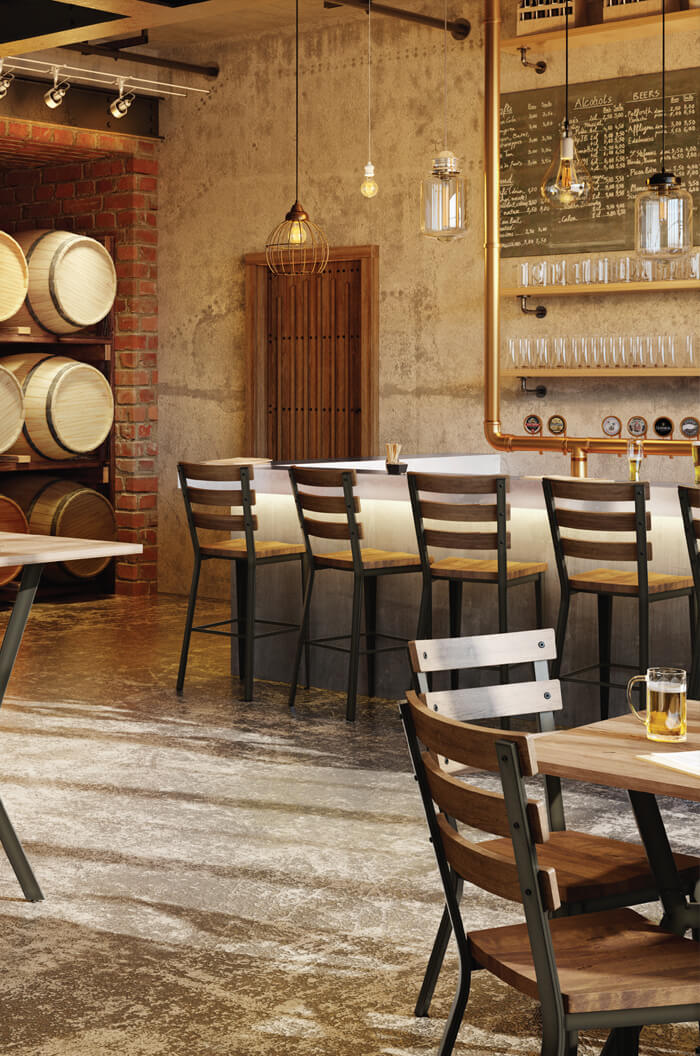 Ideas for Restaurant Design
Luxurious Style with Comfort
One of the most important aspects of restaurant design is finding the perfect balance between luxury and comfort. This can be achieved by using mid-rise back bar stools and extra-high back lounge seating to create a cozy yet sophisticated atmosphere.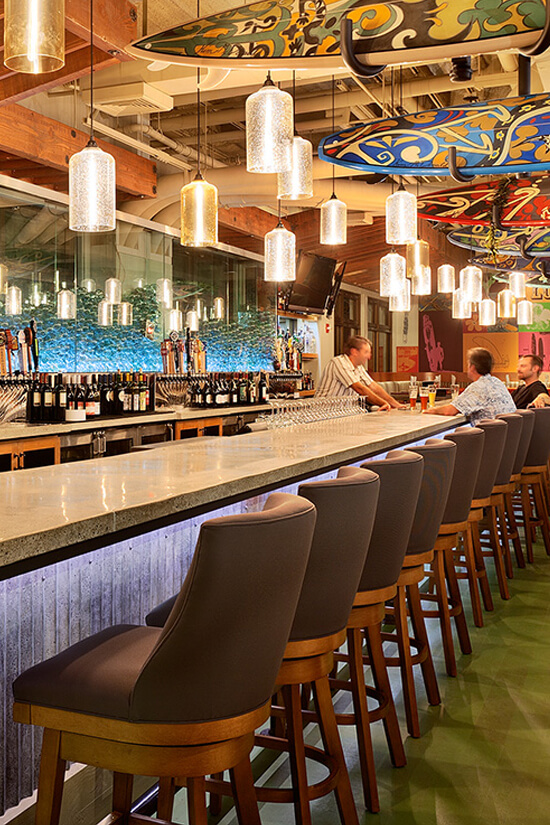 Consider Bar Stools with Low Backs
For a bistro or cafe-style setting, consider using bar stools with low backs to complete the look and feel of a welcoming and comfortable environment. This style encourages guests to stay longer, enjoy a second cup of coffee, and maybe even invite a friend.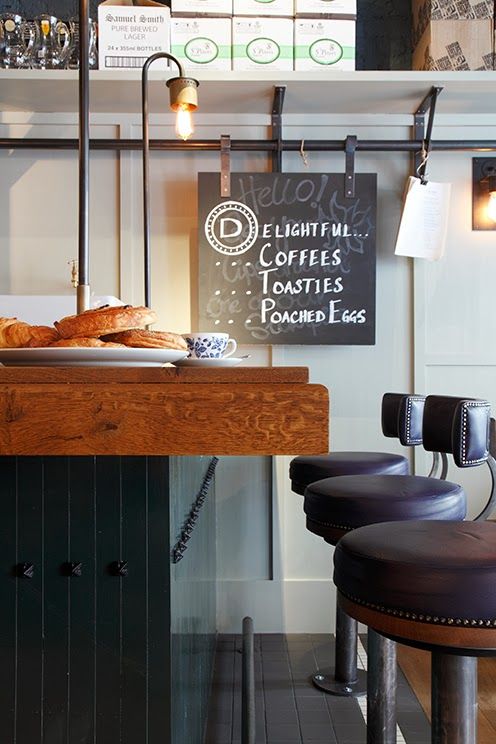 Compliment the Color Palette
Choosing the right color palette is essential when designing a restaurant or bar, as it can complement the overall design and ambiance of the space. Whether you're using a festive, fun palette or showcasing a beautiful view, consider using bar stools that match the structure and color scheme of the room.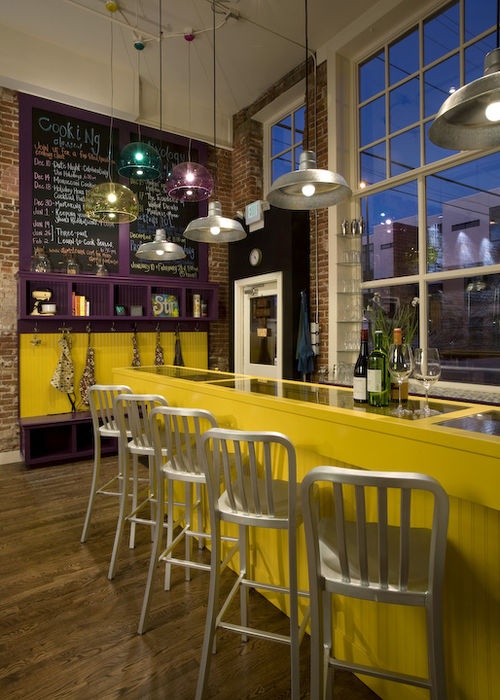 Backless Stools for a Sleek Look
Lastly, backless stools can provide a sleek and uncluttered look to any space, no matter the size of your restaurant or bar area. They offer the perfect amount of comfort for the time patrons will be seated, and their simplicity ensures that the overall design of the space remains streamlined.
Choosing the Right Bar Stools: With or Without Armrests?
When setting up a restaurant or bar, every detail counts – including the choice of bar stools. One key decision to make is whether to use stools with or without armrests. Here are some factors to consider before making a decision.
Space: The First Consideration
The amount of space available at the bar is an essential factor to consider when choosing between stools with and without armrests. If space is tight, it is best to opt for stools without armrests, which take up less space. On the other hand, if there is enough room, stools with armrests can provide more comfort to your customers.
Comfort: Keeping Your Regulars Coming Back
If you have regular customers who like to settle in and be comfortable, stools with armrests are the way to go. These stools provide a more relaxed seating experience and may encourage customers to stay longer. In contrast, wooden stools without backs or armrests are ideal if you do not want people camping out at your bar for extended periods.
Turnover: The Importance of Comfy Seating
A comfortable seat can reduce customer turnover on a single night. Customers tend to stay longer in comfortable seats, making it easier for your staff to serve them. If you want your customers to sit at the bar and watch the game while ordering drinks and food, stools with armrests can help keep them at the bar for a longer time.
Reconfiguring Your Space: The Ease of Moving Stools
Simple stools are easy to move out of the way if you switch from dining to dancing after the dinner hour. However, heavier stools with armrests can be challenging to move quickly, making it more challenging for your staff to reconfigure the space.
Cost: The Bottom Line on Cleaning
When it comes to cleaning, stools with armrests take longer to clean than those without them. The extra time and supplies required to clean armrests may impact your bottom line, especially if you have a large business. The stool with armrests will also get dirtier faster, which means more cleaning time, especially on busy nights.
In conclusion, choosing the right bar stools requires careful consideration of several factors, including space, comfort, turnover, reconfiguring the space, and cost. By weighing these factors, you can choose the bar stools that best suit your business needs.
Please contact us with any questions and feel free to browse the rest of our site for a wide variety of unique bar stools.