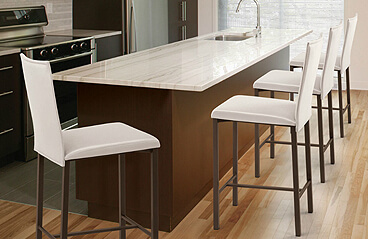 When selecting the amount of stools needed at your counter or bar, it's important to measure the length of your bar or counter.
Stools are generally between 16–21 inches wide. For comfortable seating, you should allow approximately 24 inches of seating space for each person.
A 72-inch wide counter will seat 3 people, comfortably. Here's the math:
72 ÷ 24 = 3 people
Remember: stools with arms take up slightly more room than stools without arms
(up to 2 inches wider).
Note: If the ends of the island are open and there is no wall, you will have slightly more clearing for stools.
Don't like doing math? Use our calculator:
Barstool Quantity Calculator
Learn how many stools you need to fit comfortably at your counter.