Whether you're designing a commercial bar or crafting a cozy breakfast nook in your home, selecting the right bar stools and ensuring their optimal spacing is crucial.
Significance of Proper Bar Stool Spacing
Proper spacing of bar stools not only adds to comfort, but also affects the aesthetics and functionality of the space. Misjudged distances can disrupt the ambiance, limit movement, and detract from the overall experience.
Overcrowding vs. Sparse Seating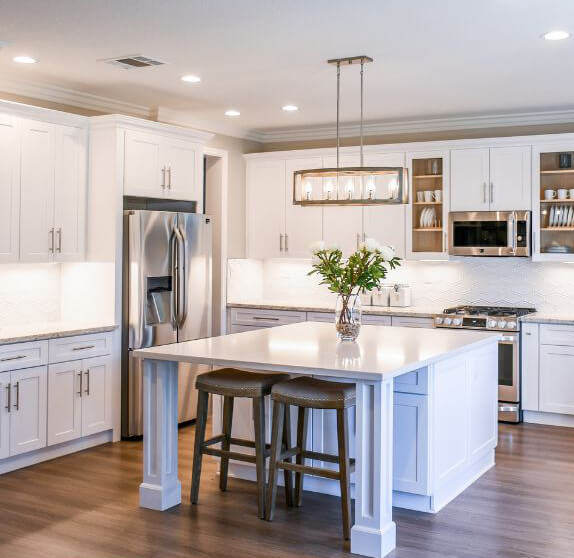 Overcrowding
Overcrowded seating can quickly lead to discomfort and a decline in the overall guest experience. The close quarters can also heighten the risk of accidental spills or dropped items, leading to potential safety hazards.
Furthermore, an overcrowded space can increase noise levels, making conversations challenging and potentially driving patrons away.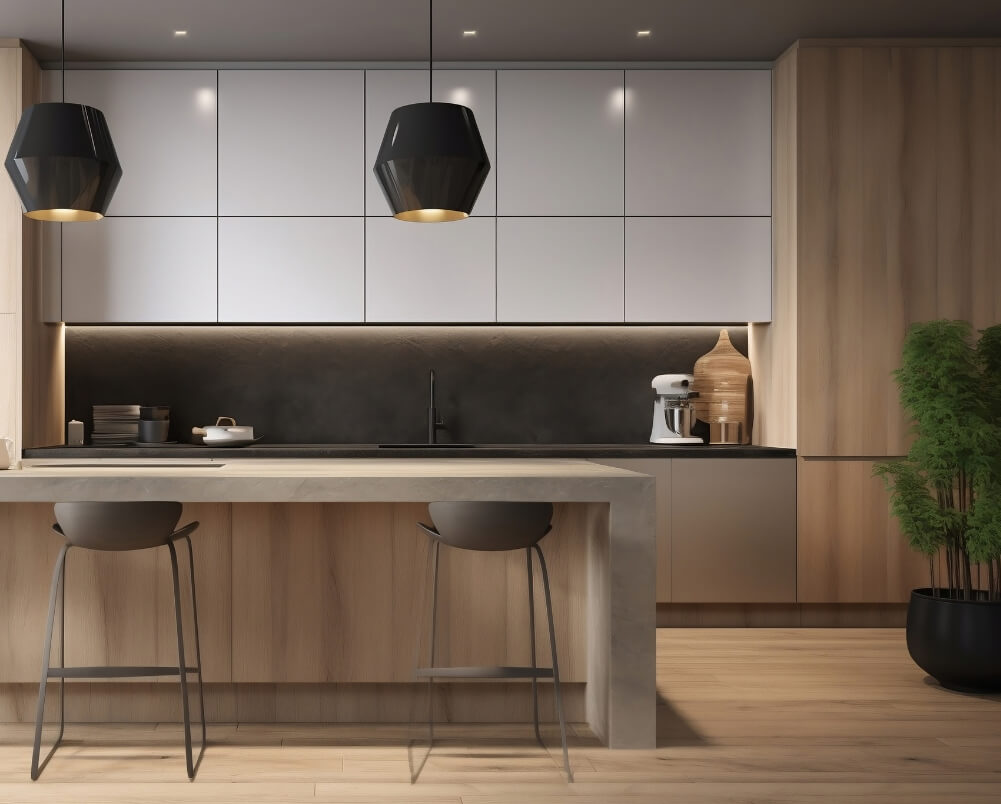 Sparse Seating
On the opposite end, stools that are spaced too far apart can lead to a sense of isolation among guests.
In a commercial setting, sparse seating might send a message of unpopularity, causing potential patrons to question the quality of the establishment.
In homes, too much space between stools can disrupt the sense of intimacy and connection, especially in settings designed for family gatherings or socializing.
Understanding the Different Types of Bar Stools and Their Spacing Needs
Swivel Bar Stools
Background: Swivel bar stools are designed to rotate, allowing the user to turn in different directions without moving the base of the stool. This design adds a touch of flexibility and ease, especially in conversational settings or spaces where one might need to access various parts of a counter without standing.
Spacing Needs: Due to their rotating feature, swivel stools demand additional space compared to their stationary counterparts. The rotation can lead to overlapping legroom or potential collisions with neighboring stools or objects. As a rule of thumb, it's advisable to add a few extra inches between swivel stools to accommodate their movement and prevent any inconveniences.
Backless vs. High Back Stools
Background: Backless stools offer a minimalist look, usually taking up less visual and physical space. They can be tucked away easily under counters. High back stools, on the other hand, provide support for the back and can be more comfortable during prolonged seating, but they also have a more pronounced presence.
Spacing Needs: Backless stools can be placed slightly closer together since there's no back to account for when moving in and out of the stool. High back stools, with their added depth, might need a bit more space between them to allow easy access and exit without causing discomfort or knocking against adjacent stools.
Stools with and without Arms
Background: Bar stools with arms provide additional support and comfort, making them a favorite for spaces where individuals might sit for extended periods. However, the addition of arms naturally increases the stool's width.
Spacing Needs: Stools with arms require extra spacing to prevent the arms from bumping into adjacent stools or barriers. It's essential to ensure there's enough room for individuals to move their arms freely without feeling constricted. Stools without arms, being more streamlined, can be placed closer together, but it's still crucial to ensure enough room for easy access and comfort.
Quick Guide: Calculating the Number of Bar Stools for Your Counter
Time needed: 2 minutes
How many bar stools do I need?
Measure the length of your counter in inches.
Consider that standard bar stools are 16-21 inches wide.

Tip: Stools with arms may need an extra 2 inches of space.

Allocate 24 inches of seating space for each person for optimal comfort.
Divide your counter length by 24 to calculate the number of stools.

Example: A 72-inch counter divided by 24 equals 3 stools.
Note: If the ends of the island are open and there is no wall, you will have slightly more clearing for stools.
Common Questions
What is the distance needed between a bar stool and a wall?
For basic ease of getting in and out of a stool, allow a clearance of 18 inches from the counter's edge to the back of the stool. If you can provide 2 feet of space, it offers even more comfort. However, to allow individuals to walk behind someone already seated, a clearance of 3 feet is recommended.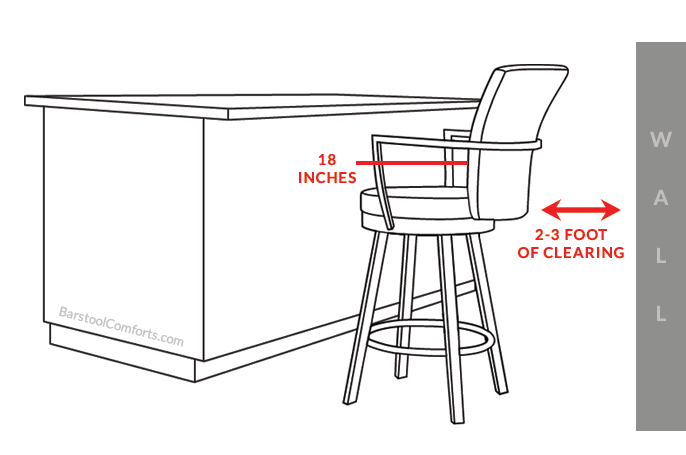 Time to Shop
Now that you have the correct measurements, it's time to dig in and shop. Shop our collection of high quality custom-made bar stools:
Article updated on October 10, 2023