People now spend over 3 hours a day in their kitchen.
Beyond cooking, baking and eating, kitchens are now being used to entertain, socialize and do work or homework.
"Given all of this activity, it is not surprising that nearly two-thirds spend over three hours a day in their kitchen." — Houzz
Which means you are now sitting on bar stools and chairs for a much longer period of time. They're continuously being sat on, swiveled, or moved.
Because of this, you need seating that is going to last long and be made for daily use.
Our bar stools
are made with
high quality materials such as: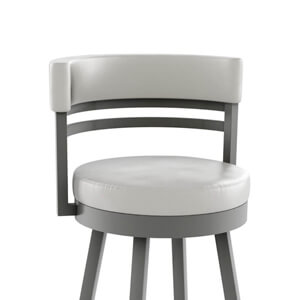 Heavy-duty metal frames
Ensures your bar stools break down over time, as their joints are welded.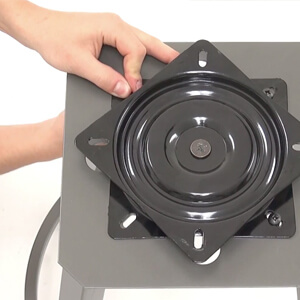 Extra strong swivel plates
Ensures your swivel bar stools continue to work as smoothly as the day you bought them.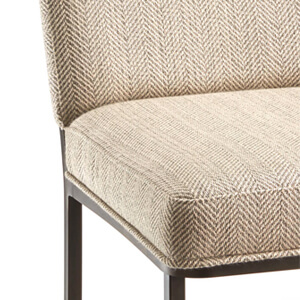 Best wearing fabrics
Ensures your cushions will stay true to color and wearability over a long period of time.
Our bar stools are made for 10 … 15 … 20+ years of daily use.
Moving? Our chairs can be customized years later.
Change the seat or back cushion color by reupholstering it.
Simply, unscrew the 4 bolts underneath the seat and the seat pad will come off. We recently reupholstered one of our kitchen stools. It was quick, easy, and made the stool look fresh. Or, you can purchase new seat or back cushions from us, upholstered in the color of your choice. Contact us to order new cushions here.
Make your base taller or shorter.
How? By purchasing a new base of a different height. It's better than throwing away a beloved stool (and cheaper than buying the whole stool).
Convert a swivel stool to a fixed-seat stool.
How? By installing a screw underneath the seat which will prevent the stool from swiveling. This works great for customers who have kids. When the kids get older, simply take the screw out and your stool is back to swiveling.
Saving you money in the long term.
It's no wonder why so many customers have chosen to invest in our bar stools: they're saving hundreds of dollars!
"I've had 2 identical barstools for over 10 years. They have been heavily used, but are in great shape and still very comfortable. People are shocked when I tell them how old they are. You can buy cheaper ones, but you are getting your money's worth and more with these!" — Jody, Washington
"Matched 5 year old bar stools perfectly. They came in before scheduled delivery week packaged. Everything was perfect!" —William, Kansas
"We have had two of these chairs for 8 years and they have shown no wear at all. When we built our new house, we wanted to match the chairs and were able to do this easily with the great customer service we received!" —Betsy, Washington
"We have this product or such a chair for about 13 years and these we purchased for our kids as they loved the look and the feel of them. So now it is in two households and two generations." —Rachel, Massachusetts
"We are incredibly pleased with our bar stools! The quality is as good as it was on stools we purchased more than 10 years ago! Great job!" —Mark, Wisconsin
They did it because they're smart. And you are, too.