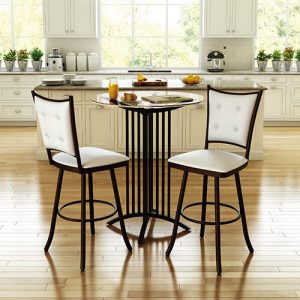 What is the most used space in your home? 90% of all homeowners use the kitchen the most.
From dining by yourself, with friends, or family, the kitchen gets the most use and your stools and chairs are no exception.
Whether your stools are continuously being swiveled, moved, and sat on, equipping your kitchen with our bar stools is one of the best investments for your kitchen that you can make.
Here's why:
Our manufacturers build your stools with top-of-the-line materials:
Heavy-duty steel metal frames, ensuring your stools won't wobble or break down.
Extra strong swivel plates, ensuring your swivel mechanism will continue to work as smoothly as the day you bought it.
Best wearing, durable fabrics, vinyls and leathers in the industry.
From head to toe, our stools are built for 10…15…20+ years of daily use!
Bonus:
Our bar stools can be customized years later by…
Changing the seat / back cushion color by reupholstering it. Simply, unscrew the four bolts underneath the seat and the seat pad will come off. We recently reupholstered one of our kitchen stools. It was quick, easy, and made the stool look fresh.
Making your base taller or shorter by buying a new base if you move to a new home with a different counter height. It's better than throwing away a beloved stool (and cheaper than buying the whole stool).
Converting a swivel stool to a fixed-seat stool by installing a screw underneath the seat which will prevent the stool from swiveling.
It's no wonder why so many customers have chosen to invest in our bar stools: they're saving hundreds of dollars!
"I've had 2 identical barstools for over 10 years. They have been heavily used, but are in great shape and still very comfortable. People are shocked when I tell them how old they are. You can buy cheaper ones, but you are getting your money's worth and more with these!" — Jody, Washington
"Matched 5 year old bar stools perfectly. They came in before scheduled delivery week packaged. Everything was perfect!" —William, Kansas
They did it because they're smart. And you are, too.