Martini Swivel Stool
by Trica
$260.00
Tax Free Free Shipping
Out Of Stock
This item has been discontinued.
Out of stock
Features
Relax in style! Martini has an ultra-comfortable cushioned seat and a laser-cut metal back. Great for your home bar, restaurant, lounge, or pool table room.
Why you'll love this stool:
10-year residential warranty on frame and swivel
1-year residential warranty on fabric
It's built to last you for decades
High back for full back support
Powder-coated metal finish for heavy duty use
Fully welded, not screwed, for strength and stability
Heavy duty steel construction — supports 250 pounds
Highly resilient commercial grade foam to offer maximum comfort
Good to know:
Includes nylon glides on the bottom of the feet to protect your linoleum floors — add felts for wood or linoleum floors for extra protection
Need a backless version? We recommend the Adam
Easily Customizable
Love this? Customize it to make it your own.
Available in a variety of powder-coated metal finishes including anthracite, black, blue, brushed steel which matches stainless steel appliances, chocolate, cotton off-white, glossy white, gold, golden brown, meteor, orange, platinum, silver, taupe, and more.
Available in a variety of comfortable fabric colors including ballad 030 dark navy, cube 400 mustard yellow, cube 801 medium gray, highland 701 plum, highland 901 medium sand color, journey cotton candy pink, journey gunmetal dark blue-green, mozart 008 red, mozart 040 black, notion tang orange, pin striper denim blue brown yellow stripes, venue cumin dijon mustard yellow, and so many more.
Available in a variety of heavy-duty leathers including barolo cashmere gray, barolo cherry red, black, santiago godiva dark chocolate brown, santiago ivory off-white, santiago slate light gray, and more.
Available in a variety of wipe-off-ready vinyl including aspen sea spray seafoam light aqua, austin cloud white, celestial dove dark teal, coachella otter gray taupe floral pattern, crazy horse saddle brown, dakota 040 black, dakota 100 white, dakota 304 blue, shimmer bronze, soft touch black, wicker park chocolate, and more.
Specifications
| | |
| --- | --- |
| Application | Residential |
| Arms Availability | Armless |
| Assembly | Assembly Required |
| Base Style | 4-Legs |
| Material Availability | Customers Own Material (COM), Fabric, Leather, Vinyl |
| Seat Style | Round Seat |
| Special Features | Eco-Friendly |
| Style | Modern |
| Swivel Availability | With 360-Degree, With Memory-Return |
| Warranty | 10-year residential warranty on frame and swivel, 1-year residential warranty on fabric |
| Weight | 21-23 lbs |
| Weight Capacity | 250 lbs |
Dimensions
All measurements are approximate.
Maximum Width

17¼"

Maximum Depth

20"

Upholstered Seat Height

26"

Total Height

40"

Weight

21 lbs
Maximum Width

17¼"

Maximum Depth

20"

Upholstered Seat Height

30"

Total Height

44"

Weight

22 lbs
Maximum Width

17¼"

Maximum Depth

20"

Upholstered Seat Height

34"

Total Height

48"

Weight

23 lbs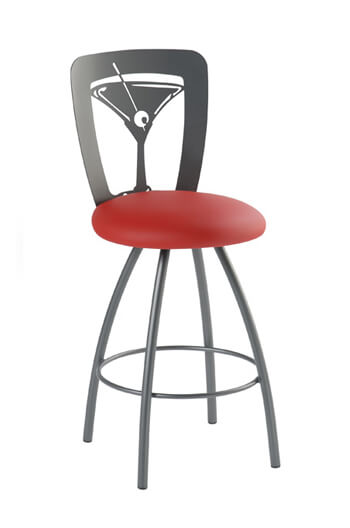 Shipping Details
• Currently ships within 4-5 weeks.
• Free shipping in the USA (except for Hawaii or Alaska) and Canada.
Want to use your own fabric/vinyl?
Have a fabric you love? Trica will upholster your stools with it.
Simply select "Customers Own Material" in the Upholstery Type drop-down and complete your checkout.
After your order, we'll send you a confirmation email with the address to mail your fabric.
• For the Martini Swivel Stool, you will need 0.85 yard(s) per chair.
Please make sure this is an upholstery fabric or vinyl.
Questions? Contact us.
About this brand
Trica furniture ranges from traditional to ultra-contemporary design, customizable with dozens of wood tones, fabrics, and metal finishes. These products add a fashion statement to any décor. All pieces are made in Canada using green manufacturing processes and cutting-edge technology.
There's no weight limit to a Trica seat! The stools and chairs use 14-gauge steel with an attractive and long-lasting powder-coated finish that won't wear off. All of Trica's products are fully welded — they don't use any screws — to guarantee they won't loosen up.
You also get the best wear-resistant vinyl and fabrics in the industry, which are easily washable with mild soap and water. All paints used are environmentally safe, lead-free and non-toxic.
You can rely on Trica for durable furniture that lasts for years. As the ultimate proof of quality, every chair and stool design has passed an intense Quality Control Test. This test simulates a 250-pound person sitting down and standing up 10 times a day, 365 days a year for 10 years straight — 36,500 cycles in all!