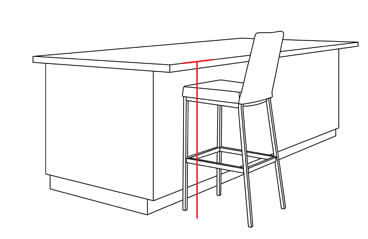 Nowadays, kitchen islands come in all shapes and sizes, but if you were to start at the beginning: what height should it be?
The answer: 36 inches.
Here's why:
Young or old, you will have an easier time getting in and out of the stools, as the seat height is going to be closer to the height of your bum.
It's going to be less dangerous for kids as opposed to counters much higher.
You will have a much more extensive selection to choose from when shopping for counter stools at this height. You will need a 26″ or if you want more leg room, a 24″ counter stool.
From cooking to entertaining guests to doing office work, this height will be the most comfortable height for everyone.
When you're ready for counter stools, don't forget to come back. We have the most comfortable counter height bar stools online.