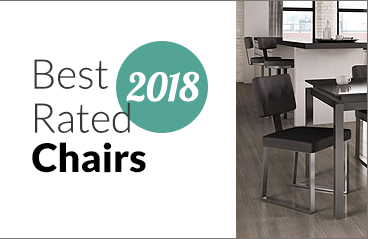 What makes a dining chair "the one" to you? Is it all about style, comfort or price? Whatever it is, our customer's found their perfect dining chair at Barstool Comforts.
Check out the definitive roundup of the top rated dining chairs for your new dining room in 2018:
Name
Review(s)

1

Recline back with tilt swivel mechanism. Upholstered.

"I NEEDED to find kitchen chairs with metal and fabric on casters. Not an easy feat. Found some on Barstool Comforts. I was able to design my own color choices (metal and fabric) with many choices offered. Not being familiar with this chair, and not being able to "try before I buy", I was at the mercy and advice of Deborah. She not only helped me make the best color decision, based on my existing kitchen metals, but she assured me that I would love the chairs. Yes, indeed, we do. Don't hesitate to ask any questions and get some honest opinions. Thank you Barstool Comforts." Marlene, Ohio

2

Features ladder back design with upholstered seat.

"Holland Bar Stool Co., [the manufacturer] did a superb job making my bronze metal-framed dining chairs. The upholstered seats fit the frames perfectly, and are very comfortable. I chose the, "Jackie" style chair with the curved ladder back. It conforms to my back with wonderful support and comfort. The chairs were shipped in strong, sturdy boxes, and each chair was completely wrapped with padding and bubble wrap. I could not be happier with my chairs purchased from Holland Bar Stool Co!" Patricia, New York

3

Features high ladder design backrest with upholstered seat.

"Overall we like the look, the chairs are just slightly shorter than we would have liked but may add some cushions to the seats to adjust. I liked how the seats on similar stools from the same company bolted onto the frame with pre-drilled (lined) holes as opposed to the chairs that screwed on without a pre-drilled location." Karen, Colorado

"Arrived complete, perfect condition and as expected." Stephen, Connecticut

4

Features tall backrest with upholstered seat and backrest.

They are so nice and seem to be well made. Very comfortable to sit on. Mandy, New York

5

Features a tilt swivel so you can recline back and swivel 360-degrees. Comes with or without arms.

We bought a Callee kitchen set in Charlotte perhaps 10 years ago at a retail store. The retail store is now gone, but we liked the product well enough to find you on the computer when we wanted a replacement. Kenneth, Florida

6

Features tufted backrest with curved arms and tilt swivel mechanism to recline back.

"Excellent quality." Gina, Colorado

7

Features a cross back design, arms and an upholstered seat.

"Very comfortable Looks nice. Welding is nice clean finish. Chairs roll and tilt easily." Sheryl, Florida

8

BONUS!

Features a tufted backrest atop a deep, upholstered seat and a sled base.

"Being that we have this chair in our own dining room, it's only fitting we add it here! We absolutely love the design and feel of this chair. The backrest is slightly curved, which hugs you. The cushions are not too firm, but they're also not too soft. They're just right. This is one of those chairs you can sit on for hours and enjoy!" Barstool Comforts, Florida
Which one is your favorite?